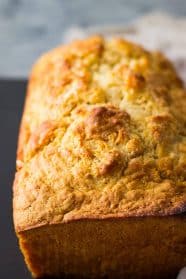 Beer Bread -This homemade Beer Bread uses a few simple ingredients to make a wonderfully hearty bread! Great for any meal especially soups!
3

cups

all purpose flour

4

teaspoons

baking powder

1

teaspoon

salt

1/4

cup

honey

1

(12 oz)

beer of choice

1/4

cup

butter

cut into 8 squares
Preheat oven to 375 degrees F. Grease a 9x5 or 8x4 loaf pan with butter, set aside.

In a large mixing bowl whisk together the flour, baking powder, and salt. Be sure to whisk well to incorporate some air into the flour. You can also sift the flour if you prefer. Add in the honey and beer. Stir with a rubber spatula just until combined.

Spoon into prepared loaf pan. Place the 8 pats of butter across the top of the batter. Bake for 40-55 minutes or until a toothpick inserted in the center of the loaf comes out clean. Cool in pan 5 minutes before removing.
1. If you prefer a slightly softer crust melt the butter and add it to the batter along with the honey and beer.
2. If there are any leftovers wrap tightly with plastic wrap and store at room temperature for up to 3 days.