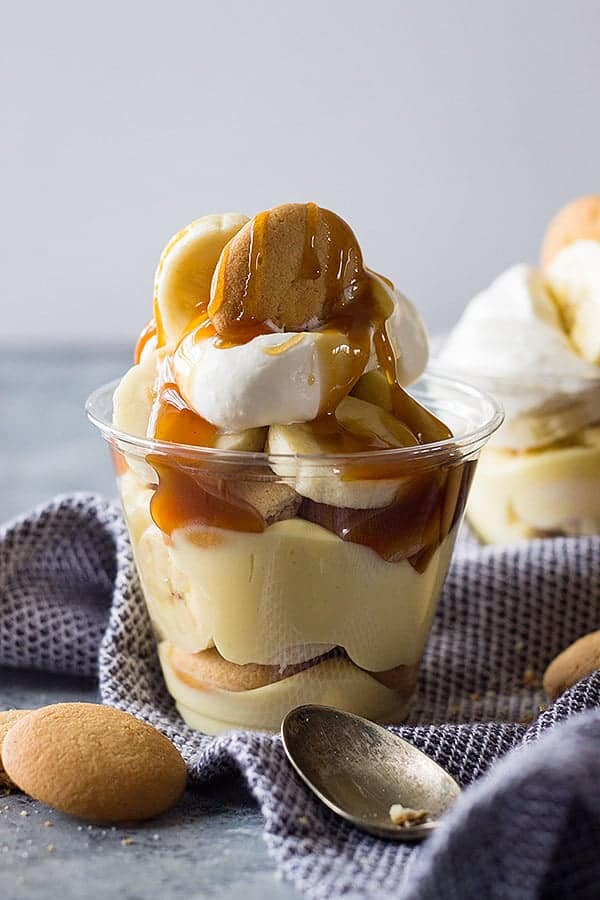 Homemade Banana Pudding Cups -an easy and delicious vanilla pudding made from scratch, layered with bananas, vanilla wafers and freshly whipped cream!
PUDDING:

1/2

cup

sugar

3

tablespoons

cornstarch

pinch

of salt

2

cups

milk

I prefer whole milk but 2 % will work too

1

cup

heavy whipping cream

4

large egg yolks

slightly beaten

2

tablespoons

butter

2

teaspoons

vanilla

WHIPPED CREAM:

1 1/2

cups

heavy whipping cream

1/3

cup

powdered sugar

1

teaspoon

vanilla

EXTRAS:

1

11-12 oz box vanilla Wafers

6

bananas

sliced

10

9 oz clear plastic cups
PUDDING:In a large saucepan combine the sugar and cornstarch until smooth and has no lumps. Stir in the milk and cream until well combined. Set aside.

In a medium sized bowl gently beat the eggs until combined. Set aside.

Place the saucepan of milk and sugar on the stove and cook over medium to medium low heat. While cooking whisk constantly to prevent any lumps. Cook while whisking until it starts to thicken and remove from heat. Pour at least half of this mixture in a steady SMALL stream into the beaten yolks. While you are pouring whisk constantly to prevent your yolks from scrambling. This process is called tempering. Now you may pour the egg mixture back into the saucepan.

Return this to the heat and cook until it has thickened into a nice pudding like consistency. It will also thicken a little more as it cools. Remove from heat and stir in butter and vanilla. Cover and refrigerate for 1 hour.

WHIPPED CREAM: In a large bowl or the bowl of a stand mixer beat the whipping cream, powdered sugar and vanilla until stiff peaks form. Store in the refrigerator until ready to use or make just before serving.

ASSEMBLY: Put a small amount of pudding in each cup. Put a layer of vanilla wafers, bananas, and pudding. Repeat 1 more time. Cover and refrigerate for at least 2 hours but best if overnight. Just before serving top with whipped cream. Decorate as desired.
Prep and Cook times don't include chill time.
This can also be layered into a large trifle bowl instead of individual cups if you prefer.
If you prefer to use store bought pudding use 1 large box and make according to package directions.
If you prefer to use store bought whipped topping you will need 3 cups of whipped topping.
If you are chilling these overnight I recommend making the whipped cream a little before serving. Freshly whipped cream can sometimes get a little watery if made too far in advance. A few hours in advance is just fine but overnight may not be.