These Strawberry Chocolate Chip Waffles are an easy breakfast and are extra special, making them perfect for breakfast in bed!
I was originally going to post a brownie recipe for Valentine's today but when I went to edit my photos I didn't like a single one. I tried my best to edit them and make them look special, but it just wasn't there.
I'm sure someone who knows there way around Photoshop could have worked a little magic to correct them better than me. But I didn't even like the angles of some of the pictures, so I scraped it.
Which, left me empty handed with this mornings post. I could have switched some things around but when I have a schedule already lined out I hate to deviate from it! I know, I'm a little weird.
I was racking my brain at 5:30 this morning trying to come up with something special. You know it's a little hard to think when you have an empty stomach! Hey, what about a special breakfast?!?! And what screams Valentine's more than strawberries and chocolate, right?
And so these delicious strawberry chocolate chip waffles were born. My whole family loved them so these would be great to eat as a family breakfast or just a special breakfast in bed. I made the recipe into a small batch so if you are feeding an army of hungry kiddos I recommend doubling or even tripling the recipe.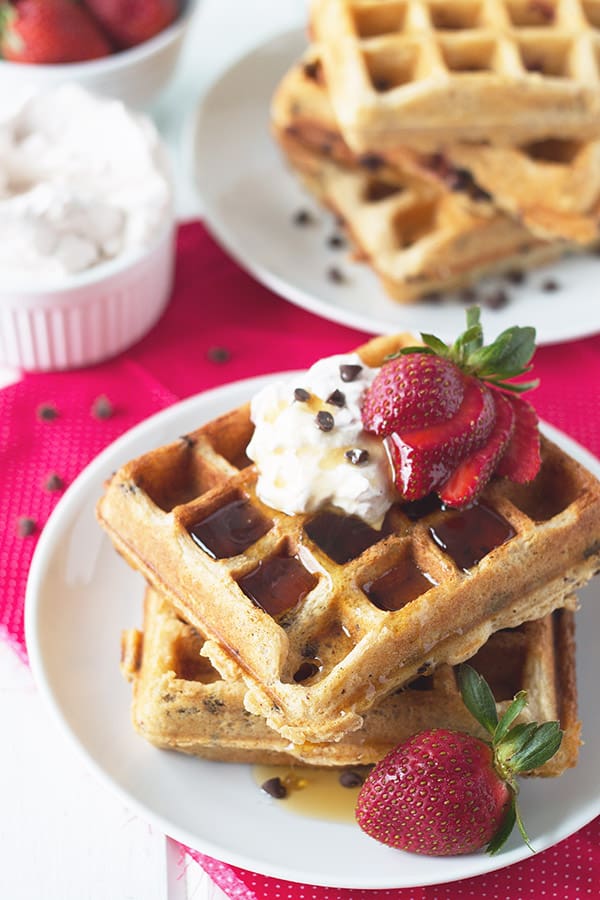 I even took it a step further and made some strawberry whipped cream, which sent it to the next level. The waffles were great with just maple syrup, but if you ask me you need to make the whipped cream! <- Just do it!

Strawberry Chocolate Chip Waffles
Strawberry Chocolate Chip Waffles -these easy waffles are great for a special breakfast in bed!
Print Recipe
Save Recipe
Saved!
Ingredients
Waffles

1/2

cup

all purpose flour

1/2

cup

whole wheat flour

I used white whole wheat

1/2

tablespoon

brown sugar

2

teaspoons

baking powder

pinch

of salt

2/3

cup

chopped strawberries

1/4

cup

mini chocolate chips

2/3

cup

+ 2 tablespoons milk

1/4

cup

melted butter

1

egg

lightly beaten

1

teaspoon

vanilla

Strawberry Whipped Cream

1/2

cup

heavy whipping cream

2

tablespoons

powdered sugar

2

tablespoons

strawberry jam

jelly or preserves

1/2

teaspoon

vanilla
Instructions
Preheat waffle iron.

WAFFLES: In a large bowl combine the flours, brown sugar, baking powder and salt. Gently stir in the strawberries and chocolate chips. Next, stir in remaining waffle ingredients just until combined. Bake according to manufacturer's directions for your waffle iron.

STRAWBERRY WHIPPED CREAM: In a medium bowl combine all ingredients. With an electric mixer whip until stiff peaks form. Serve immediately with waffles.
Notes
Quantity of waffles will vary depending on the size of your waffle maker.