This Creamy Key Lime Fruit Salad is a great summertime salad to take to all of your BBQ's. It's quick and easy to make, healthy and refreshing.
I have fallen in love with this creamy key lime fruit salad!  It's super easy and quick to make and will be a perfect refreshing side dish at your next BBQ.  A couple other great side dishes for a BBQ would be this grilled balsamic chicken pasta salad, old fashioned potato salad (a family favorite!), or this broccoli bacon and grape salad.
I used a key lime yogurt as the dressing for this salad and I love, love, love that yogurt.  I discovered it towards the end of my pregnancy.  I had been craving fruit and it was really the only thing that sounded good to me.  So, I was eating a lot of fruit and not taking in much of anything else.
I realized that it probably wasn't the healthiest but at least I was keeping something in my tummy.  Then I saw this key lime yogurt at the grocery store and I just had to try it.  It was greek yogurt too.  Yay, will be getting some protein in my diet!  And as I said earlier, I fell in love.  Just another tip- it's super delicious with blackberries and granola!
I tried it with other fruits as well and that's what led me to make this delicious fruit salad.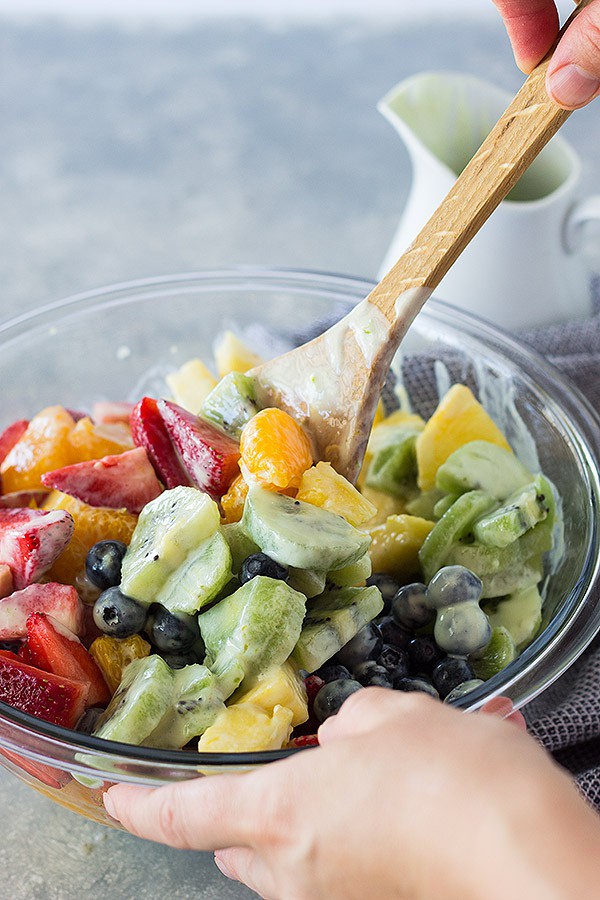 So a little about this salad:
Use any fruit you like.  I chose to use strawberries, mandarin oranges, pineapple, kiwi and blueberries.  I didn't realize until after I bought all the fruit it was the colors of the rainbow.  So not only is this fruit salad easy to make it's also really eye catching!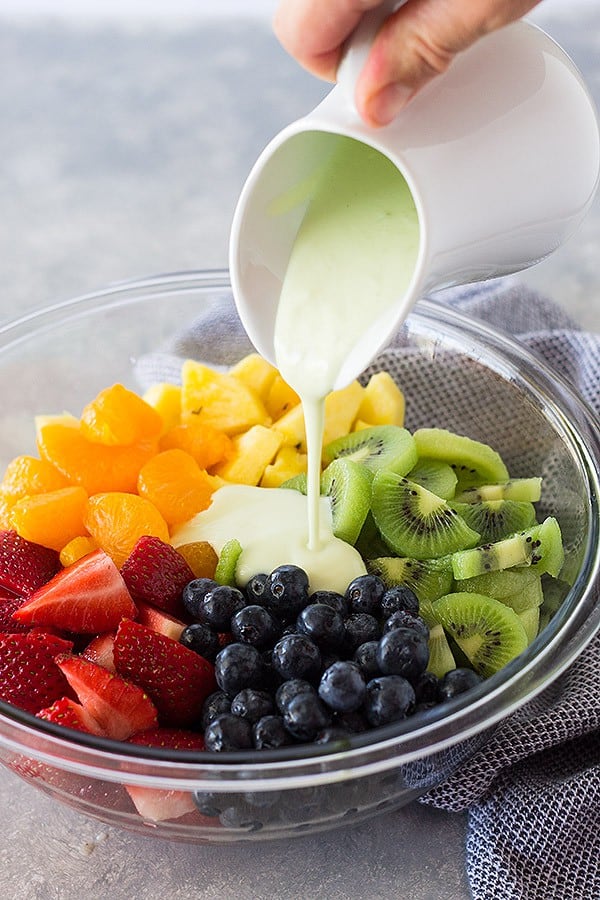 The only downside to this salad is it can't be made too far in advance.  The juices from all the fruit will make it watery.  In fact, I wouldn't toss it with the dressing until just before serving.  And drain any extra liquid that may have accumulated in the bowl before stirring in the dressing so it stays nice and creamy.
Creamy Key Lime Fruit Salad
Print Recipe
Save Recipe
Saved!
Ingredients
SALAD:

2

cups

quartered strawberries

2

cups

chopped fresh pineapple

1 1/2

cups

fresh blueberries

4

kiwi

peeled and sliced

1

10.5 oz can mandarin oranges, well drained

DRESSING:

1

5.3 oz key lime yogurt (I like Chobani Greek)

1/2

teaspoon

lime zest

juice of 1/2 a lime

1-2

tablespoons

honey
Instructions
In a large bowl combine all the fruit and set aside.

In a small bowl combine the yogurt, zest, lime juice, and honey. Pour over the fruit and toss lightly to coat. Serve immediately.
Notes
Don't stir in the dressing until ready to serve or it will become watery.