This Homemade Buttermilk Ranch Dressing is an easy recipe to replace those store bought bottles! It's fresh, creamy and perfect for any salad!
Around my house ranch dressing is a staple!  And so is ketchup and BBQ sauce……but have you ever read the back of that beloved bottle of ranch.  It's awful and I don't even know what half of those ingredients are!  That's where this homemade buttermilk ranch dressing saves the day!  It's full of flavor thanks to all those fresh herbs, it's thick and creamy and it's easy to make.  I also have a Homemade Ranch Seasoning that uses dried herbs and can be made into a dressing.
Today's version of ranch does taste different from the ranch seasoning with dried herbs.  I personally favor the fresh ranch but my kids don't care they like both.  Give each a try and tell me which one you like better!
A little about this recipe:
This is also a recipe I am going to include in my back to the basics series.  It is a staple dressing to have on hand and most people love it.  It's incredibly easy to make and doesn't take very long to put together either.  There is just a little bit of prep work to do and if you really wanted to make it easier make it in a blender, especially if you have a really nice one.  The blender will make a super smooth dressing.
For the best flavor, I highly recommend making this at least 1 hour in advance.  That way there is plenty of time for the flavors to meld and permeate the dressing.  Just make it first thing before you start making dinner and pop it into the fridge to let it work its magic.
This homemade buttermilk ranch dressing is also thick enough to be used as a dip.  And as you can probably guess it's my kid's favorite dip.  I will often have a big platter of veggies and this dressing as a dip for them to snack on after school.  It's a great way to get them to eat some extra veggies.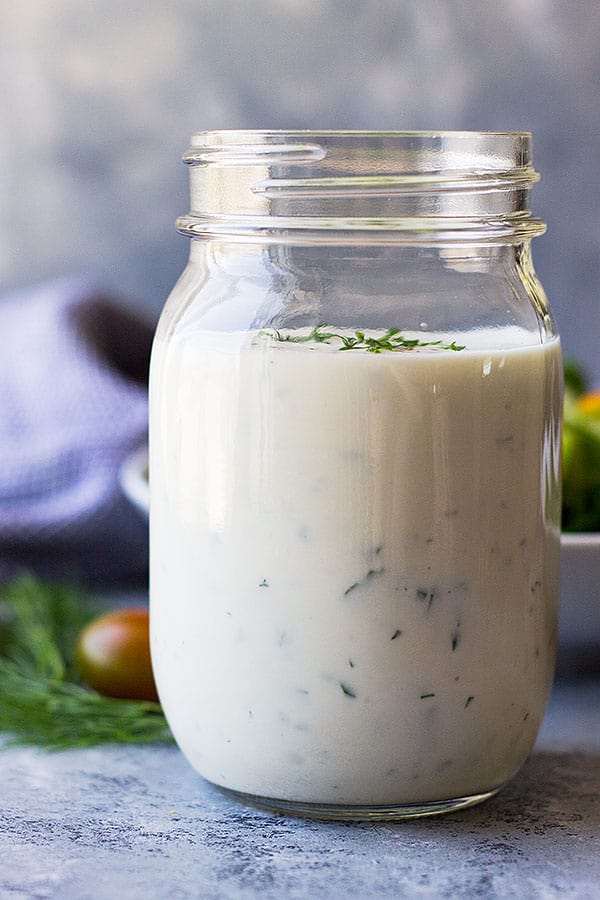 Now, if I could only get my husband on board with that idea.  He avoids vegetables at all costs.  He is slowly coming around and eating a few more vegetables……so maybe by the time we're 90 he will enjoy them like he should.  Wishful thinking????  Probably……oh well, I can keep trying right!?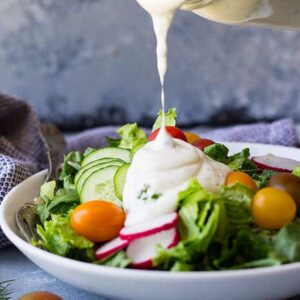 Homemade Buttermilk Ranch Dressing
Print Recipe
Save Recipe
Saved!
Ingredients
1/2

cup

buttermilk

1/2

cup

real mayonnaise

1/2

cup

sour cream

2

tablespoons

minced fresh parsley

1/2

teaspoon

minces fresh dill

1

small clove garlic

minced

1/4

teaspoon

onion powder

salt and pepper to taste
Instructions
In a small bowl combine all ingredients until well combined. Or put all ingredients in a small mason jar and shake well to combine.
Notes
1. Best if made 1 hour in advance to let the flavors come together.
2. Store in the refrigerator for 5-7 days.
3. Dried herbs can be used instead. Use about 1/3 less than what is stated in the recipe. However, it will taste differently than the fresh version.