Savory Ham and Cheddar Scones that are easy to make and perfect for breakfast, snack time or with a steaming bowl of soup! 
I have fallen in love with these ham and cheddar scones!  I usually think sweet when I hear the word scone but I have seen versions of these floating around the internet for a long time and have been wanting to make them forever!
I finally did and I am pretty sure they will be replacing the sweet scones, well at least for now!  These scones would make a great brunch addition or even pair will with a bowl of piping hot soup.  I am thinking chicken and noodle, chicken and rice or even some sort of cheesy soup like beer cheese!  Oooooh that sounds lovely!
I love these scones for several reasons- first they are full of flavor!  No need to add on a bunch of extra toppings because these have everything mixed in.
Second, they are tender and soft on the inside and slightly crunchy on the outside.  A perfect combination when in comes to scones in my opinion.
Third they are really easy to make.  They are easier than making regular biscuits because you don't have to re-roll any dough.  Just pat into a circle and cut into wedges and that's it!
I chose to brush the tops of these ham and cheddar scones with a little extra buttermilk.  It helps to brown them and gives them a little something extra.  It isn't necessary but it is worth the tiny extra effort.  🙂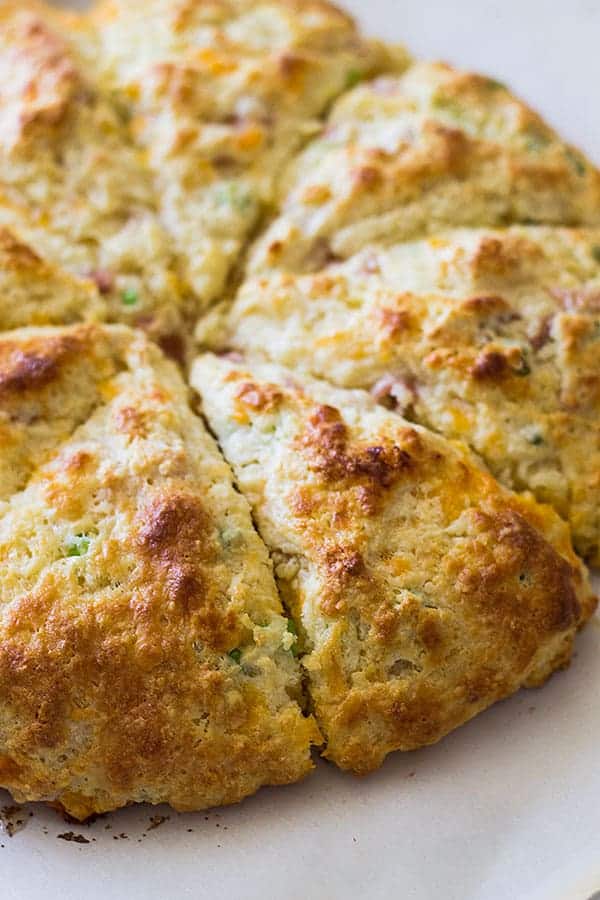 Ham and Cheddar Scones
Ingredients
2

cups

all purpose flour

1

tablespoon

baking powder

yes, 1 tablespoon

1/2

teaspoon

baking soda

2

teaspoons

sugar

1

teaspoon

salt

1/2

cup

cold butter

cut into small pieces

2/3

cup

shredded sharp cheddar cheese

1/2

cup

finely chopped ham

2-3

tablespoons

chopped green onion

1

cup

buttermilk + extra for brushing the tops

if desired
Instructions
Preheat oven to 450 degrees F. Line a baking sheet with parchment paper and set aside.

In a large mixing bowl combine the flour, baking powder, baking soda, sugar and salt. Cut in the butter until you have coarse crumbs. Stir in the cheese, ham and green onions. Stir in the buttermilk just until combined.

Transfer dough to parchment lined baking sheet and shape into an 8" circle. Cut into 8 wedges. Brush each with additional buttermilk if desired. Bake for 15-20 minutes or until golden brown. Let cool slightly before re-cutting into wedges.
Recipe Notes
These are best served on the day they are made.