This easy No Churn Pumpkin Ice Cream tastes just like pumpkin pie! It's simple to make, uses no ice cream maker and is a wonderfully creamy fall treat!
No Churn Pumpkin Ice Cream
Are you guys on team pumpkin or team pecan when it comes to Thanksgiving dessert. Yes, we're going there….I'm talking about Thanksgiving already. Most of my family is on team pumpkin. I'm the weird one and prefers either something chocolate or something with fruit for dessert. But I do love this no churn pumpkin ice cream!!! My husband couldn't believe how much it tastes like pumpkin pie minus the crust.
You could bake some pie dough a then crumble it over the ice cream so you could truly have pumpkin pie in ice cream form! Some other amazing fall desserts: Turtle Pumpkin Cake, Skillet Blondie with Bourbon Caramel Pecans, Caramel Apple Pecan Cake or this Traditional Pumpkin Pie.
To be absolutely honest ice cream is probably my most favorite dessert. And yes I eat all year round…..no dip in the temp is going to keep me from enjoying my creamy frozen treat!
I just realized that this is the first ice cream I have posted on Countryside Cravings!!! YIKES! I used to make traditional homemade ice cream ALL THE TIME. But then life happened and it has been happening for several years now. I have refused to get on the no churn ice cream train for a very long time. Honestly, I didn't see how it was possible to have great ice cream without an egg custard or an ice cream maker. But you know what?????
I'm convinced AND I may never make homemade ice cream the traditional way again!! Pretty bold statement, yes….but this no churn stuff is so much easier and tastes so good!!
About this no churn pumpkin ice cream:
You will need heavy whipping cream. The higher fat content allows for a creamier ice cream.
Start whipping your cream on low and when bubbles start to form bring it up higher. This way it won't splatter everywhere.
Watch your cream while whipping it so you don't accidentally overbeat it. Just beat until you have stiff peaks. You'll have stiff peaks when the cream is thick and holds its shape well. Take the beater out of the cream, turn it upside down and the cream should hold nice proud peaks. The peaks should point straight up and not fall.
When folding the pumpkin mixture into the whipped cream do it gently. This helps keep all that air we just whipped into the cream in there. This will make for a silkier ice cream.
Cover the ice cream with plastic wrap or wax paper so ice crystals don't form on the ice cream. And be sure to press the plastic wrap/wax paper onto the ice cream.
Watch our video on how to make this no churn pumpkin ice cream: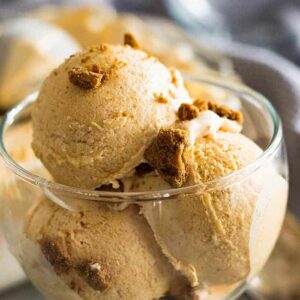 No Churn Pumpkin Ice Cream
No Churn Pumpkin Ice Cream- This easy No Churn Pumpkin Ice Cream tastes just like pumpkin pie! It's simple to make, uses no ice cream maker and is a wonderfully creamy fall treat!
Print Recipe
Save Recipe
Saved!
Ingredients
2

cups

very cold heavy whipping cream

at least 30% fat

1

14 oz can sweetened condensed milk

1

cup

pumpkin puree

not pumpkin pie filling

1

teaspoon

pure vanilla extract

1

teaspoon

pumpkin pie spice
Instructions
In a large bowl whip cream starting on low. When bubbles start to form increase the speed and whip until stiff peaks form. Set aside.

In a separate bowl, combine the sweetened condensed milk, pumpkin puree, vanilla and pumpkin pie spice. Gently fold this into the whipped cream until combined.

Pour mixture into a freezer safe container or a 9×5 loaf pan. Cover with plastic wrap. Be sure the plastic wrap is touching the ice cream to prevent ice crystals from forming. Freeze for at least 8 hours.
Notes
1. Let thaw slightly so it's easier to scoop.
2. Serving options: plain, topped with salted caramel, chocolate chips, gingerbread cookies, baked pie dough, cinnamon sprinkled. Another idea is to have all these toppings out for your guests to make their own fall ice cream sundae!
3. No pumpkin pie spice use: 1/2 teaspoon ground cinnamon, 1/4 teaspoon ground ginger, 1/4 teaspoon ground allspice and 1/8 teaspoon ground nutmeg.
4. Store in the freezer for 1-2 months.
Nutrition
Calories:
275
kcal
|
Carbohydrates:
4
g
|
Protein:
4.9
g
|
Fat:
15
g
|
Saturated Fat:
10
g
|
Cholesterol:
58
mg
|
Sodium:
76
mg
|
Potassium:
272
mg
|
Fiber:
1
g
|
Sugar:
28
g
|
Calcium:
170
mg
|
Iron:
1
mg