This Blueberry Baked Brie is a sweet and savory appetizer that is also really quick and easy!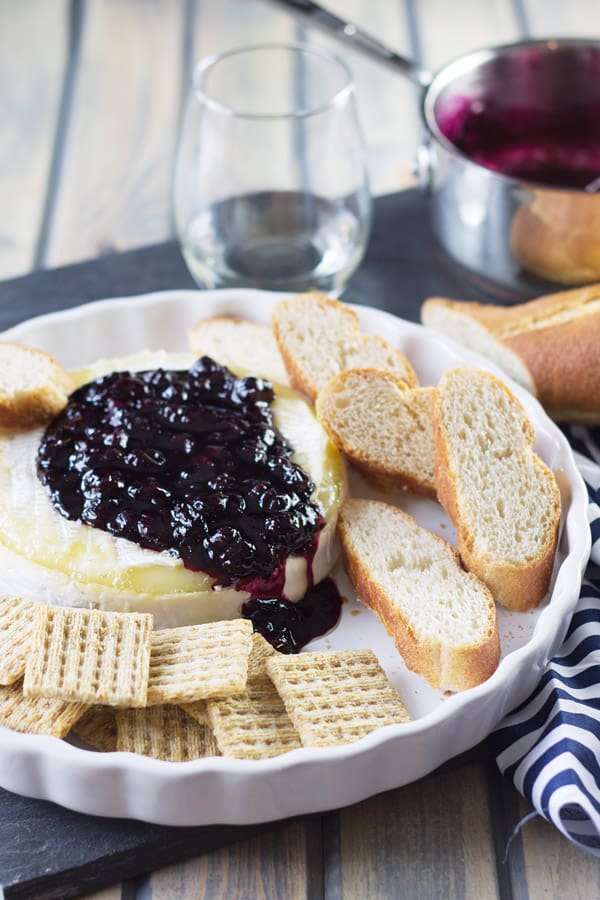 Here is a show stopping appetizer that requires minimal effort on your part! With just a handful of ingredients you can put together a melty, gooey, cheesy masterpiece that will have all you brie lovers coming back for more.
You get savory from the cheese and slightly sweet from the homemade blueberry sauce. Trust me the sauce is super duper easy too!!
I highly recommend using a good quality brie such as Fromager D'Affinois, Marin Triple Crème Brie, Reny Picot Brie or if you have a favorite brand already stick with that.
So, all you need to do is slice the top off of your brie and pop it into the oven to get all warm and gooey. Then while that magic is happening make the simple blueberry sauce. When you pull the brie out of the oven pour the sauce over it and serve with crackers and slices of french baguette. Pure awesomeness!!
Blueberry Baked Brie
Blueberry Baked Brie -a quick and simple appetizer recipe for savory gooey melted cheese and sweet blueberries.
Print Recipe
Save Recipe
Saved!
Ingredients
1

16 oz wheel of brie

1

cup

blueberries

fresh or frozen

1/4

cup

honey

1/4

cup

water

1

teaspoon

lemon zest

crackers

french baguette slices or other fruit slices for serving
Instructions
BRIE: Preheat oven to 350 degrees F. Cut the top off of your brie wheel (about 1/4' off the top) and place on a baking dish. Bake for 12-15 minutes or until the center is soft.

BLUEBERRY SAUCE: Combine blueberries, honey, water and lemon zest in a medium sized saucepan. Bring to a boil, reduce heat and simmer for 10 minutes. Pour over the baked brie and serve immediately with your choice of crackers, fruits and bread.
Notes
brie wheels come in all different sizes, just choose what fits you best. If you have too much blueberry sauce it goes great on pancakes! 🙂