These Chocolate Cupcakes with Chocolate Buttercream are a basic recipe that anyone can make.  It produces a moist chocolate cupcake, and feel free to use dark cocoa powder to intensify the chocolate flavor.  The chocolate buttercream is a basic frosting that is fluffy and, of coarse, chocolaty.
This is a great recipe to have in your back pocket as an old reliable.  And as you grow more comfortable feel free to play around with the recipe and create something new!
So, I thought I would update everyone on how my pregnancy is going.
How far along am I?
I am almost 22 weeks!  Just over half way through already!
How am I feeling?
I am doing much better now!!  Thank goodness!!  I started to feel a lot better around the 18 week mark.  I still have a few slightly off days where certain foods don't sound to appetizing or my morning starts off a little rough but quickly fades.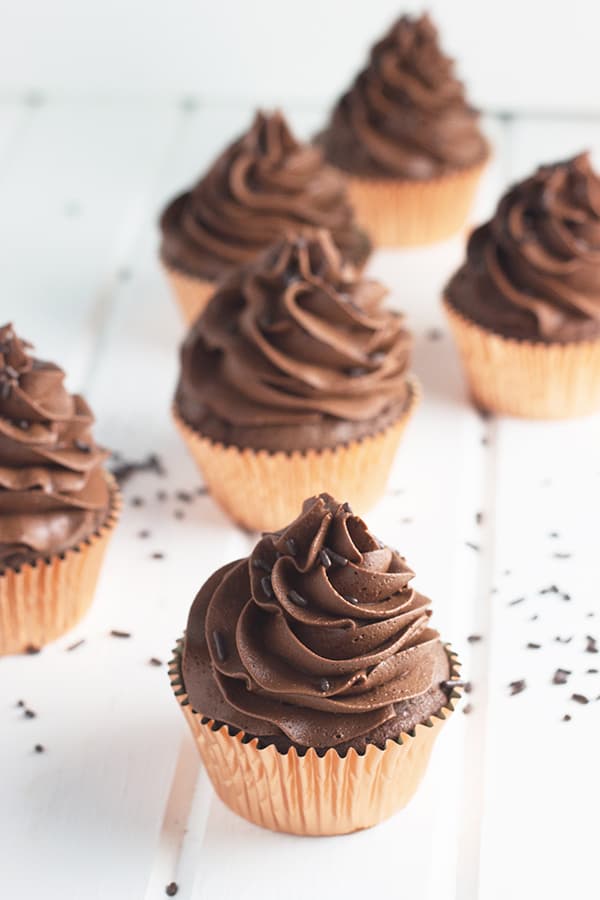 What foods am I craving??
Well, mexican has been at the top of the list for a while now.  But, as I have mentioned before, this comes as no surprise to me because I craved it in all of my pregnancies.  (plus, I just love it anyway!)
One craving that is very new for me is eggs.  I am not a huge egg eater but with this pregnancy they sound so good!  I like to eat them scrambled on top of avocado toast.  Only, here's the real kicker, I don't eat this for breakfast!
My breakfasts are pretty light, mostly peanut butter toast, because that is what sounds good in the morning and really the only thing my stomach can handle.
My sweet tooth has been creeping its way back in.  Some days I don't want anything sweet and other days ice cream and chocolate sound really good!!  So, needless to say my appetite has been all over the place!
Boy or Girl???
But now for the main event!  What you have all been waiting for, or at least some of you.
Last week I said I was going to announce the gender of our baby sometime this week.
Well today is the day!  Just scroll down to the next picture to find out 🙂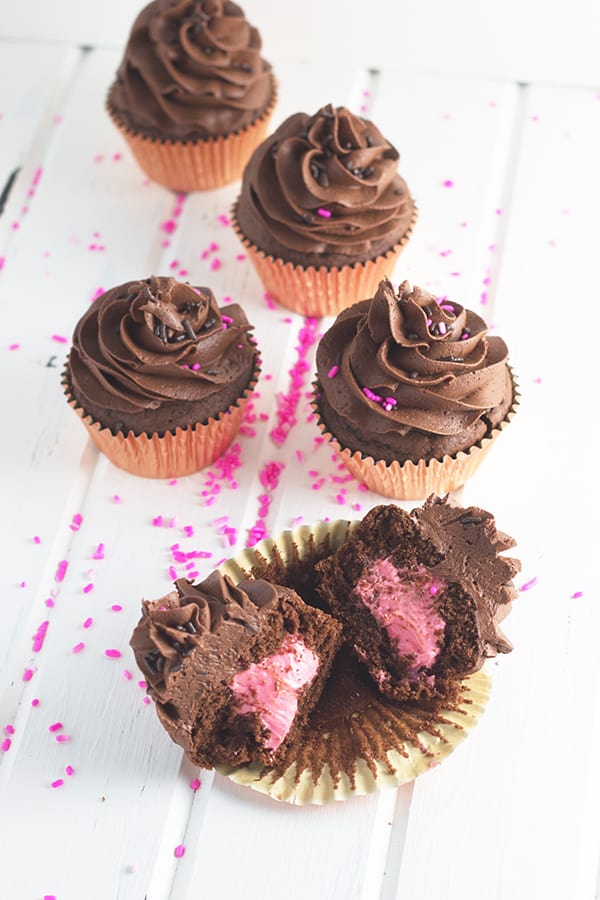 That's right, we are having another girl!!!  So, that will make this our 6th girl.  Our poor son!
I'm not going to lie, I was hoping for a boy but I was pretty confident we were having a girl.  We are still very, very happy and just oh so glad that the baby looks healthy and everything is how it should be!

Chocolate Cupcakes with Chocolate Buttercream
Chocolate Cupcakes with Chocolate Buttercream- this is a simple and straight forward recipe for moist chocolate cupcakes and fluffy chocolate buttercream.
Print Recipe
Save Recipe
Saved!
Ingredients
Cupcake

1

stick

1/2 cup butter, softened at room temperature

1 1/2

cups

sugar

2

eggs

2

teaspoons

vanilla

1 1/2

cups

all purpose flour

1/2

cup

cocoa powder

1

teaspoon

baking soda

1

cup

buttermilk

Chocolate Frosting

3

sticks butter

softened at room temperature

1

cups

cocoa powder

pinch

of salt

4

cups

powdered sugar

2

teaspoons

vanilla

1-2

tablespoons

heavy cream
Instructions
Preheat oven to 375 degrees F. Line 2 muffin tins with paper liners and set aside.

In a large bowl beat the butter and sugar until light and fluffy. Add in eggs one at a time beating well after each. Add in the vanilla and combine.

In a medium bowl combine the flour, cocoa powder and baking soda. Add to the butter mixture alternating with the buttermilk. Beating well after each addition.

Fill paper liners 2/3 full. Bake for 13-16 minutes or until a toothpick inserted in the center comes out clean. Cool completely before frosting.

To make the frosting beat the butter in a medium sized bowl until light and fluffy. Beat in the cocoa powder, salt, powdered sugar, vanilla and 1 tablespoon of cream. Add in more cream as needed. Frost as desired.