I wanted to create something special for Mother's Day this year in remembrance of my mom.  She loved chocolate, pecans, caramel and loved to create beautiful cakes.  So, I thought I would combine them all to make this Chocolate Turtle Cake.
It took me a couple of rounds to get this the way I wanted it but it was worth it.  The cake is rich and moist, the frosting sweet and fudgy, and the caramel and pecans send it over the top.
My mom was a very special lady.  I could always call her up and talk about whatever was happening with the kids or how behind I was on house work or just to talk.
She was a very caring and loving mother and grandmother, she just adored her all her grandbabies (as she called them).  She came out to stay with us after each one of my children were born.  I don't think she could drive fast enough to get here!  She was so eager to be here and hold that new little one when we came home from the hospital and read all of the others a bedtime story.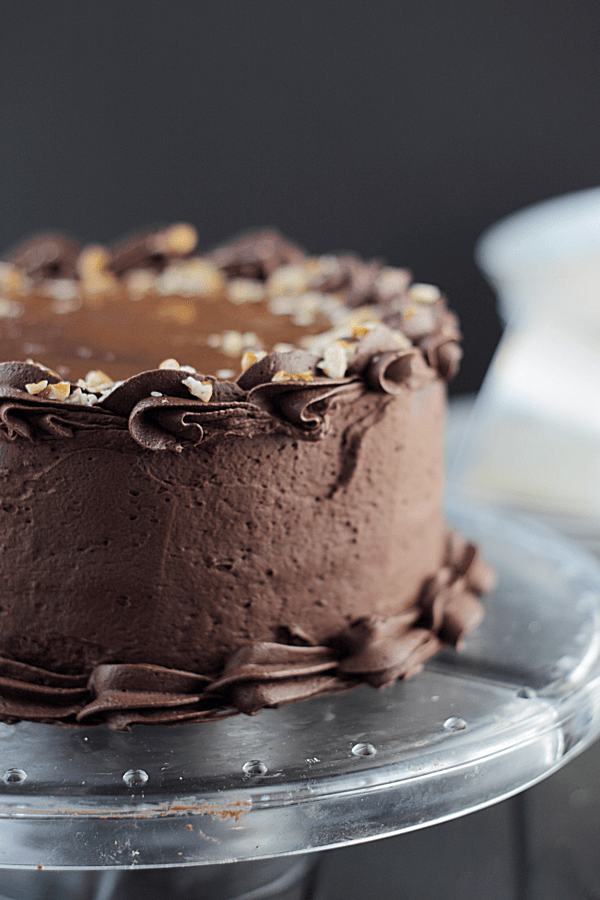 A mother's love (or grandmother's love) is just really hard to explain.  But now that I am a mother I am starting to understand.  It's made up of a lot of sacrifice, pain and patience (I'm still working on that one 🙂 )  It's also unconditional, gracious, bountiful and everlasting.
A mother's love can heal the tiniest of scrapes with just one kiss.  It can give light to the darkest of paths.  And it can bring peace to an unsettled heart.
I just wish I had one more day with my mom to hold her hand, to tell her everything will be alright and to tell her how grateful I am to have her as my mom.
So, even though I can't mail her a beautiful card to make her smile
or call her up to tell her how much she means to me
or visit her to feel her warm embrace and get one last kiss on the cheek from her………
I still want to say I love you and Happy Mother's Day, Mom!

Chocolate Turtle Cake
A dark chocolate cake with rich chocolate frosting, pecans and caramel, what's not to love about this chocolate turtle cake?
Print Recipe
Save Recipe
Saved!
Ingredients
Cake

1 3/4

cups

all purpose flour

1

cup

sugar

1

cup

brown sugar

3/4

cup

unsweetened cocoa powder

1 1/2

teaspoons

baking powder

1 1/2

teaspoons

baking soda

1/2

teaspoon

salt

2

eggs

1

cup

buttermilk

1/2

cup

vegetable oil or butter

melted

2

teaspoons

vanilla

2/3

cup

caramel ice cream topping

divided (I like smuckers simple delight salted caramel because it is thicker)

2/3

cup

chopped pecans

divided

Frosting

1/2

cup

butter

softened

2 2/3

cups

powdered sugar

1/2

cup

unsweetened cocoa powder

5

tablespoons

milk

1

teaspoon

vanilla
Instructions
Preheat oven to 350 degrees F. Grease and flour two 9" round baking pans. Set aside

In a large bowl combine the flour, sugar, brown sugar, cocoa powder, baking powder, baking soda and salt. Add in the eggs, buttermilk, oil or butter, and vanilla. Beat on low speed for 1 minute then on medium speed for 2 minutes.

Pour batter evenly into the prepared pans. Bake for 30-35 minutes or until a toothpick inserted in the center comes out clean. Cool for 10 minutes before removing from the pans. Cool completely before frosting.

For the frosting beat the the butter until pale and fluffy. Slowly add in the powdered sugar and cocoa powder along with the milk and vanilla. Beat well until smooth and fluffy. Add additional milk if needed.

To assemble place one cake round on a serving platter. Spread a thin amount of frosting over the top of the cake and pipe a boarder around the top (this will hold the caramel and pecans in the center.) Carefully spread 1/3 cup of caramel then sprinkle with 1/3 cup chopped pecans. Place other cake round on top and lightly frost the whole cake. Let stand for 5 minutes. This is the crumb coating and it will hold all of the crumbs in place after it dries a little. Using the rest of the frosting finish the cake leaving enough frosting to pipe a boarder around the top to hold in the caramel. Top with remaining caramel and pecans.
Notes
This cake can also be make in a 9x13 baking pan. Place on a serving platter frost with frosting and pipe a boarder around the top of and bottom of the cake. Top with the caramel and pecans.
This does not make a lot of frosting for the layered cake, so if you like your frosting on the thicker side double the frosting recipe.