These Double Chocolate Strawberry Muffins are moist, tender, filled with strawberry chunks and oh so chocolatey!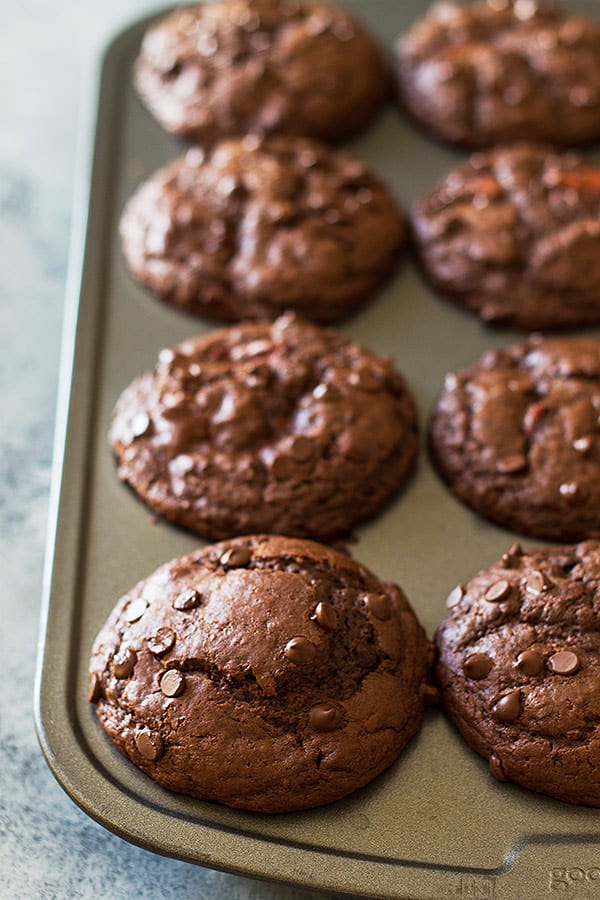 I finally have these muffins right. If you have been following me on my instagram stories you already know I have been making several batches of these double chocolate strawberry muffins. The kids aren't complaining one bit and have been eating these for snack almost every day!
I wanted them to be more of a bakery style muffin, you know those really big ones with the domed tops. They also had to be moist and tender. These fit all that criteria plus they are super chocolatey!! YAY!
(If you are looking for some other great muffin recipes I have these peanut butter chocolate chip muffins (one of my favs) or this lemon blueberry bread is another great choice!)
I also threw in some chopped strawberries making them perfect for Valentine's Day. When making these I highly recommend using the paper liners because they tend to stick a little. Or maybe I just didn't do a good enough job greasing the muffin pan. After my first flopped batch I decided to stick with the paper liners because they're easier plus I'm lazy. Another thing to make these muffins easier is to use a large cookie scoop to transfer the batter to the muffin pan. Way faster and cleaner!!
This is a thicker batter and it will seem like a lot for 12 muffins but trust me it works. The batter needs to be on the thicker side to hold the strawberries in place otherwise they will just sink to the bottom of the muffin. And with it being thicker it helps to create those higher domed tops.
One more tip to help make these a nice light bakery style muffin is not to overmix. You want to stir, not beat, the wet and dry together just until combined and it is ok for there to be a few lumps. It's good actually because then you know you haven't overmixed.
When the batter gets overmixed it will produce a dense muffin and we want those nice tall light and airy ones. 🙂
These would be great to make on Valentine's Day for the kiddos to take to school in their lunch or surprise them with these for snack when they get home. I made them a little extra special with a dollop of freshly whipped cream too. Hey we aren't counting calories on a holiday!
Enjoy!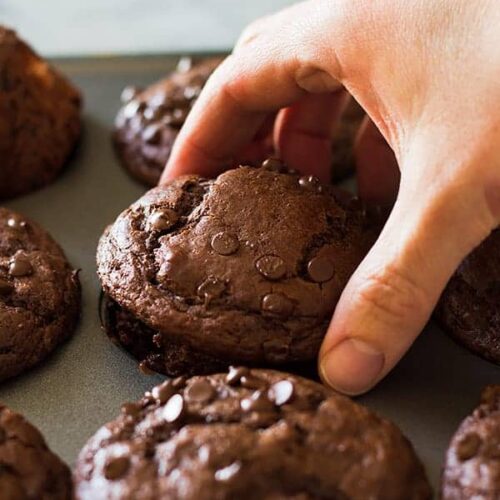 Double Chocolate Strawberry Muffins
Print Recipe
Save Recipe
Saved!
Ingredients
1 1/4

cup

all purpose flour

1/2

cup

cocoa powder

1/2

cup

sugar

2

teaspoons

baking powder

1/2

teaspoon

baking soda

1/4

teaspoon

salt

3/4

cup

buttermilk

1/2

cup

butter

melted

2

eggs

1

tablespoon

vanilla

yes tablespoon

1 1/2

cups

chopped strawberries

1/2

cup

mini semi sweet chocolate chips

plus extra for topping if desired
Instructions
Preheat oven to 375 degrees F. Grease and flour a muffin pan or line with paper liners (my preferred route for these muffins 🙂 ), set aside.

In a large bowl combine the flour, cocoa powder, sugar, baking powder, baking soda and salt. In a small bowl combine the buttermilk, melted butter, eggs and vanilla. Add to the flour mixture along with the strawberries and chocolate chips. Stir just until combined don't overmix. It is ok to have lumps!

Using a large cookie scoop evenly divide batter among the 12 muffin tins making sure to leave batter in a nice domed shape. Sprinkle tops with extra chocolate chips if desired. Bake for 20-25 minutes or until toothpick inserted comes out clean. If using paper liners remove from pan and cool completely. If you aren't using liners let cool in pan 15 minutes before removing to cool completely. Store in an airtight container for 2-3 days.