These Baked Homemade Chicken Nuggets are way better than the store bought and you can pronounce everything on these golden nuggets!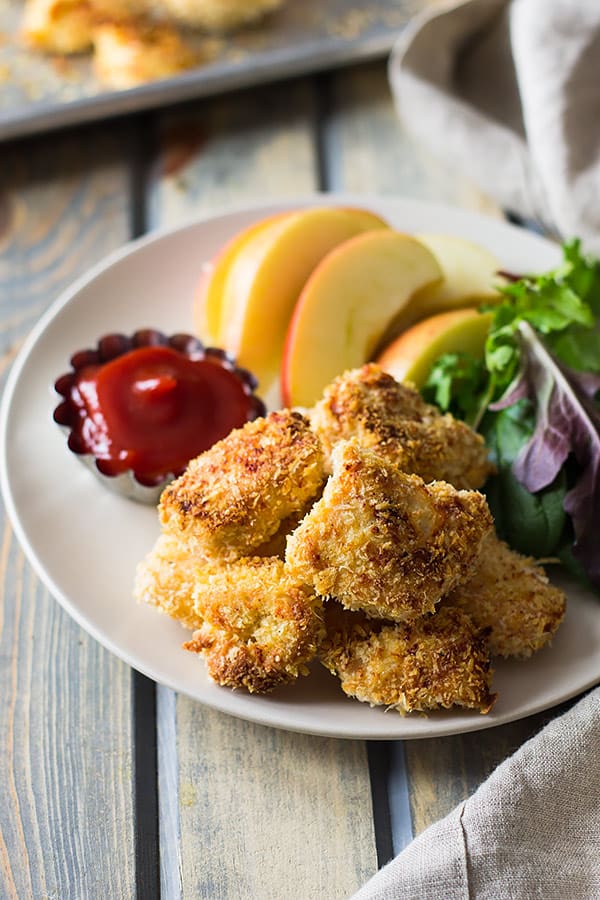 I don't know about your family but my kiddos love chicken nuggets.  However, I don't like the price you pay for a small bag of frozen questionable "chicken nuggets".  So, I decided it was time to make my own and the kids and I like them better than the store bought!  Plus, I can pronounce everything that is on these nuggets which makes me much happier.
They really aren't that hard to make either!  Just mix up the crumb mixture which is panko, Parmesan cheese, seasoned salt and pepper.  Make an egg wash of 2 eggs and a small amount of water.  Cut your chicken breasts into small pieces (I cut them to about the same size of store bought chicken nuggets).  Now just dip into the egg wash then into the panko breading.  Place on a baking sheet and bake for 8 minutes on each side.
I will tell you that these will not be as golden as the store bought chicken nuggets and if that is something you really want, no problem.  Just toast your panko bread crumbs before mixing it with the Parmesan cheese, seasoned salt and pepper.  Then they will have that golden look!  I am lazy and it doesn't bother the kids or I how golden they are so I skip this step.  However, after the nuggets were done baking I did broil them a little just to give them a little brown color for these photos.
Serve these with your favorite sides like cut up fruit and veggies, macaroni and cheese, steamed veggies…..whatever you choose it will be great.
Oh, and while we are on the topic of nuggets there will be a new little nugget joining this family in mid June!  Yep, that's right Baby #8 is on it's way!  The kiddos are super excited and they are all hoping with all their might that it can be a little boy.  I am pretty confident that it is another girl but we will see!
Currently I am 17 weeks and completely over my morning sickness, YEAH!!!!!!!  This is the quickest I have gotten over my morning sickness so maybe it could be a boy?!?!  So, that's why things have been a little crazy here on Countryside Cravings.
All I have been living on is plain carbs and when I say plain I mean plain toast, plain rice…..  I know weird right!?!  Most of those aversions have gone away a few weeks ago thank heavens and I can start to enjoy a more balanced meal.  So, because of all those carbs I think I have gained 15 pounds already, YIKES!!  But hopefully that will slow down a bit now that I am back to eating fruits, veggies and lean meats…..oh and still enjoying those carbs just in moderation! 🙂
Baked Chicken Nuggets
Print Recipe
Save Recipe
Saved!
Ingredients
1

pound

boneless

skinless chicken breast (2 large)

2

eggs

1

cup

panko breadcrumbs

1/2

cup

FINELY grated Parmesan cheese

the kind in the green can will work

1/2

teaspoon

seasoned salt

Pepper to taste

Non-stick cooking spray
Instructions
Preheat oven to 425 degrees F. Coat a large baking sheet with non stick spray, set aside.

Cut chicken breasts into smallish pieces (I usually make them roughly the same size as the ones you can buy from the store which is about a 2 inch nugget).

In a shallow dish beat eggs with a small amount of water (about 1 teaspoon). In a separate shallow dish combine the panko, Parmesan cheese, seasoned salt and pepper. Dip each piece of chicken in the egg wash then into the panko mixture. Place on prepared baking sheet. Spray nuggets lightly with cooking spray and bake for 8 minutes turn each piece and bake 8 minutes or until cooked through. Serve with your favorite dipping sauce.
Notes
If you want your nuggets to have that nice golden look toast the panko before mixing it with the cheese, salt and pepper. Place on a baking sheet and bake at 400 degrees for 6-8 minutes. Cool before mixing with the cheese so it doesn't melt it.