This Brioche Cinnamon Snowflake Christmas Bread is similar to cinnamon rolls only in a pull-apart style. It's stunning to look at and perfect for Christmas morning breakfast or brunch!
*Originally published December 2017. Photos, text, and recipe updated.*
Cinnamon Star Bread
I know at first glance, this star bread recipe looks like you need to be a professional to make it! Wrong! It's actually pretty simple and will leave your guests gasping in delight!
This brioche cinnamon bread is soft and billowy and packed with the perfect amount of cinnamon sugar filling. Seriously, you NEED to try it!
You will hear of this cinnamon star bread, also referred to as cinnamon snowflake bread! It doesn't really matter what you call it; it's incredible.
I'm thinking this would make a stunning Christmas breakfast or brunch. Or serve these Gingerbread Pancakes, Gingerbread Scones with Cream Cheese Frosting, or Breakfast Enchiladas.
Why You'll Love Christmas Bread
It can actually be served any time of year!
Everyone will go crazy for how pretty it is and how amazing it tastes.
The texture of the star bread is incredible.
Goes well with all your favorite breakfast and brunch recipes.
Ingredients for this Star Bread Recipe
ACTIVE DRY YEAST – this is what causes the dough to rise. Make sure your yeast hasn't expired before starting. The fresher the yeast, the better it will do its job. Two brands I trust are Fleischmann's and Red Star.
MILK – Milk makes the bread soft and adds flavor.
FLOUR – I am using all-purpose flour for this recipe but feel free to use bread flour. I haven't tested this with whole wheat flour. My favorite is King Arthur Flour when making homemade bread.
BUTTER – Butter adds richness and keeps the bread tender.
EGGS – Eggs also add richness and food value. They also provide color and bind the ingredients together.
SUGAR – Yeast needs sugar in order to rise. Think of it as food for the yeast.
SALT – Salt is what regulates the yeast. It helps provide a slow and steady rise. It also provides flavor.
How to make Christmas bread
PREPARE THE DOUGH: Prepare the dough and let it rise until doubled. This takes about 1 hour, depending on how warm the area is where the dough is rising. Brioche dough is extremely sticky and soft and requires refrigeration. It will be refrigerated overnight and will be much more manageable after refrigeration.
ROLL THE DOUGH: After your dough has been refrigerated overnight, sprinkle a work surface with flour. Divide the dough into 4 equal portions. Roll one portion into a 10-12″ circle. Place on a baking sheet lined with parchment paper and spread with softened butter. Sprinkle with cinnamon and sugar and repeat the process. You will have four layers of dough and 3 layers of cinnamon and sugar.
SHAPE THE SNOWFLAKE: Cut the circle into 16 equal sections. Refer to the pictures above to help. Take 2 sections that are side by side and twist them away from each other 3 times. On the third time pinch the 2 ends together to form a point. Repeat with the remaining strips.
LET RISE: It only needs to rise for 20 minutes. So have your oven preheated and ready to go.
About this Brioche Cinnamon Bread Snowflake:
The Christmas bread dough can be kept in the refrigerator for up to 2 days before shaping.
The snowflake can be made 1 day in advance. It probably could be made 2 days in advance, but mine was a little dry on the second day. However, I live in a very dry climate too.
Don't let the snowflake rise much longer than 20 minutes on the final rise. It gets too puffy and really dries the dough out.
FAQs
CAN I USE A DIFFERENT FILLING?
Sure! We prefer cinnamon and sugar, but you could use chocolate, pumpkin, jam, jelly, or any other pastry or bread filling you like.
CAN YOU FREEZE CINNAMON STAR BREAD?
Yep, you can freeze this Christmas bread for up to 3 months. Wrap it and put in a freezer container that is airtight.
HOW LONG WILL BRIOCHE CINNAMON BREAD LAST?
It will last up to 4 days at room temperature. It will need to be kept in an airtight container, so it doesn't dry out.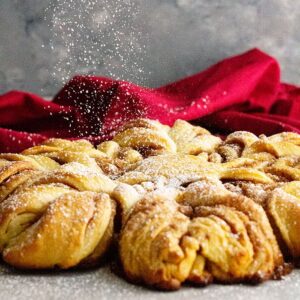 Brioche Cinnamon Snowflake Christmas Bread
This Brioche Cinnamon Snowflake Christmas Bread is similar to cinnamon rolls only in a pull-apart style. It's stunning to look at and perfect for Christmas morning breakfast or brunch!
Print Recipe
Save Recipe
Saved!
Ingredients
Brioche Dough
1½

teaspoons

active dry yeast

⅓

cup (80ml)

very warm milk (110°F)

2½

cups (325g)

all purpose flour

½

cup (113g)

butter, softened

3

large eggs

3

tablespoons

granulated sugar

½

teaspoon

salt
Cinnamon Sugar filling
4½

tablespoons

butter, softened

⅓

cup (70g)

granulated sugar

⅓

cup (60g)

packed brown sugar

1

tablespoon

cinnamon
Instructions
Brioche Dough
Add yeast and warmed milk to a liquid measuring cup. Stir to combine, cover and let stand for 5 minutes. If it's not foamy looking your yeast is not active and you will need to buy new yeast.

Add yeast mixture to the bowl of a stand mixer along with the flour, butter, eggs, sugar, and salt. Mix on low just until combined then switch to the hook attachment.

Knead on low speed for 5-10 minutes or until the dough looks smooth and slightly glossy. The dough will be very sticky. Cover and let rise for 1 hour in a warm place.  Transfer to a container and refrigerate the dough overnight.
Assembly of snowflake
Line a large baking sheet or pizza pan with parchment paper; set aside.  

In a small bowl combine the sugar, brown sugar, and cinnamon for the filling; set aside.  

Divide the dough into 4 equal portions. On a lightly floured work surface roll one portion of dough to a 10-12 inch circle.  (don't worry about it looking perfect! 🙂 ) Place on the baking sheet. Spread with ⅓ of the softened butter and sprinkle with ⅓ of the sugar and cinnamon mixture.    

Roll out another portion of dough and place it on top of the sugar cinnamon filling. Spread with ⅓ of the butter and another ⅓ of the brown sugar cinnamon filling. Repeat once more. Roll out the last portion of dough and place on top.


Place a small glass or jar with a 2½ inch opening in the center of the dough stack. Gently press the glass into the dough to leave a light imprint. Leaving the center intact, use a sharp knife or pizza cutter to cut the layered dough into quarters. Then cut each quarter into 4 equal parts creating a total of 16 sections. 

Take two sections of dough side by side and twist each section in the opposite direction.  Twist each section 3 times and on the third time pinch the ends together to form a point.  Preheat the oven to 350°F and let snowflake rise in a warm place for 20 minutes. Bake for 18-22 minutes or until lightly browned.
Notes
The dough may be kept in the refrigerator for up to 2 days before proceeding with the assembly.  
The snowflake may be made up to 1-2 days in advance and stored at room temperature covered very well.  
Nutrition Facts: Since different brands of ingredients have different nutritional information, the information shown is just an estimate.
Nutrition
Calories:
451
kcal
|
Carbohydrates:
66
g
|
Protein:
9
g
|
Fat:
17
g
|
Saturated Fat:
10
g
|
Cholesterol:
89
mg
|
Sodium:
272
mg
|
Potassium:
120
mg
|
Fiber:
3
g
|
Sugar:
20
g
|
Vitamin A:
537
IU
|
Calcium:
44
mg
|
Iron:
3
mg