This quick and easy Homemade Pizza Sauce that comes together in 10 minutes and is perfect for all your homemade pizzas! 
Ok, I posted homemade pizza dough so now it is only fitting to make homemade pizza sauce, right??  You guys this stuff is soooo easy to make it's ridiculous!!  Plus, it has amazing flavor and won't leave your pizza boring and tasting like you used plain tomato sauce.  I even like to make this to use as a dipping sauce for breadsticks.
I feel a good pizza starts with a good sauce and this sauce is loaded with herbs, garlic and just a touch of sugar to balance everything out.  I also highly recommend only using extra virgin olive oil and not substituting with other oils.
Sure you can buy the jarred pizza sauce from the store, I used to, but now that I have this gem I no longer need to rely on that store bought stuff.
Just a couple more reasons why you need to make your own pizza sauce just in case if you need a little more convincing.
It's cheaper!  This recipe will make plenty for 2-3 pizzas.  You can even make a double batch and freeze the extra!  Just portion out your sauce into a freezer-safe container or plastic zip-lock (once it has cooled) then freeze for up to 3 months.  Now, you can have homemade pizza dough and homemade pizza sauce in your freezer ready to go for pizza night!!
It's healthier than the store bought.  You can make the decision on what goes into your sauce and if you are trying to watch sodium this is a great option.
It tastes better because duh it's homemade and everything tastes better when it's homemade!  🙂
Just a few tips when making your pizza sauce:  you will want to use quality ingredients.  Typically pasta sauce gets simmered for a really long time to develop its flavor.  In fact, I have a slow cooker spaghetti sauce that tastes phenomenal, just in case you were interested.  But with this homemade pizza sauce, we are making it quick and easy and are only simmering for 10 minutes.  That's why you need to use a good quality tomato sauce and herbs because that is where most of the flavor is coming from.  (Use a brand you have used and trust.)
So, don't reach for that jar of flavorless sauce at the store but make this instead and make pizza night awesome!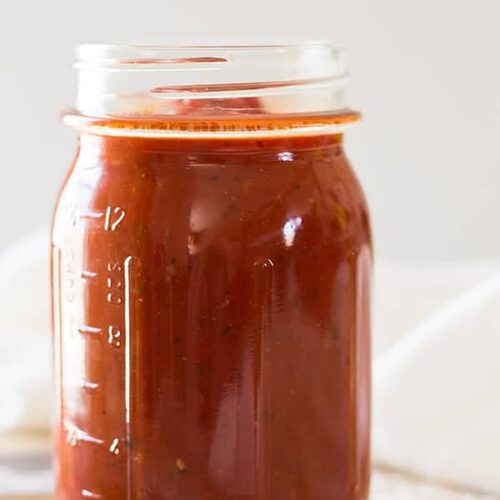 Homemade Pizza Sauce
Print Recipe
Save Recipe
Saved!
Ingredients
1

15 oz can tomato sauce

2

tablespoons

tomato paste

buy the squeeze tube kind

1

tablespoon

extra virgin olive oil

please no substitutes

1/2- 1

teaspoon

dried oregano

1/2

teaspoon

dried basil

1/2

teaspoon

garlic powder

1/2

teaspoon

sugar

1/8

teaspoon

crushed red pepper flakes

pepper to taste
Instructions
In a medium sized saucepan combine all ingredients. Simmer over medium low heat for 10 minutes. Store in a jar covered in the refrigerator for up to 1 week or cool completely and freeze for up to 3 months.