My homemade Cheese Pizza features a soft chewy crust and homemade sauce and is topped with 3 kinds of cheeses. Perfect for a cheesy pizza night "in" with the whole family!
Cheesy Pizza Recipe
Pizza night in (that's to say, in my house!) has become quite the thing for my family! The kids love to add their favorite toppings, and this 3 cheese pizza is a great base to start with.
Use my Homemade Pizza Dough and Homemade Pizza Sauce, or use a store-bought sauce if you prefer. And don't forget about the cheese breadsticks!
Who doesn't love a good pizza? And, who doesn't love a good homemade pizza?! We love this cheese pizza recipe and make it often. Plus, it's easy on the wallet and won't require you to go to a restaurant or wait for what feels like hours for your takeout order to arrive.
Now that's a win-win in my book!
Why You'll Love This Cheese Pizza Recipe
Great crust with a slightly crispy exterior and soft and chewy interior
Easy to make
Great base for any toppings you like
Use homemade pizza sauce or store-bought
Key Ingredients to Make Mozzarella, Parmesan, and Cheddar Cheese Pizza
As mentioned, I recommend that you use my homemade pizza dough and pizza sauce recipes to make your cheese pizza! You can find all of the details by clicking on the links. In the meantime, here's what you'll need.
CHEESE – I'm using a combination of mozzarella, Parmesan, and cheddar cheese for my 3 cheese pizza. You can sub in your personal favorites, or take out any that you don't like.
FLOUR – You can use all-purpose or bread flour. I prefer to use bread flour because it makes the crust a little chewier. But feel free to use what you have on hand.
YEAST – This recipe will work with both active dry yeast and instant or rapid rise. If you are using active dry, it will take a little longer to rise or proof, but that's ok. I like to use Red Star All Natural Yeast because it's the only yeast with no added ingredients.
WATER – Yeast needs liquid to hydrate and dissolve it so it can do its job. Be sure your water is around 110-115 degrees F to activate the yeast. You can also replace the water with milk for a softer crust if you prefer.
OIL – I like to use extra virgin olive oil because it provides a nice flavor to the dough. It also keeps it tender.
SUGAR – Just a tiny bit to help feed the yeast. You'll also need just a little to cut through the acidity in the tomato sauce.
SALT – Very important in yeast baking, because while sugar feeds the yeast to make it grow, salt helps slow the growth and provides a steady rise to create that distinct homemade flavor.
TOMATO SAUCE – From a can is perfectly fine!
TOMATO PASTE – For even more concentrated tomato flavor.
EXTRA VIRGIN OLIVE OIL – For the dough.
SEASONINGS – You'll need dried oregano, basil, garlic powder, red pepper flakes, and black pepper.
Instructions to Make 3 Cheese Pizza
MAKE THE DOUGH AND SAUCE: If you aren't using store-bought, now is the time to make your homemade dough and sauce!
MORE RECIPE PREP: Preheat your oven to 425 degrees F and grease the pizza pan of your choosing. You can use a baking sheet, pizza stone, or pizza pan.
CREATE THE CRUST: Use a rolling pin or stretch the pizza dough with your hands into a 14-inch circle, then place it on your prepared pan. Make a small lip around the edge so that the crust holds in all of your toppings.
ADD THE TOPPINGS: Spoon some pizza sauce onto the crust so that it covers the entire circle, except for the crust. Next, add the cheese, oregano, basil, and garlic powder.
BAKE: Place the mozzarella, Parmesan, and cheddar cheese pizza in the oven and bake for 15-20 minutes, or until the cheese has completely melted and the crust is golden brown. Let it cool a bit before slicing and enjoy!
Stretching vs. Rolling the Pizza Dough
It's up to you whether you choose to roll it with a rolling pin or gently stretch the dough. Stretching the dough will give a more authentic crust.
Reasons to stretch the dough vs rolling it:
It doesn't knock out all of the air, thus creating a puffier crust.
Prevents the dough from becoming too thin which results in a dry crust.
To stretch by hand, use your fingers to gently pull and rotate. Try not to handle the edges as much so you don't knock out the air.
Don't worry about how it looks. You will get better with time. Here is a little video on How to Stretch Pizza Dough.
Also, it's up to you whether or not you prick the dough before topping. Sometimes I do and sometimes I don't. The reason to prick is to prevent big air bubbles in your pizza.
Pizza Night In Topping Ideas!
Have a pizza night in with your family or even friends. Let everyone make their own mini pizza and top it how they desire.
My one rule is not to overload the pizza or pizzas with too many toppings. This will prevent the crust from rising and will end up soggy. Trust me on this one guys…I've been there. And PLEASE put the toppings on top of the cheese, not under it!
Topping Ideas:
Pepperoni
Sausage
Beef
Peppers of any kind
Onions
Olives
Mushrooms
BBQ Sauce
Bacon (try this Chicken Bacon Ranch Pizza!)
Ham
Pineapple
FAQ
What's the best pizza pan to use for cheesy pizza?
I usually cook mine on a pizza stone, but I realize not everyone wants to mess with a stone. This pizza pan with holes would be great as well.
What goes first cheese or toppings on homemade pizza?
As noted above, I always recommend adding the cheese first. It tends to be more solid than any other toppings, so those need to be on top of the cheese to ensure that they cook too.
What cheese is best for homemade cheese pizza?
I love a cheddar cheese pizza myself. Paired with mozzarella and Parmesan, the cheddar stands out thanks to its more robust flavor. That said, you could also add some ricotta, soft goat cheese, provolone, or another one of your favorites if you'd like! Don't be afraid to make this cheese pizza recipe your own.
What temperature do you bake pizza at?
I've found that 425 degrees F works best for my cheese pizza recipe. Any temperature between 400 and 500 degrees F is fine — typically the higher the temperature, the better. I find that 425 degrees F is the sweet spot for cooking pizza at home.
What's the best way to reheat pizza?
You have two options, and they depend entirely on preference. If a somewhat soggy crust doesn't bother you, go for the microwave.

If you want a crisper crust, reheat your pizza in a skillet and cover it with a lid (this is my preferred method).
More Pizza Recipes To Try
Thanks so much for reading! Let me know what you think about this 3 cheese pizza!
HUNGRY FOR MORE? Subscribe to my newsletter and follow along on Pinterest, Facebook, and Instagram for all my latest updates!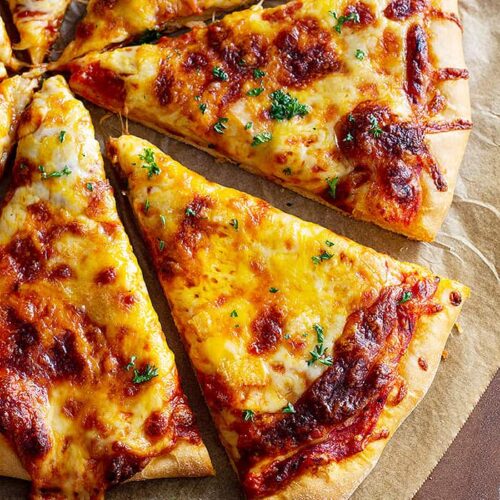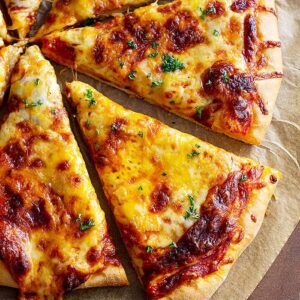 Homemade Cheese Pizza
My homemade Cheese Pizza features a soft chewy crust and homemade sauce and is topped with 3 kinds of cheeses. Perfect for a cheesy pizza night "in" with the whole family!
Servings:
8
(makes 1-14″ pizza)
Print Recipe
Save Recipe
Saved!
Ingredients
1

pound (550g)

pizza dough (homemade or store bought)

1⅓

cup (315ml)

pizza sauce (homemade or store bought)

2½

cups (280g)

shredded mozzarella

½

cup (55g)

shredded cheddar cheese

⅓

cup (40g)

shredded Parmesan cheese

½

teaspoon

dried oregano

¼

teaspoon

dried basil

¼

teaspoon

garlic powder
Instructions
Preheat oven to 425 degrees F. Lightly grease a baking sheet, pizza stone or pizza pan, set aside.

Roll or stretch the dough into a 14 inch circle then place on your prepared pan. Form a small lip around the edge to hold your toppings in. Top your pizza with the sauce and cheeses. Sprinkle the top with the oregano, basil and garlic powder.

Bake for 15-20 minutes or until the cheese is melted and the crust is golden.
Notes
If you are using a pizza stone: Preheat the stone while making the pizza. Be sure to make your pizza on a peel or a piece of parchment paper. Slide the pizza off the peel and on to the stone or transfer the pizza parchment paper and all on to the hot stone. 
Nutrition facts: Since different brands of ingredients have different nutritional information, the information shown is just an estimate.
Nutrition
Serving:
1
slice
|
Calories:
260
kcal
|
Carbohydrates:
32
g
|
Protein:
9.6
g
|
Fat:
11
g
|
Saturated Fat:
13
g
|
Cholesterol:
33
mg
|
Sodium:
575
mg
|
Potassium:
10
mg
|
Fiber:
1
g
|
Sugar:
1.7
g
|
Calcium:
216
mg
|
Iron:
2
mg
*Originally published March 2017. Photos and text updated.*