This Slow Cooker Spaghetti Sauce recipe is made easy in your crockpot.  It makes a thick and hearty sauce that freezes well.  You can choose to make it with ground beef, sausage or leave out the meat and make it vegetarian!
I love this spaghetti sauce and for good reason.  You see to make a good homemade spaghetti sauce it needs to simmer, but for a really long time.  Well, I don't have the patience to stand there and stir it every so often.  I have tried making it on the stove top and it just doesn't work for me.
I don't know why, but I usually scorch the sauce.  I know, right?!?!  How does a person burn spaghetti sauce.  I have it turned as low as it can go too.  I just get distracted with other things and forget all about it until I smell it burning.  (I also think I need to see if I can somehow adjust my stove so it can simmer a little lower)
So, my solution was my trusty old crockpot.  I don't know where I would be without that thing sometimes.
The only hands on part is browning the meat (and putting the ingredients into the slow cooker).  There are a few different ways you can make this spaghetti sauce as well!  I like to do a combination of ground beef and Italian sausage.  But you can leave the meat out entirely if you like or stick with just one kind.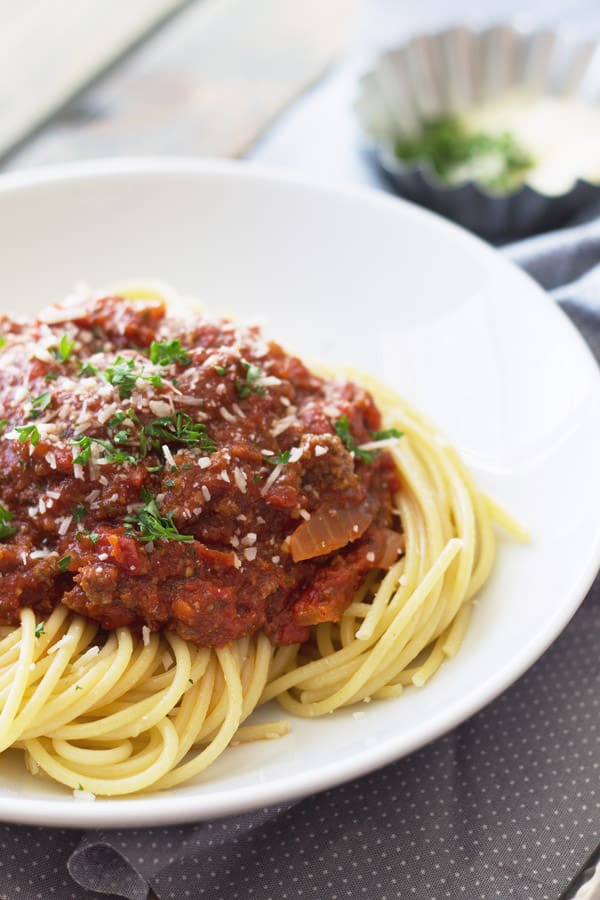 This also makes a large batch and freezes really well, which is awesome.  Make it once and have it ready to go for several meals depending on how big your family is.  Just portion out the sauce in containers or freezer bags then freeze.  Take one out before you go to work in the morning and you'll be ready to go!  You can even use this slow cooker spaghetti sauce in any of your pasta dishes too!
Slow Cooker Spaghetti Sauce
Ingredients
1

pound

lean ground beef

1/2

cup

white wine to deglaze pan

optional (may also use beef broth)

2

28 oz cans crushed tomatoes

1

small onion

chopped

1/4

cup

Parmesan cheese

1

tablespoon

olive oil

1

tablespoon

dried basil

2

teaspoons

dried oregano

2

teaspoons

dried parsley

2

teaspoons

garlic powder

1

teaspoon

salt or to taste
Instructions
In a large skillet brown the ground beef until no longer pink. Drain any excess grease and deglaze pan with white wine or may use beef broth. Spoon into slow cooker along with all other ingredients. Stir and cover. Cook on low for 8 hours.
Recipe Notes
You may use ground beef, Italian sausage or a combination of the two. Or you may leave it out. We have tried it all three ways and they are all really good but our favorite is the combination of ground beef and sausage.
To freeze: portion out the cooled sauce into freezer safe containers or freezer bags.
Also, if you want to skip the browning of the ground beef just add it uncooked to the slow cooker and break it up into smallish chunks. Stir in the remaining ingredients and cook as usual.