These Roasted Sweet Potatoes with Cinnamon Glaze are the perfect side dish for those that want something a little special!  They are tender, healthy, and lightly sweet with a touch of honey.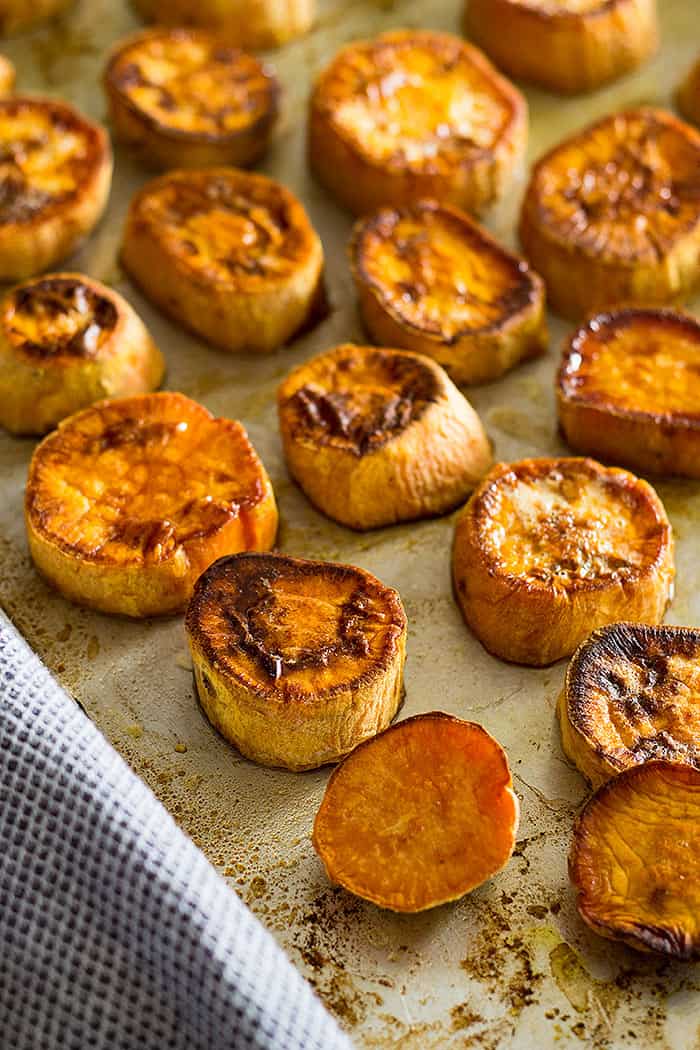 Hey guys, I have another amazing sweet potato recipe!  These roasted sweet potatoes with cinnamon glaze are the perfect side dish.  They are healthy and lightly sweetened with a touch of honey.  We have been eating these paired with many main dishes like this Bacon Wrapped Pork Loin, Chicken in Garlic Mushroom Cream Sauce, or this Mushroom and Blue Cheese Stuffed Flank Steak.
Ok guys, I have a few questions to ask all of you.  I need your input on how to better this place for all of you.  Do you feel the site is user-friendly and easy to navigate?  Are the recipes easy to understand?  What types of recipes are you interested in?  Would you like my posts to be a little more personal or just stick to talking about the recipe?  Would you guys be willing to take a short survey if I offered one?
I realize I can't please everyone but I would like to know what you guys are interested in and how you think I could better this blog.
I have come a very long way from when I started blogging and my intentions have changed some too.  When I first started this blog it was a way to catalog the different meals I made that we enjoyed.  And I'll be honest, it has come in pretty handy having all these recipes stored here!  But now there are so many of you coming here I would like your input as well.  I would like to make this a place you can easily find family friendly recipes.  So give me all your constructive criticism!
 About these Roasted Sweet Potatoes with Cinnamon Glaze:
Yes, these potatoes use butter.  Please don't be afraid of the butter, they seriously don't taste as good when roasted with oil.  Trust me I've tried.
The cinnamon glaze is purely optional.  They are very good without it but the glaze adds an extra special touch.
This recipe is adapted from Dessert For Two.
In other news, we have been crazy busy working on all of our projects going on around the house (I know that's what I always say, but it's true!)  Do you guys feel like you are so busy you don't know if you'll ever catch up??  We are so there and I keep hoping for the day we will be able to just sit and relax, but then I'm sure we would complain about being bored, lol!
Right now we have our water lines dug up trying to fix and replace the problems we have been having.  And usually I complain about the crazy weather but I am going to hold my tongue because we need to keep this nice weather we've been having.  Yesterday it was 80 degrees here!  I'm hoping it can stay with us long enough so we can get this project wrapped up.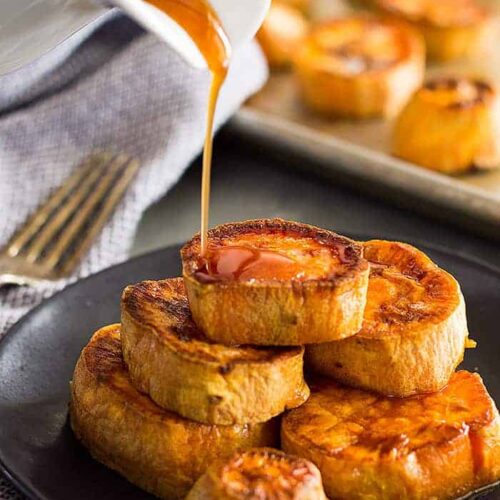 Roasted Sweet Potatoes with Cinnamon Glaze
Print Recipe
Save Recipe
Saved!
Ingredients
2 1/2

pounds (1.1kg)

sweet potatoes

4

tablespoons

butter, melted

1/2

teaspoon

salt
Cinnamon Glaze
1/2

cup (120ml)

honey

1/4

cup (60ml)

orange juice

1

teaspoon

cinnamon
Instructions
Preheat oven to 425 degrees F (218 degrees C).

Peel and slice sweet potatoes into 1" thick rounds. Place them on a roasting pan. Drizzle with melted butter and sprinkle with salt. Toss to coat evenly and distribute so they aren't touching on another. Bake for 20 minutes. Using a pair of tongs flip each potato and bake for another 20 minutes.
Cinnamon Glaze
In a small saucepan simmer the honey, orange juice, and cinnamon for 2-3 minutes or just to heat through. Serve with potatoes.