This Chicken in Garlic Mushroom Cream Sauce is full of flavor and super easy to make! It's made in 30 minutes making it a great weeknight meal!
**Photos, recipe and text updated September 2017**
I'm digging this chicken in garlic mushroom cream sauce out of the archives!!  It needed a facelift and a little attention.  First off the pictures had to go and I made some minor changes to the recipe.  We really like this dish and I like that it doesn't take long to make!  Plus, it doesn't make a lot of dirty dishes either!!
I like to serve this with steamed broccoli and brown rice, but any veggie of choice would be great here.  It would also be great on mashed potatoes if rice isn't your thing.
If you're looking for a few other 30 minute meals I have this Simple Sheet Pan Salmon and Asparagus, One Pot Bacon Alfredo, or Cheese Ravioli in Creamy Mushroom Sauce.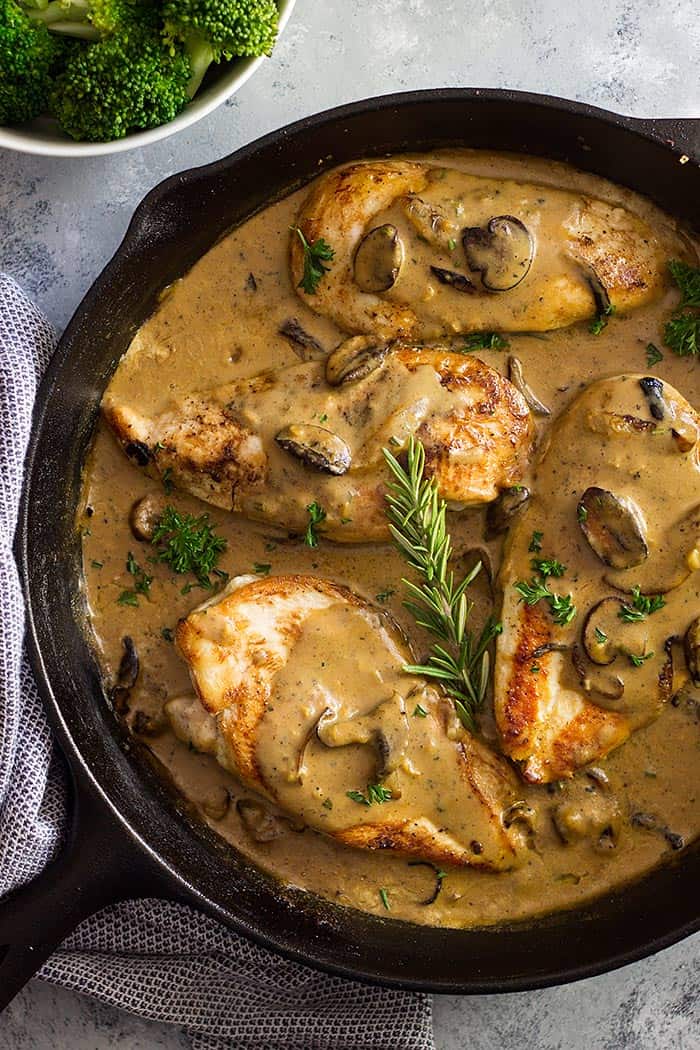 Here's a quick rundown on the recipe:
I opted for thinner chicken breasts because they cook quicker.  The original recipe just uses the chicken breasts as is but for quite a while now they have been so huge.  I usually cut them in half horizontally to make them thinner.  If you can buy smaller chicken breasts then you don't need to cut them in half, but maybe just pound them out a little so they cook more evenly.
Psssst…..here's a little trick to help you know when your chicken is ready to flip……it won't stick to the pan anymore.  Yep, when your meat is ready to be turned it shouldn't stick to the pan.  This also is true when you are grilling!
After your chicken is cooked place them on a plate and loosely cover them with foil to help keep them warm.  Now, it's time for the mushrooms and onions!  I like to make sure the mushrooms are nice and browned (but not burnt) because it adds a lot of flavor to the dish.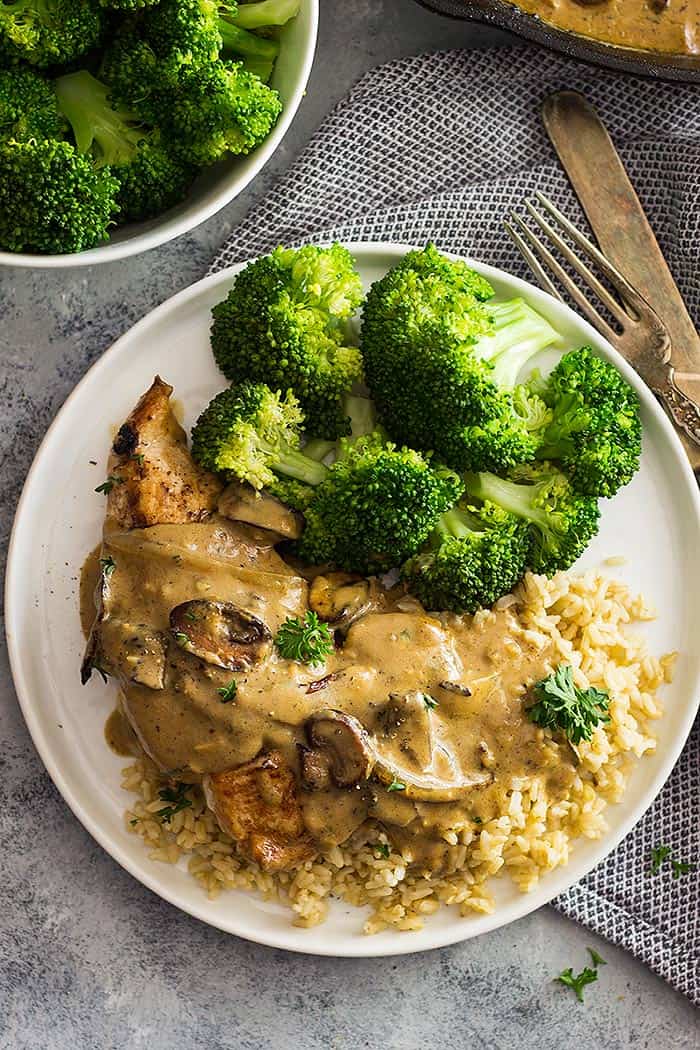 Now, as I have mentioned in previous posts the trick to lump free gravy is to stir the flour in with the meat.  It works the same in this dish with the mushrooms and onions.  Just stir in the flour after browning the mushrooms and cook it for a couple of minutes.  Pour in the broth and cream and be sure to stir well and get all those browned bits up from the pan because it will add a lot of flavor and give you that golden brown gravy.
This chicken in garlic mushroom cream sauce would also be great to serve to company.  Just brown your chicken in batches to make sure they don't crowd the pan or they won't brown very well.  Enjoy!!
**Original Text published March 2015**
Happy Saturday everyone!!  I hope this weekend finds you all enjoying the spring weather.  I can't stay long this morning as we are planting trees around our house this weekend!!  Yea, we will have something to look at finally!!  You see when we bought our house there wasn't any landscaping AT ALL!
Not a single tree, bush, flower or even grass!  That's right folks, not even grass.  We have done a lot of dirt work around our house over the past few years and last year we put in some cement patios and a sidewalk.  So, slowly but surely we are getting somewhere, it just takes forever it seems like!

Chicken in Garlic Mushroom Cream Sauce
Course:
Chicken, Main Dish
Ingredients
2-3

boneless chicken breasts

cut in half horizontally

3

tablespoons

olive oil

salt and pepper to taste

3

tablespoons

butter

2

cups

sliced baby portobello mushrooms

1

small onion

sliced

3

cloves

garlic

minced

3

tablespoons

flour

1 1/2

cups

chicken broth

1/2

cup

heavy cream

half and half or whole milk

1

teaspoon

minced fresh rosemary
Instructions
Heat a large skillet over medium heat. Add in the olive oil. Season the chicken breasts with salt and pepper to taste and add to heated skillet. Cook for 5-7 minutes on each side or until juices run clear. Remove from the skillet and set aside loosely covered with foil to keep warm.

To the same skillet add the 3 tablespoons of butter along with the mushrooms and onions. Cook and stir occasionally for about 5-7 minutes or until browned to your liking. Add in the garlic and cook until fragrant 1-2 minutes.

Stir in the flour and then the broth, cream and rosemary. Stir well to combine and scrape up all the browned bits from the bottom of the pan.

Return the chicken to the pan and gently simmer for 2-3 minutes just to reheat.
Recipe Notes
Serve this dish with your favorite steamed vegetable and hot cooked brown rice.