This Healthy Almond Butter Fruit Dip is great for snacking or even parties! It's a quick and easy recipe that even the kids can make!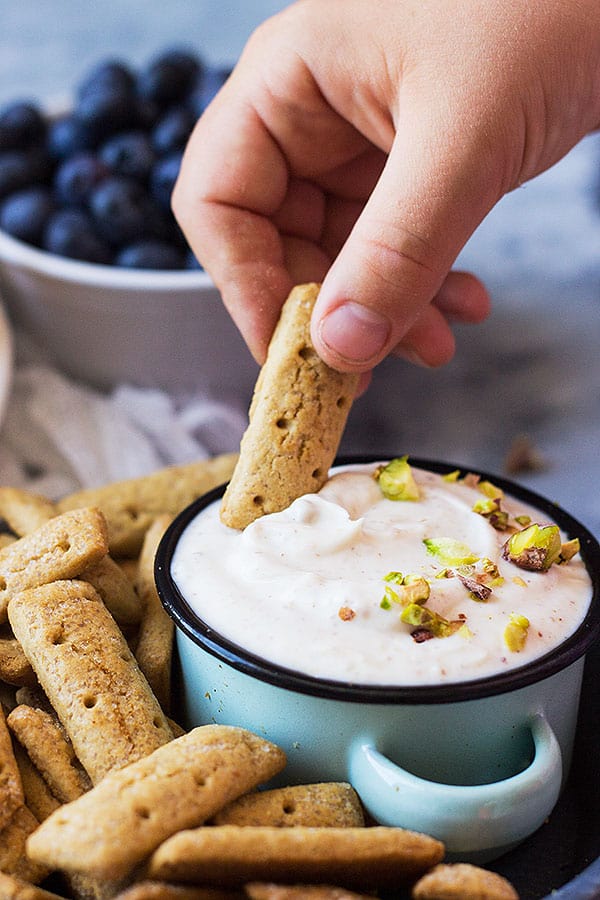 Hi, guys! Here is the healthier fruit dip I was talking about. This healthy almond butter fruit dip will make a perfect after school snack! It's also great with adults so make for a fruit tray at your next party too!! A couple more dips you need to make is this Quick and Easy Marshmallow Fruit Dip and this Chocolate Cream Cheese Fruit Dip. Both perfect for snacking and adding to a party tray!
So, my little one is now 2 months old……how is this even possible!! I feel like the last two months have been a blur, literally. The days just blend in with the nights and visa versa. There are so many things we are trying to accomplish this summer and that just adds to the blur.
We have crossed a few things off our huge to do list and that definitely helps give a sense of accomplishment.
Our biggest project we took on were chickens. Yes, we have chickens. I grew up on a farm with animals and my husband grew up on a farm farming so it only seems natural to start something of our own.
We are starting off small because there is a lot that goes into raising animals. Now, I look back and really appreciate what my family did for me growing up!
We bought a chicken coop off of craigslist. It needed some work but it was a great starting point. We still have one part of the coop we need to finish before winter but it won't take long. Then we made a large outdoor pen for the chickens to roam in. We want to be able to turn the chickens out to roam freely for a little while during the day, but I don't think we are quite ready for that. Our dog is super curious and I'm not sure how safe it would be to turn them out just yet.
We have about 28 chickens right now and soon they will be laying eggs. The kids have the responsibilities of watering, feeding and when they start laying, collecting eggs. They also help with cleaning out the coop and making sure the nesting boxes are clean. So far the kids have really enjoyed raising chickens and I hope it stays that way. Well, speaking of kiddos I better go see what mine are up to!! 🙂
Healthy Almond Butter Fruit Dip
Ingredients
1

cup

vanilla greek yogurt

2

tablespoons

almond butter

1-2

tablespoons

honey

sweeten to taste
Instructions
Combine all ingredients in a small bowl and mix until well combined.

Store in the refrigerator until ready to serve.