Beer Bread -This homemade Beer Bread uses a few simple ingredients to make a wonderfully hearty bread! Great for any meal especially soups!
**Originally published December 2013**
Beer Bread
This homemade beer bread is one of the easiest breads anyone can make!! I am going to include this in my back to the basics section because it is an awesome back pocket recipe. Anyone can make this bread and I mean anyone!! My 10 year old can make this with very little help so I know you guys can!! If you have been wanting to bake bread but scared of working with yeast this is your bread.
I love to serve this bread with almost any meal but it really goes well with soups. Soups like this Creamy Cajun Potato Soup, Slow Cooker Cheeseburger Soup, or Hearty Beef Stew.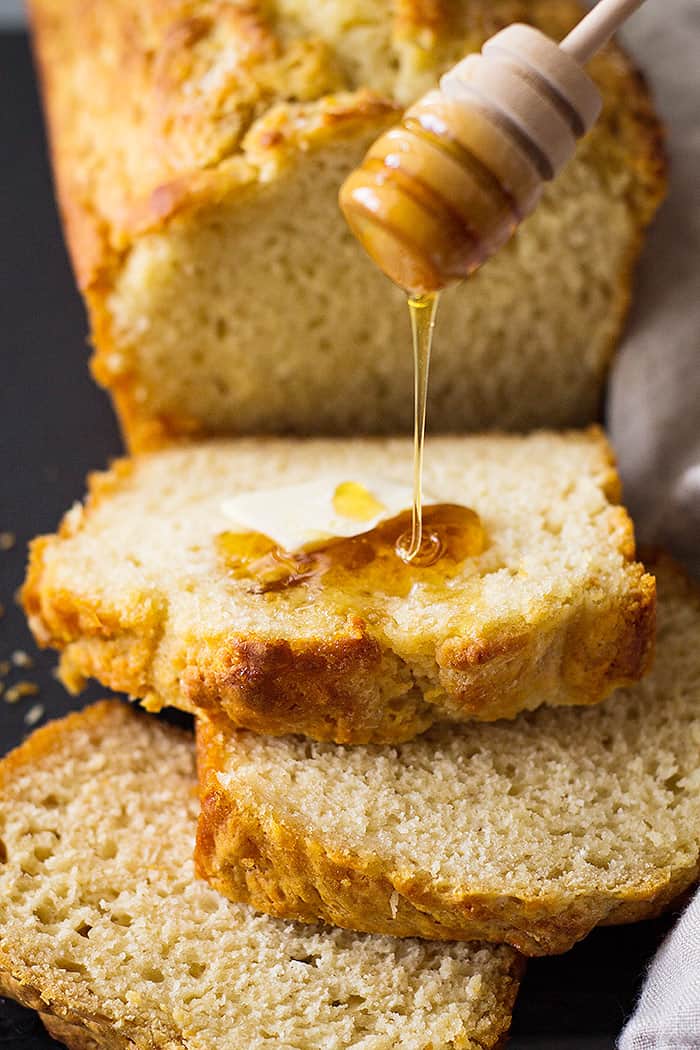 This beer bread is a wonderfully hearty bread. And here's the best part…..it can be ready to eat in 1 hour, start to finish!! Now you have no excuse not to make this bread! #sorrynotsorry
It's a crowd pleaser and as I have mentioned earlier goes great with just about any meal. I first shared this bread on the blog a very long time ago! Back in 2013 when the blog was just getting started. I had to revamp this post because I love making this bread and the pictures just HAD TO GO!! Yes, all caps were necessary!!
A little about this beer bread:
You can change the flavor by changing the type of beer. I mostly use whatever my husband has in the frigde, you know the basic Coors or something similar. But if you are looking for something different try using an Irish beer around St. Patrick's Day to serve alongside your corned beef. Basically, whatever beer you like to drink you will like in this bread.
This bread is sweetened with honey which is how I like it the best but if you don't have any honey on hand you could substitute in brown or white sugar.
You need to aerate the flour. You can do this two ways, sifting or using a whisk. I prefer to use a whisk because I don't want to dig for my sifter! 🙂 Please don't skip this step because it helps keep the bread a little lighter. It's simple to do. Just stir the flour, baking powder and salt together using a whisk.
This bread is going to be a hearty bread and will not give you the same kind of loaf as a yeast bread. I am also giving you 2 options for your crust. For a thicker, chewier crust place the pats of butter across the top of the batter before you put it into the oven to bake. If you would like a little bit softer crust, melt the butter and mix it into the dough with the beer and honey.
When you are combining the dry and wet ingredients do not overmix. Mix just until you no longer see any dry patches of flour and that's it. There will be a lot of lumps in this bread and that is how it should be.
This beer bread is virtually foolproof because you don't have to worry about yeast, how long to rise the dough or keeping track of starter doughs. I love making yeast dough but sometimes there just isn't any time so I make this instead. It's a quick, easy and delicious bread made with simple ingredients. And it's perfect for this fall weather and all the soups!!!
Beer Bread
Beer Bread -This homemade Beer Bread uses a few simple ingredients to make a wonderfully hearty bread! Great for any meal especially soups!
Print Recipe
Save Recipe
Saved!
Ingredients
3

cups

all purpose flour

4

teaspoons

baking powder

1

teaspoon

salt

1/4

cup

honey

1

(12 oz)

beer of choice

1/4

cup

butter

cut into 8 squares
Instructions
Preheat oven to 375 degrees F. Grease a 9x5 or 8x4 loaf pan with butter, set aside.

In a large mixing bowl whisk together the flour, baking powder, and salt. Be sure to whisk well to incorporate some air into the flour. You can also sift the flour if you prefer. Add in the honey and beer. Stir with a rubber spatula just until combined.

Spoon into prepared loaf pan. Place the 8 pats of butter across the top of the batter. Bake for 40-55 minutes or until a toothpick inserted in the center of the loaf comes out clean. Cool in pan 5 minutes before removing.
Notes
1. If you prefer a slightly softer crust melt the butter and add it to the batter along with the honey and beer.
2. If there are any leftovers wrap tightly with plastic wrap and store at room temperature for up to 3 days.