This naturally sweetened Easy Pumpkin Butter will be a great treat this fall! Spread it on biscuits, pancakes, toast or straight from the jar!
I have something a little different today….this easy pumpkin butter!  Have any of you tried this before??  If not you just have too!  It's the perfect fall treat that can be used on so many things!!
Spread it on pancakes, waffles, biscuits, toast, use it in desserts or just eat it straight from the jar!  It would be awesome on top of these Pumpkin Steusel Muffins, Pumpkin Spice Pancakes, or just stir some into your morning oatmeal.
I found this recipe on Better Homes and Gardens and I knew I had to try it out.  I've had apple butter many times but I've never tried pumpkin butter.  It quickly became a favorite with everyone in the family.
Plus, it is so easy to make!  I used canned pumpkin puree but if you have your own pumpkin puree, even better!!  I used maple syrup to naturally sweeten this but you could also try honey.  You could also use about 1/2 to 3/4 cup sugar depending on how sweet you like it.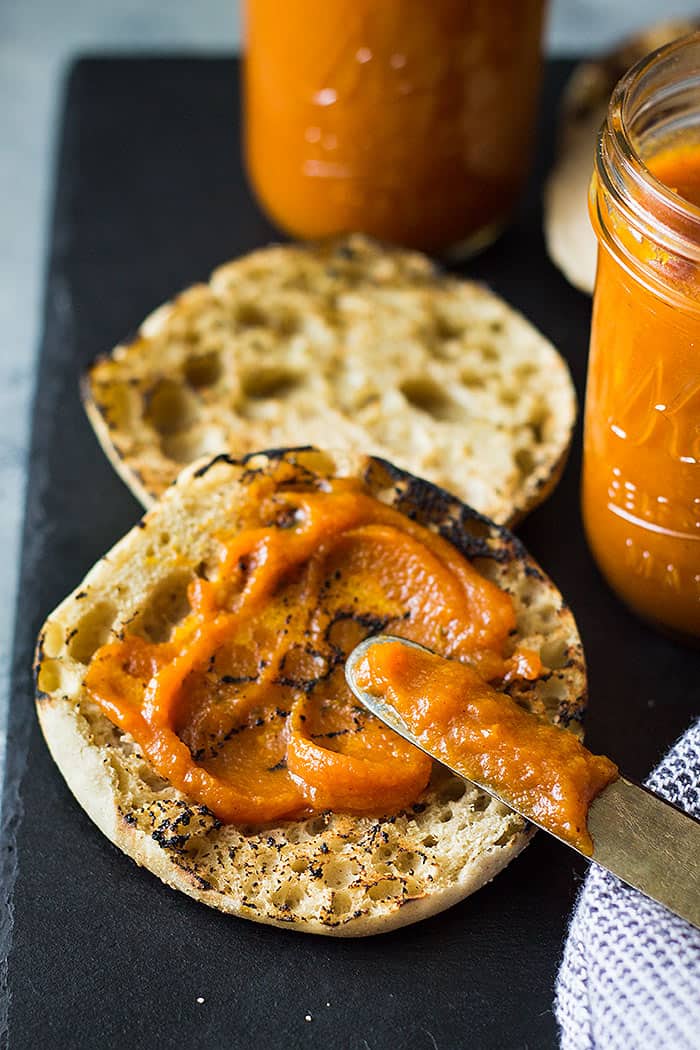 About this pumpkin butter:
Use a larger pan to help contain the splatter.  This pumpkin butter will splatter some when you are simmering and the taller sides will help.
This can make a wonderful homemade gift!  It's ok if it's not refrigerated for the time period you are gifting it.  Another great homemade sauce for gifts would be this salted caramel sauce!
This pumpkin butter will last for up to 3 weeks in the refrigerator!  Yay!  So, make a batch and enjoy it all through the fall.
My recipe makes about 2 cups worth of pumpkin butter.
As I said earlier there are so many uses for this easy pumpkin butter.  I can't wait for you guys to try it out and be sure to tag me on Instagram with #countrysidecravings so I can see!!  I love seeing what you guys make!
Easy Pumpkin Butter
Ingredients
1

15 oz can pumpkin puree (not pumpkin pie filling)

1/2

cup

apple juice or apple cider

1/4-2/3

cup

pure maple syrup

1

tablespoon

lemon juice

1/2

teaspoon

ground cinnamon

1/2

teaspoon

ground ginger

1/4

teaspoon

ground nutmeg

pinch

of salt
Instructions
In a large pot combine all the ingredients. Bring to a boil then reduce heat to a simmer. Simmer for about 20 minutes or until thick.

Ladle into clean half pint jars and cool for 30 minutes. Seal and store in the refrigerator.
Recipe Notes
1. Store in the refrigerator for up to 3 weeks.
2. Can add in 1/4 teaspoon of orange zest.
3. Can also use 1 3/4 cup homemade pumpkin puree.
4. Can make in the slow cooker, cook on high for 2-3 hours stirring occasionally.