Blueberry Dutch Baby with Lemon Curd is an impressive yet very simple breakfast for any occasion! And topped with lemon curd sends it over the top!!
Since I posted about lemon curd the other day I thought I would provide you with a few recipes to use that sunshine-y goodness with.  I mean just in case you (for some reason) get tired of eating it by the spoonfuls.  😉
A little about this Dutch baby, oven pancake, German pancake or whatever you may call it.  Why does it have so many names anyway!?!?
It's tender, creamy and crepe like in the center and slightly crispy around the edges.  The ingredients are simple, it's quick to put together and can be in the oven in mere minutes.
Just combine the ingredients, not to much though or it won't puff up and pour into a hot skillet.  Place it in the oven and wait for the magic to unfold.
There are many variations that can be done with a dutch baby.  This happens to be one of our favorites blueberry with lemon curd.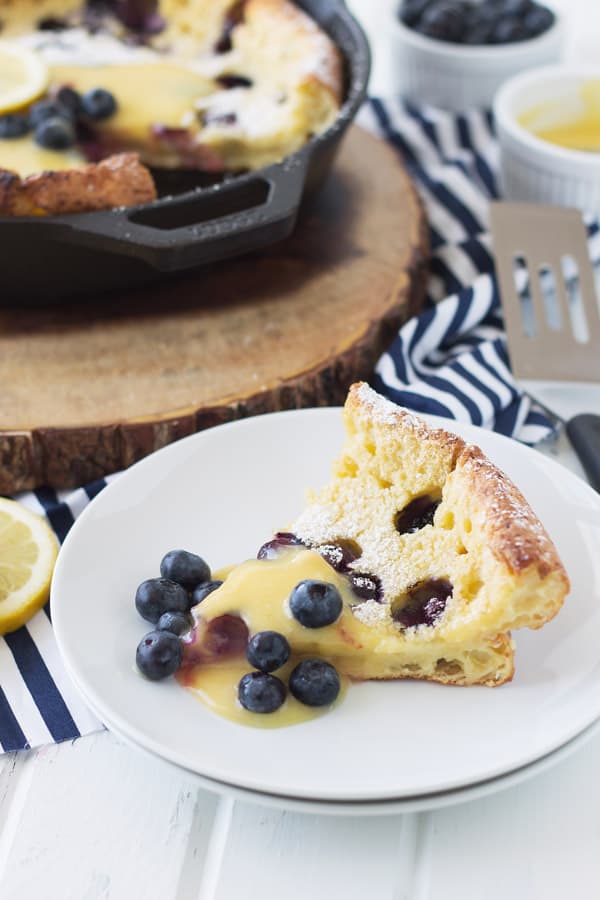 You can also serve it without the lemon curd.  Just drizzle with maple syrup or give it a light squeeze of lemon.  Maybe add some freshly whipped cream even.

Blueberry Dutch Baby with Lemon Curd
Print Recipe
Save Recipe
Saved!
Ingredients
2

tablespoons

butter

4

eggs

1

cup

flour

1

cup

milk

1

tablespoon

sugar

1/2

cup

blueberries

lemon curd for topping: recipe here
Instructions
Preheat oven to 400 degrees F. Place butter in a 10" cast iron skillet or a 9x13" baking dish and place in the oven while preheating.

Meanwhile, beat eggs in a medium bowl. Add in flour, milk and sugar and beat just until combined. DON'T overmix or the pancake will not puff up.

Remove skillet or dish from oven and pour in the batter. Sprinkle with blueberries then bake for 25-30 minutes or until puffed and the edges are golden. Serve immediately with

lemon curd

if desired.