Chocolate Peanut Butter Granola is super easy to make, great for snacking and it makes huge clusters!!
Yay!!!!!  It's the weekend!!!!!!
I hope you guys are as happy as I am for the weekend!  I'm happy because we are suppose to get our van back from the shop.  If you have been following me you may have read the post about a girl hitting our van if not here is the post.
Anyway, hopefully we get it back but we also are going to a wedding so I don't know if there will be time.  🙁
We are currently driving a rental—- a 15 passenger van rental and you guys this thing stinks!  Like literally stinks!  It smells like a sweaty, stinky gym, YUCK!!!!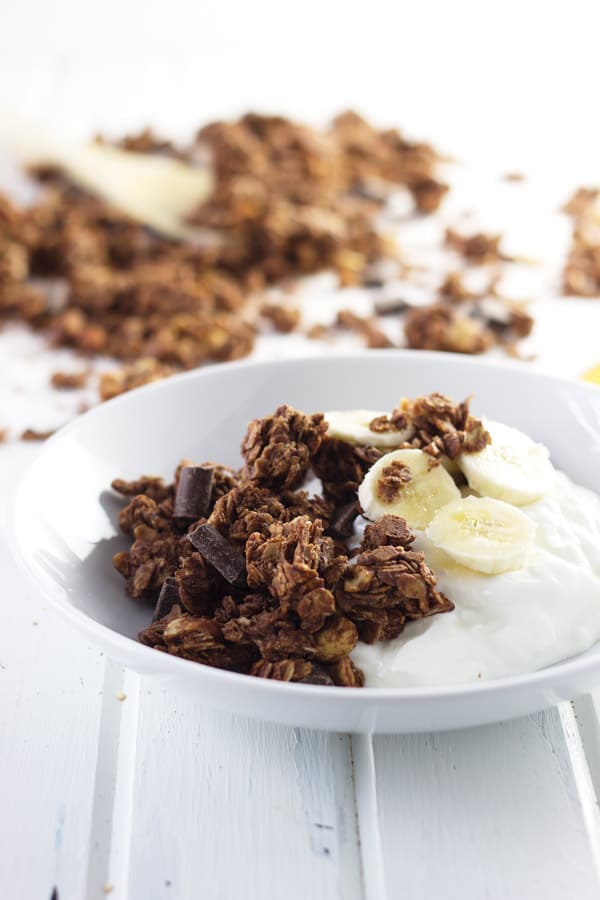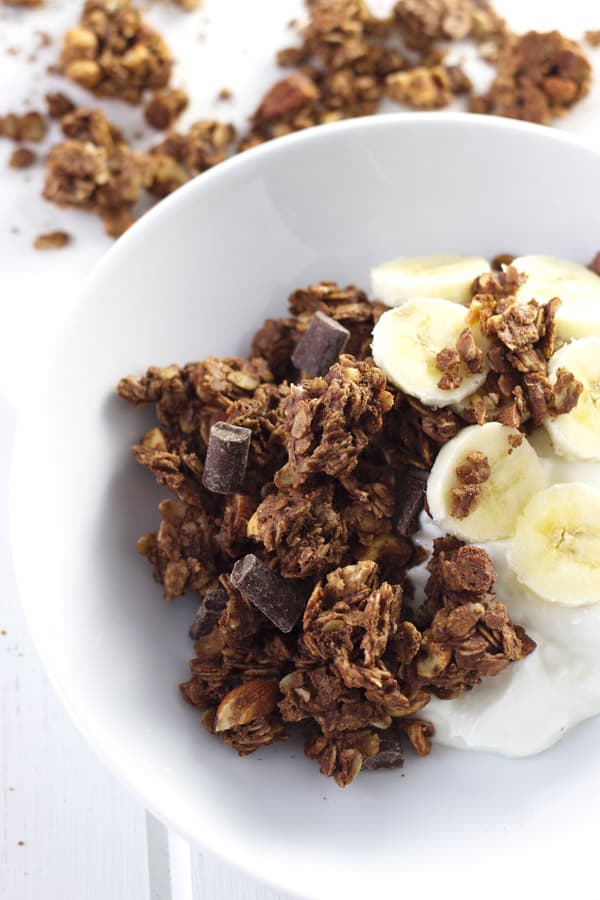 I was also informed upon renting it if it's returned with any scratches longer than a credit card we are held responsible.  Dude I have 7 kids!!
So, pretty much every time we have to get in the van it sounds something like this: STOP!!!  No don't touch the door, I will open it.
No don't touch that part of the van either, or that part.
Mom what can we touch??
Nothing.
Be careful don't tear the plastic off of the floor.  WAIT!  Wipe your feet before you get in.  Ok you can go sit down.
Oh, we also have to slam 2 of the doors just to get them to close!
Ok, now that I have that off my chest let's talk about this granola shall we?
This is a quick and simple granola that makes big clusters.  This is partly from the peanut butter and also because instead of stirring it while baking I left it alone.  Then I let it cool completely in the pan before breaking it into chunks.  So, if you want super huge chunks this is the granola for you!!
This granola isn't super crunchy though and that is also from the peanut butter.  But, I did add in some chopped nuts which added some crunch.  🙂

Chocolate Peanut Butter Granola
Chocolate Peanut Butter Granola is super easy to make, great for snacking and it makes huge clusters!!
Print Recipe
Save Recipe
Saved!
Ingredients
3 1/2

cups

old fashioned oats

3/4

cup

chopped nuts of choice

I like peanuts and almonds

3/4

cup

peanut butter

1/4

cup

cooking oil of choice

vegetable, canola, coconut..

1/2

cup

honey

1/3

cup

maple syrup

3

tablespoons

cocoa powder

1/2

tablespoon

vanilla

1/2-1

cup

chocolate chunks

depending on how chocolaty you want it
Instructions
Preheat oven to 325 degrees F. Line a 9x13 baking pan with parchment paper.

In a large bowl combine the peanut butter, oil, honey, syrup, cocoa powder and vanilla. Whisk well until combined. Stir in the oats and chopped nuts.

Spread out into an even layer in prepared pan. Firmly pack the granola into baking pan. Bake for 35- 40 minutes then let it cool completely. Break into desired size chunks and stir in chocolate chunks.