Creamy Coleslaw is a simple salad that can be made in 15 minutes or less.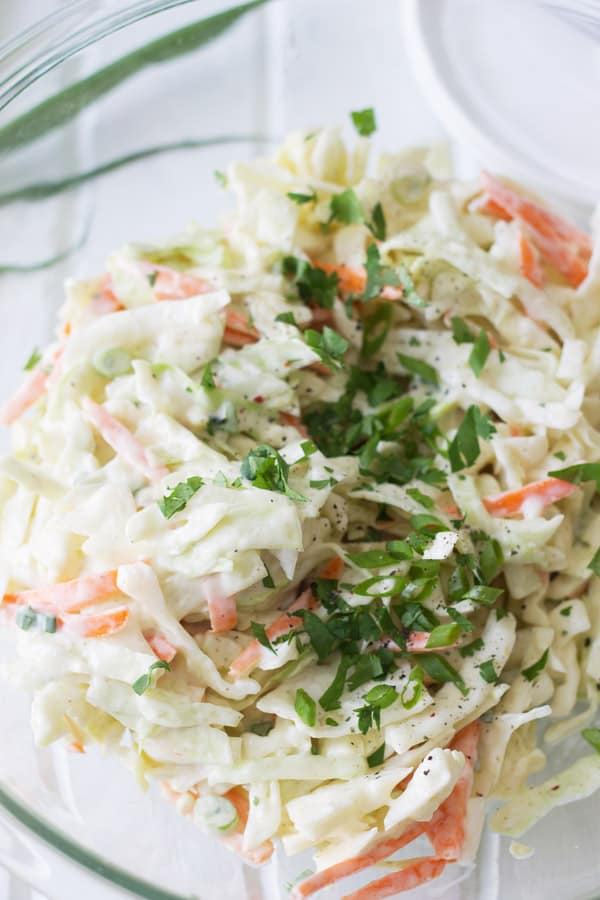 I hope all of you mother's had a wonderful Mother's Day this past weekend!!  I was hoping to write a post for Mother's Day but things got away from me and I didn't get it done so Happy Belated Mother's Day!!!
You guys, we still don't have our van back!!  And this past weekend we had a small hail storm so I was on pins and needles pretty much all of Saturday!  Thank goodness the hail was really small and there wasn't any damage!!!
I guess the color of our van is hard to match so I just need to be patient while they work on it.  BUT PLEASE have it done before Friday!!  We will be heading to Kansas this Friday for my little brothers graduation and I don't want to be driving a rental van with 7 kids in the middle of tornado season that can produce a lot of hail.  Disaster waiting to happen!
Ok, a little about this creamy coleslaw.  It's super simple and you could even make it simpler by using a package of coleslaw mix.  This will go great at any bbq, potluck, graduation, wedding or just about anything you have planned this summer.
It can even be made a day in advance, which in my opinion, makes it taste better because it has had time for the flavors to combine.  But don't get me wrong it's still good if you wait and make it just before dinner time!
I am not a huge fan of store bought coleslaw and neither is my family.  Some brands aren't too bad but some of them are down right horrible.  So, this is my go to recipe for tasty creamy coleslaw!

Creamy Coleslaw
This super simple creamy coleslaw can be made in 15 minutes or less!!
Ingredients
1

small head of cabbage

2

large carrots

3/4

cup

mayonnaise

1/2

cup

sour cream or plain greek yogurt

3

green onions

chopped

3

tablespoons

sugar

2

tablespoons

vinegar

white or apple cider

1

teaspoon

celery salt

Season salt and pepper to taste
Instructions
Shred the cabbage and carrots. In a large bowl combine the remaining ingredients. Stir in the cabbage and carrots.

Cover with plastic wrap and store leftovers in the refrigerator.
Recipe Notes
Can use one or two 14 oz packages of coleslaw mix in place of cabbage and carrots.