This Turtle Pumpkin Cake is easy to make, moist and full of flavor! It's filled with pumpkin, pecans, chocolate, and caramel!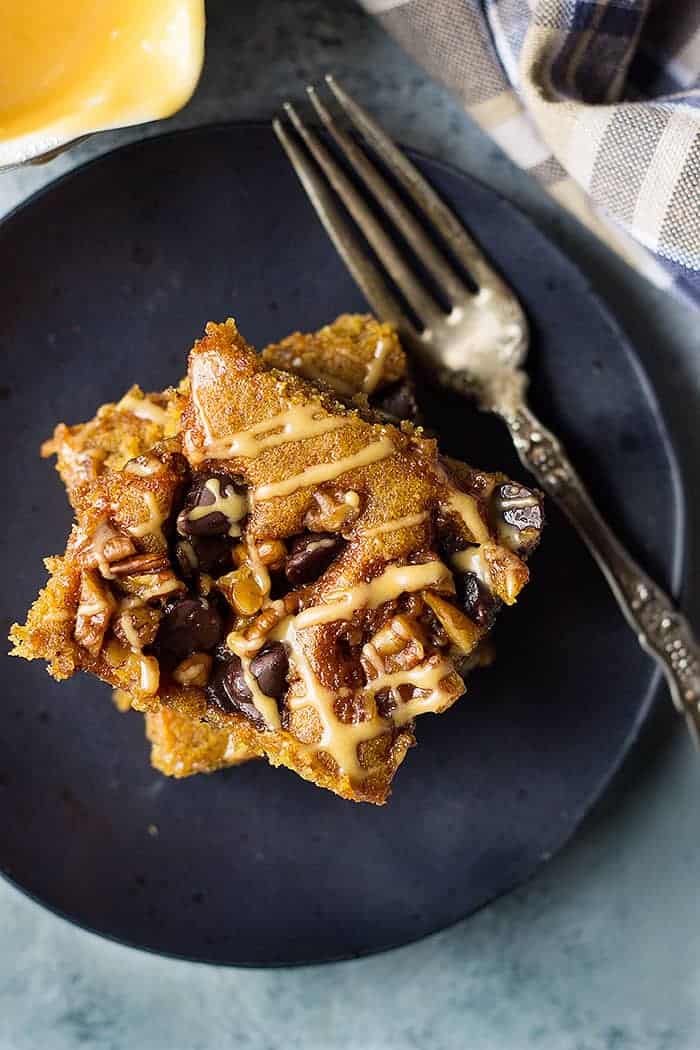 You guys….you have to try this cake before pumpkin season is over!!  This turtle pumpkin cake is AWESOME!!!!!  It's a nice change of pace from the traditional pumpkin desserts.  The cake is moist and full of pumpkin, warm fall spices, pecans, chocolate chips and salted caramel!!  I know you guys are probably thinking how on earth do all those flavors go together, trust me, they do!
I used my homemade salted caramel sauce which I think makes it so much better!  It's really easy to make and tastes so much better than the store bought so just do it.  My husband really really liked this cake.  And maybe even more than his beloved pumpkin pie!  Some other yummy pumpkin recipes I have are these Savory Pumpkin Rolls, Pumpkin Spice Pancakes, and Easy Pumpkin Butter just to name a few.  Just use the search bar on my site and search "pumpkin" to see all of my pumpkin recipes.
A few things about this turtle pumpkin cake:
I found this recipe on the Better Homes and Garden site and made some minor changes.  It looked too good to not try it out!
It does require a 15×10 inch baking pan.  But it's because they are calling these bars.  I thought it was too cake like to call them bars and so I change the name.  🙂
I am leaving the ingredients for the drizzle a little loose because my salted caramel sauce may be a little thicker than the store bought and so you may not need as much.  Just mix in enough caramel sauce to make the frosting drizzling consistency.
Be sure to cool the cake completely before frosting because if you don't the frosting will just soak into the cake.
This can be made up to 3 days in advance and stored in the refrigerator.
I'll warn you this cake is very addictive and I found myself taking a little bite every time I walked by.  So, if you are on the lookout for something a little different than the traditional pumpkin confections you must try this cake out!!
Turtle Pumpkin Cake
Ingredients
CAKE TOPPING:

1

cup

chopped pecans

1

cup

semi sweet chocolate chips

1/3

cup

salted caramel sauce

CAKE BATTER:

2

cups

all purpose flour

1

cup

sugar

2

teaspoons

baking powder

2

teaspoons

cinnamon

1

teaspoon

baking soda

1/2

teaspoon

salt

1/4

teaspoon

ground cloves

1

15 oz can pumpkin puree (about 1 3/4 cups)

4

eggs

lightly beaten

1

cup

vegetable oil

1

teaspoon

vanilla

CARAMEL DRIZZLE:

1

cup

powdered sugar

salted caramel sauce
Instructions
Preheat oven to 350 degrees F. Lightly grease a 15x10 inch baking pan, set aside.

In a small bowl combine the cake topping ingredients and set aside.

In a large bowl combine the flour, sugar, baking powder, cinnamon, baking soda, salt and cloves. Stir in the pumpkin, eggs, oil, and vanilla until combined. Spread into prepared pan. Sprinkle with reserved cake topping. Bake for 25-30 minutes or until a toothpick inserted comes out clean. Cool completely in pan before frosting.

To make the frosting drizzle stir in just enough caramel sauce to make the frosting a drizzling consistency. Drizzle over cake.
Recipe Notes
1. Store covered in the refrigerator for up to 3 days.