These Ham and Cheddar Biscuit Rolls are made with homemade biscuit dough, ham, cheddar and topped with a yummy glaze! 
Here is something a little different for breakfast!!  Ham and Cheddar Biscuit Rolls.  These would also be great for brunch, appetizers, snacks or just because you need some comforting carbs.  🙂
As, I have mentioned many times on this blog my family is big on breakfast.  Lately, we have been eating cereal for breakfast which is not something I usually do.  For starters it just doesn't keep them full for very long and those poor teachers have to listen to them whine and complain about being hungry.
But hey sometimes a mommy has to do what a mommy has to do and cereal was one of them.  I do still make them breakfast though, cereal has just been there for "those" mornings when I just can't.  Anyway when I made them these for breakfast they all thought it was the best breakfast EVER!  I topped it with a poached egg because they like poached best but fried would be great too.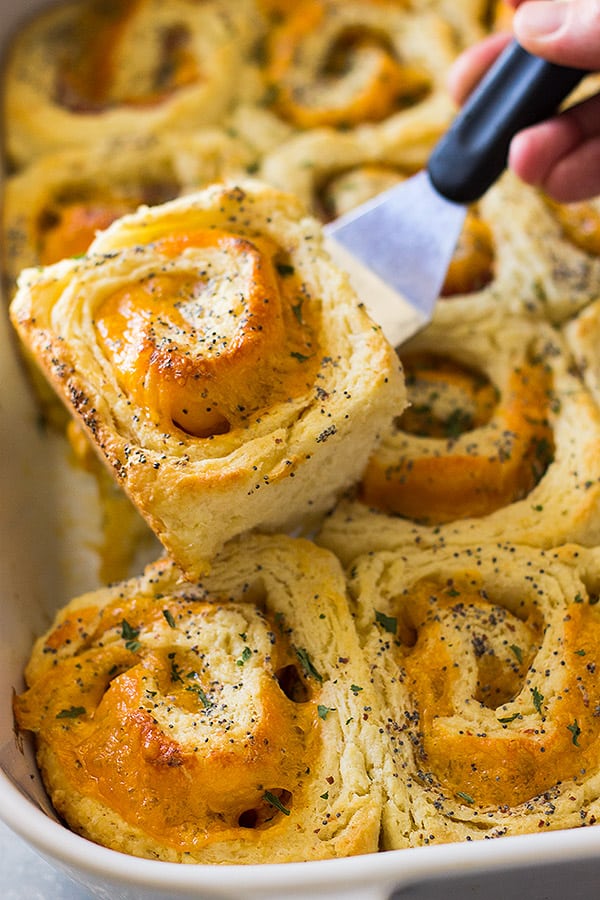 They gobbled this up quicker than that measly bowl of cereal they've been getting lately.  Tell ya something?!  I think I need to make these more often for breakfast!
These do require a little more time to make because of the biscuit dough but it's totally worth it.  You could also make these ahead of time, cover them with plastic wrap and foil and freeze them.  Take them out 20 minutes before you want to bake them then pop them in the oven and presto breakfast!!  If you do choose to do this you will need to add on about 5 minutes to the cook time.
These don't have to be just for breakfast either!  Serve them at your next brunch or even as a snack.  They would also make great game day appetizers!  Maybe stir in a little cayenne pepper with the glaze topping for a little kick, my husband would appreciate that one!  So whether you choose to make these for breakfast or serve them to a crowd of hungry football fanatics these ham and cheddar biscuit rolls will surely delight!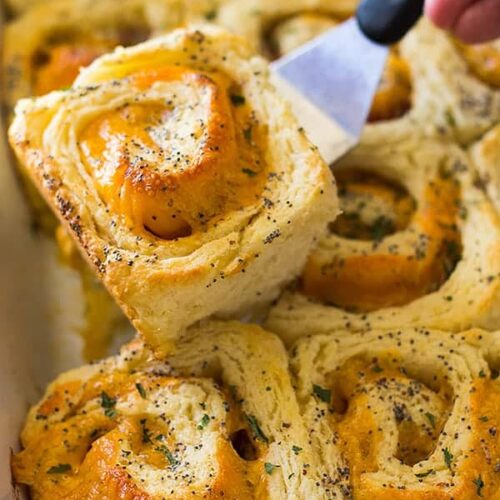 Ham and Cheddar Biscuit Rolls
These Ham and Cheddar Biscuit Rolls are made with homemade biscuit dough, ham, cheddar and topped with a yummy glaze!
Print Recipe
Save Recipe
Saved!
Ingredients
BISCUIT DOUGH:

3

cups

all purpose flour

2

tablespoons

sugar

1

tablespoon

baking powder

1/2

teaspoon

baking soda

1/2

teaspoon

salt

3/4

cup

COLD butter

cut into small pieces or grated with a grater

1

cup

+ 2-4 tablespoons COLD buttermilk

FILLING:

1/2

pound

sliced ham

12

slices

sharp cheddar

GLAZE:

2

tablespoons

butter

melted

1

tablespoon

dijon mustard

1

teaspoon

poppy seeds
Instructions
Preheat the oven to 425 degrees F. Grease a 9x13 baking pan and set aside.

In a large bowl combine the flour, sugar, baking powder, baking soda and salt. Cut in butter with a pastry blender until you have coarse crumbs. (like the size of a pea) Stir in the buttermilk until almost combined then place on work surface and knead dough about 10 times to finish mixing it all together.

Lightly sprinkle work surface with flour and roll dough to a 15"x 10" rectangle. Place the ham and cheddar slices over dough. Then with long side facing you roll up tightly and pinch the seam to close. With a sharp knife cut rolls into 2" rounds. Place in prepared baking dish.

In a small bowl combine the glaze ingredients and brush over the tops of each roll. Bake for 20 minutes or until golden brown. Cool for 5-10 minutes before removing from pan.
Notes
If you choose to grate your butter do this step first and keep it in the freezer until ready to use. Then just stir it into the flour mixture, no need to cut it in because it is small enough already.
These roll may be made ahead of time and froze until ready to bake. Just place in greased pan then lay a piece of plastic wrap on top of the rolls. Cover with foil and freeze for 2-3 weeks. When ready to bake remove from the freezer 20 minutes before placing in the oven. Bake at 425 degrees for 25 minutes or until golden.