This One Pot Bacon Alfredo is a quick and easy weeknight meal that's full of flavor! It's on your table in under 30 minutes, made in one pot and it has bacon! What more could a person ask for?
Bacon Alfredo Pasta
This one-pot bacon Alfredo is perfect for a date night for many reasons! Not only is it one of the best bacon recipes for dinner, but it's also so incredibly easy.
It all comes together in just one pot, which I know will come as great news for busy at-home chefs like myself. The fewer dishes the better… and if I don't have to sacrifice on flavor, well that's a perfect meal in my opinion.
Did I mention it has bacon in it?! Creamy homemade Alfredo sauce paired with perfectly cooked pasta, plenty of Parmesan, and that crispy good stuff has me drooling just thinking about it.
Life gets busy, and you may not have time to go out on a date. Or, perhaps you're saving up for your next getaway and don't have a lot of wiggle room in your budget.
Whatever, the dilemma may be, don't let that stop you from spending some quality time with your spouse. Spend your next date night at home and whip up this bacon Alfredo recipe for your other half!
Why You'll Love This Alfredo Bacon Pasta
It's made in one pan — fewer dishes to worry about!
Ready in under 30 minutes
Bursting with bacon
Creamy, smoky, and comforting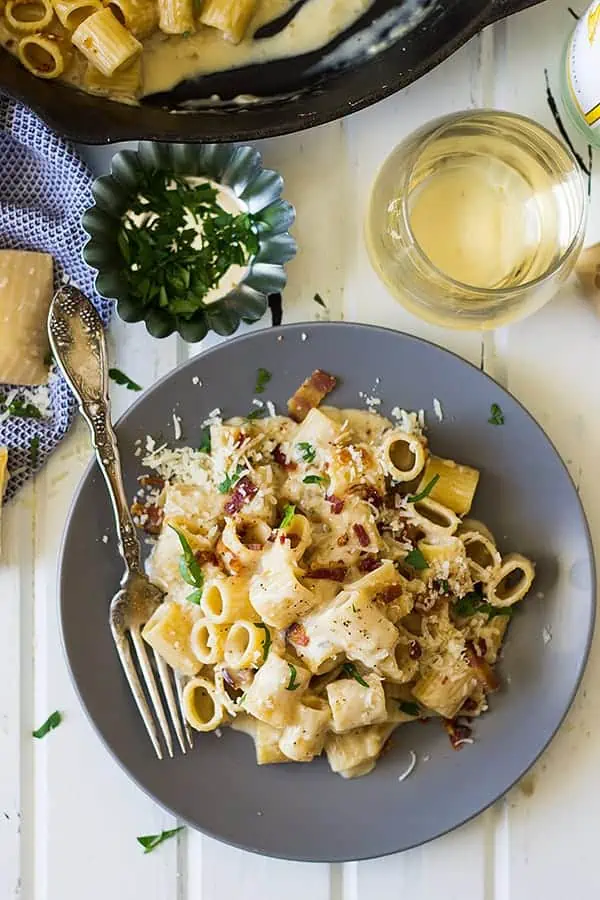 Key Ingredients to Make Alfredo Pasta with Bacon
BACON – Opt for thick-cut bacon for your bacon Alfredo. It is a bit more expensive, but it also boasts equal parts fat and protein, which will give you a much better flavor and texture.
ONION AND GARLIC – Save a bit of the bacon fat to cook your onion and garlic! Trust me on this one.
PASTA – I suggest using penne, rigatoni, or rotini for this dish.
CHICKEN BROTH – You can also use vegetable broth if you'd like, but I'd stay away from water unless you're in a crunch.
SALT AND PEPPER – To taste!
HEAVY CREAM – The base of your Alfredo bacon pasta sauce.
PARMESAN CHEESE – Another key ingredient for the sauce! Freshly grated is best, but you can also use packaged varieties as long as they're finely grated.
CORNSTARCH – To thicken the sauce.
PARSLEY – Use fresh parsley as a garnish!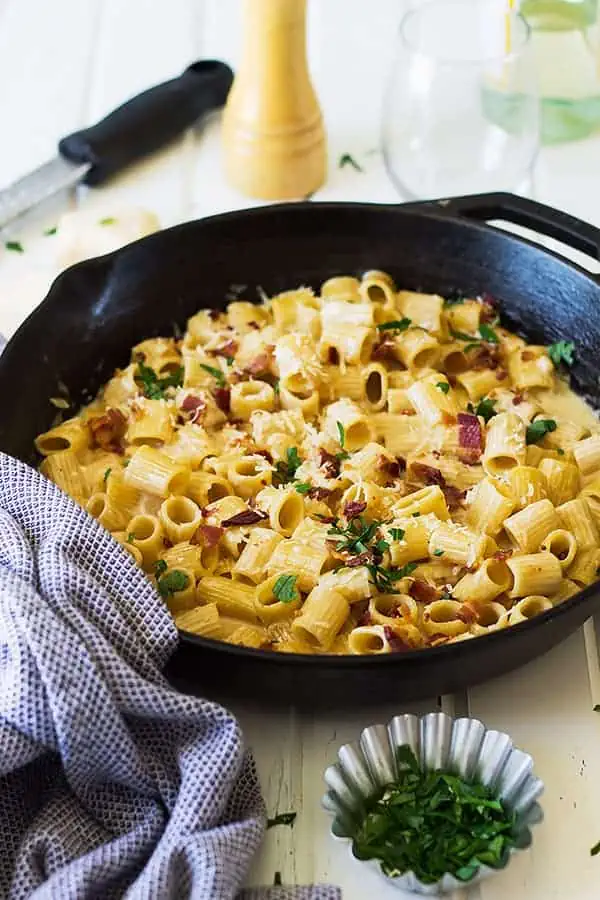 Instructions to Make Bacon Alfredo
PREPARE THE BACON: Place the bacon in a skillet and cook until it's crispy. Set on a paper towel to drain, making sure to save a bit of the bacon grease to sauté the onion and garlic.
ADD THE AROMATICS: Add the onion to the skillet with the bacon grease and sauté over medium until soft, then add the garlic.
COOK THE PASTA: Pour the chicken broth into the skillet and add the pasta. Bring the mixture to a boil, then let it simmer. Cook for about 15 minutes, or until the pasta is tender.
MAKE THE SAUCE: Add the cornstarch and a bit of water to a small bowl and stir to create a slurry. Stir it into the pasta, then remove the skillet from the heat.
Add the Parmesan and heavy cream and stir until the cheese is melted. Garnish with the cooked bacon and fresh parsley… dinner is served!
Serving Suggestions for Alfredo Pasta with Bacon
One of the best things about making bacon recipes for dinner is that you know it will be hearty and satisfying!
That said, you could definitely top off this meal with simple roasted green beans (pop those in the oven while you make the bacon alfredo pasta), simple Caesar salad (prep this ahead of time), and garlic cheddar biscuits (which can also be made ahead of time and just briefly warmed in the oven with the green beans).
Some simple dessert options would be homemade chewy brownies topped with some ice cream and drizzled with hot fudge and caramel (one of my favorites!), or this skillet blondie with bourbon caramel pecans which is so good!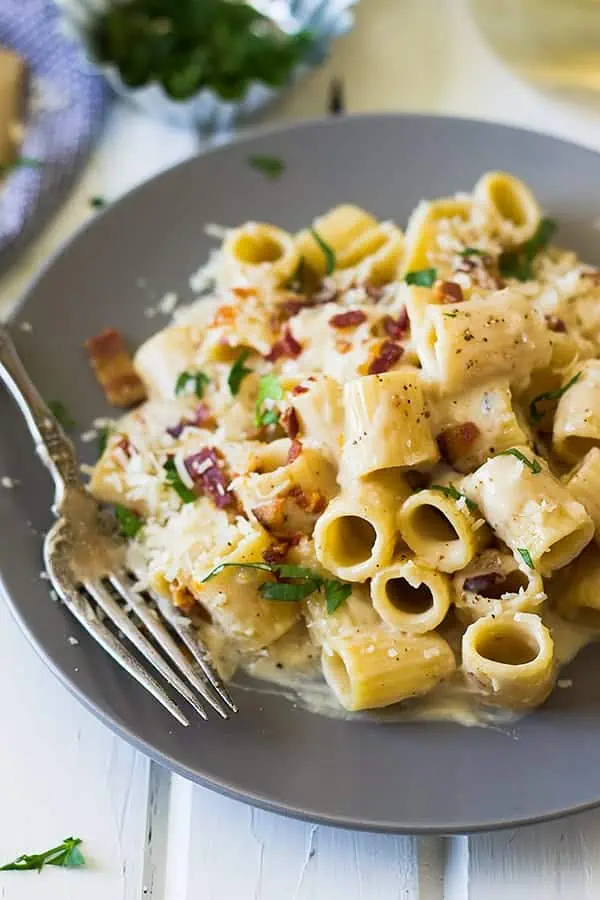 FAQ
How do you thicken Alfredo sauce?
The cornstarch slurry is a must for thickening your bacon alfredo sauce. You could also make a slurry with all-purpose flour, or your favorite GF option. I recommend adding the slurry a few teaspoons at a time to get the consistency you're after!
What kind of pasta should I use for bacon Alfredo pasta?
I personally swear by rotini, penne, and rigatoni. The sauce pools in the little crevices, and it's magical! You could also take note of more traditional Alfredo recipes which tend to use fettuccini or linguine. It ultimately comes down to personal preference!
Is cream sauce the same as Alfredo?
They're similar but not the same! Cream sauce is a more generic term for a sauce that uses sauce as its base. Alfredo is a specific type of cream sauce that's made with heavy cream and cheese and sometimes butter.

All Alfredo sauces are cream sauces, but not all cream sauces are Alfredo!
What's the best substitute for heavy cream in Alfredo pasta with bacon?
You can use milk or half & half — both will give you the creamy texture and consistency you're after. You could also add a bit of butter or cream cheese to give you the rich flavor that you would normally get from heavy cream.
Make Bacon Alfredo Pasta for Your Next Date Night
Date night in really can be stress-free, but it does require a little planning and prep work to make it work, especially if you have kiddos!
I try to prepare as much in advance as I can — salads, breads, desserts, and appetizers can typically be made ahead of time.
Also, don't feel obligated to make everything from scratch either! If you need to take some help from the store do it!
Oh, also a nice bottle of wine goes great with Alfredo pasta with bacon too, just saying! 🙂
More Pasta Recipes To Try
Thanks so much for reading! Let me know what you think about this Alfredo bacon pasta!
HUNGRY FOR MORE? Subscribe to my newsletter and follow along on Pinterest, Facebook, and Instagram for all my latest updates!
One Pot Bacon Alfredo
This One Pot Bacon Alfredo is a quick and easy weeknight meal that's full of flavor!  It's on your table in under 30 minutes, made in one pot and it has bacon! What more could a person ask for?
Print Recipe
Save Recipe
Saved!
Ingredients
5

slices

thick cut bacon

½

cup

finely chopped onion

2

large cloves garlic, minced

8

ounces

penne, rotini or rigatoni pasta

2

cups

chicken broth

salt and pepper to taste

½

cup

heavy cream

1

cup

finely grated Parmesan cheese

1-2

teaspoons

cornstarch

2

tablespoons

chopped fresh parsley
Instructions
In a large skillet cook bacon until crisp. Set on paper towel to drain. Drain grease, reserving 1-2 tablespoons in pan. Cook onion over medium heat until soft and light brown (about 2 min) stir in garlic.

Add in pasta and broth and stir well. Bring to a boil, cover and reduce heat to a simmer. Cook for 13-15 minutes or until pasta is tender, stirring twice during cooking.

In a small bowl combine cornstarch with a very small amount of water and stir into pasta. Remove from heat and stir in cream and cheese until cheese has melted. Garnish with chopped bacon and parsley. Taste for salt and pepper and add accordingly.
Nutrition
Calories:
627
kcal
|
Carbohydrates:
48
g
|
Protein:
24
g
|
Fat:
37
g
|
Saturated Fat:
17
g
|
Cholesterol:
92
mg
|
Sodium:
1127
mg
|
Potassium:
403
mg
|
Fiber:
2
g
|
Sugar:
3
g
|
Vitamin A:
839
IU
|
Vitamin C:
13
mg
|
Calcium:
326
mg
|
Iron:
2
mg