These No Chill Soft Chocolate Chip Cookies are soft, chewy, require no special ingredients and best of all no chilling time! Perfect!!
Save this recipe for later and
PIN IT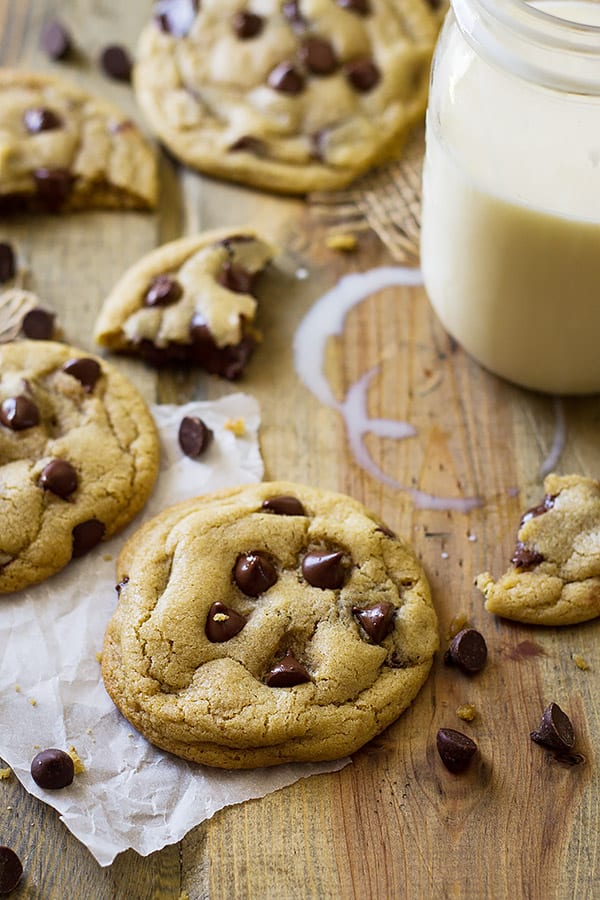 I want to welcome you to the start of a new series I am going to have on the blog.  I am starting a "back to the basics" series where I will feature a basic recipe that every home cook should have in their back pocket.  Other things I may feature are kitchen tips and tricks, how to's and well basically anything to help get you into the kitchen and start cooking.
These posts will be text and photo heavy and are meant for the novice baker so please bear with me if you are beyond the basics.
The first recipe I thought would kick off this series are these no chill soft chocolate chip cookies.  Everyone needs a good chocolate chip cookie recipe in their life and this happens to be my favorite one!
I love this recipe for a couple of reasons.
It requires no special ingredients.  There isn't any cornstarch, cream cheese, cream of tarter or anything else that isn't in a standard chocolate chip cookie recipe.  Just simple ingredients that produce a wonderfully soft and chewy cookie!
It requires no chilling.  I don't have time to allow the dough to chill for a couple of hours or even overnight.  Yes, those types of recipes will produce different cookies but that is for another time.  When I want to make chocolate chip cookies I usually need them RIGHT NOW and not tomorrow.
So let's get started!
You are going to need butter.  Yes, butter not shortening!!  I don't really care for cookies that use shortening because it leaves a film in my mouth.  So, in this recipe, we will be using butter.  Butter provides tenderness for the cookie and inhibits too much gluten from forming which will make a tough cookie.  Butter also gives the cookie flavor!  We are also going to melt the butter before we start mixing.  Don't get your butter too hot, just get it mostly melted.  If there are a few smallish pieces of butter that haven't melted that is just fine.
We will also be using both white and brown sugars.  This recipe will call for more brown sugar than white which will help make the cookies chewier.  White sugar allows the cookies to spread and become crispy while brown sugar creates a denser, chewier cookie.  You can use either light or dark brown sugar in this recipe.  I typically have dark on hand and using dark will add a little more flavor to the cookie as well.
You will start by creaming the butter with the sugars.  I usually cream this for about 1-2 minutes.  This step will incorporate a little air and thus provide a little lift to your cookie.
Next, add in the egg and vanilla and mix just until combined.  After the egg is added we don't want to overmix or the cookie can become tough.  So, mix just long enough until the egg is mixed in.
Our next step is to add in the dry ingredients which will be the flour, baking soda and salt.  I am using just plain old all purpose flour for this recipe so don't substitute it with any other flour.  Unbleached flour is fine just don't use self-rising, cake, whole wheat or bread flour.  They will drastically change the cookie!
When you mix the dry ingredients again mix just until combined.  And the consistency of your dough should be thick and dry.  The picture below demonstrates this.  Notice the cookie dough isn't sticking to my finger.  You want to put in just enough flour to achieve this.  If the dough sticks a little bit that is ok.  Just so the dough isn't making a huge mess all over your hands when you try to roll it.  This step is also crucial to a chewy cookie that doesn't spread too far.  So, if your cookies come out of the oven in thin puddles you probably didn't have enough flour in your dough.  The video above also demonstrates what your dough should look like.
Now, we can add in the chocolate chips.  I like to use a combination of milk chocolate and dark chocolate.  It just adds something to the cookies!  However, you may use whatever chocolate chip you like just use a total of 2/3 cup of chocolate chips for this recipe.  You can stir these in by hand or just a few rounds with the mixer.
Now it's time to shape your cookie!  I roll these gently between my hands into a 2-inch cookie ball.  We are making larger cookies to help get those nice chewy cookies.  This is also a really important step.  If you make you cookie balls smaller you may not have that chewy cookie we are after.  So go big or go home I say!!  I like to bake my cookies on a silicone baking mat.  They just turn out better for me.  This step isn't absolutely necessary but if you have followed everything you are supposed to do and still don't have great cookies trying baking them on a silicone mat.  After placing them on your baking sheet you can make them pretty by adding in a few extra chocolate chips before baking.  🙂
I bake my cookies in a 350 degree oven for about 10-12 minutes.  You are looking for slightly browned edges and the middles of your cookies will look undercooked.  This is the time to pull the pan from the oven my friends or you will overbake them and have hard cookies.  Leave the cookies on the baking sheet for 5-10 minutes after you take them out of the oven.  The heat from the pan will continue to "cook" the cookies just at a much slower rate.
So there you have it, my friends!  This no chill soft chocolate chip cookies recipe is my absolute favorite and I use it all the time.  And please if you have any questions don't hesitate to ask!
No Chill Soft Chocolate Chip Cookies
Servings
:
14
cookies (about)
Ingredients
1/2

cup

butter

melted

1/2

cup

packed brown sugar

light or dark

1/3

cup

white sugar

1

egg

1/2

tablespoon

vanilla

1 1/2-1 2/3

cup

all purpose flour

use more if needed see post for details

1/2

teaspoon

baking soda

1/4- 1/2

teaspoon

salt

2/3

cup

chocolate chips
Instructions
Preheat the oven to 350 degrees F.

In a large bowl cream the melted butter, brown sugar and white sugar for 1-2 minutes. You can use a hand mixer or a stand mixer for this job. Add in the egg and vanilla. Mix just until the egg is combined.

Add in the flour, baking soda and salt. Mix just until combined. The dough should be thick and dry. It should be sticking to your hands. Add in just enough flour to achieve this. If it sticks just slightly to your fingers that is ok, just not making a mess all over your hands when you roll the dough into cookie balls.

Mix in the chocolate chips either by hand or with a few rounds of your mixer. Roll the dough into 2 inch cookie balls. Place at least 2 inches apart on your baking sheet. Bake for 10-12 minutes or until the edges are slightly browned and the centers look underdone. Leave on the baking sheet for 5-10 minutes before removing to cool completely. These cookies will look puffy when they come out of the oven but will settle down as they cool.
Recipe Notes
Store these cookies in an airtight container for up to 5 days.
SHOP THIS RECIPE
(May contain affiliate links)