These Soft and Chewy Oatmeal Cookies are an all butter oatmeal cookie that requires no chilling. Their taste is phenomenal and they stay soft for days!
**Pictures and text updated June 2017**
These soft and chewy oatmeal cookies are still my favorite oatmeal cookie to this day. I have fiddled around with this recipe a little but I always come back to the original. I just like their taste and how they stay nice and soft.
I am going to include these oatmeal cookies in my back to the basic series because well, I believe they are a cookie everyone needs to have in their back pocket. Much like these No Chill Soft Chocolate Chip Cookies. Both of these are staples every cook should have.
So, let's talk about the dough. I wanted these to be no chill as well because as I've said before I don't have time to wait 2-24 hours to have freshly baked cookies.
There is a higher ratio of brown sugar to granulated sugar which helps keep these cookies chewy and soft.
The butter is melted which helps these cookies keep their shape while baking and not spread out too thin. Also, having enough dry ingredients helps with this too. So, it is important that your cookie dough is dry enough to roll in your hands and not make your hands a big sticky mess. There will be a small amount of dough on your hands and that is perfect, your cookies will turn out moist and chewy.
For this recipe, I used quick oats and quick oats are not the same as instant. I don't recommend changing it out for old fashioned or instant as it will alter the outcome of your cookies. If you don't have any quick oats you can pulse some old fashioned oats in the food processor a few times to break them down into smaller pieces like quick oats. Just don't make them too fine.
There aren't any add-ins included in this recipe either, just a simple oatmeal cookie and if you check back later I will post an oatmeal cream pie recipe using these cookies.
One other tip…try to use room temperature eggs. All of your ingredients should be around the same temperature to give you the best results. That rule goes for all baking. I will be completely honest…. I don't do this all the time because I am running short on time. But, I do have a trick to quickly bring your eggs to room temperature and I use this often! Place your eggs in a bowl of very warm (not boiling) water……think a nice warm bubble bath temperature. Leave the eggs in the water for about 5-7 minutes.
**Original text**
I have been working on perfecting this cookie for quite a while now! I have made countless batches of oatmeal cookies playing with different spices, trying old fashioned vs. quick oats, brown sugar, no brown sugar…… Needless to say my kids have had a lot of oatmeal cookies.
You want oatmeal cookies for breakfast?? Sure, why not they have oatmeal in them. I'm so winning this parenting game!! 😉
These soft and chewy oatmeal cookies are also really good on ice cream, not that I would know or anything, just sayin! They are good warm with a glass of ice cold milk and they are good even after a couple of days. And guess what?? They are still soft!!! YAY!!!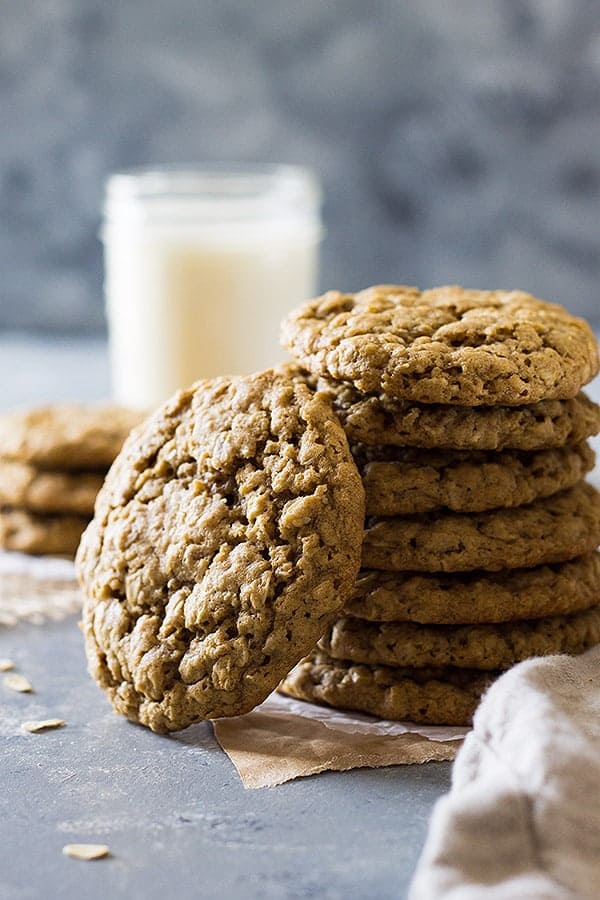 Ok, a little about this cookie. I wanted to create an all butter oatmeal cookie that wouldn't have to be refrigerated. Because let's face it if I had to refrigerate cookie dough it wouldn't make it to the oven #obsessedwithcookiedough. Plus, when I am in a cookie mood I want to bake those babies right then and not have to wait 24 hours for the dough to chill.
I used quick oats over old fashioned (personal preference) and melted the butter, which is key in this recipe. Melting the butter first will help keep their shape and not spread too much. Also, having the right amount of dry ingredients helps too.
I settled on a higher ratio of brown sugar to white to help keep the cookies soft. I also incorporated molasses, cinnamon and nutmeg to add some flavor to an otherwise plain cookie and created an out of this world soft and chewy oatmeal cookie!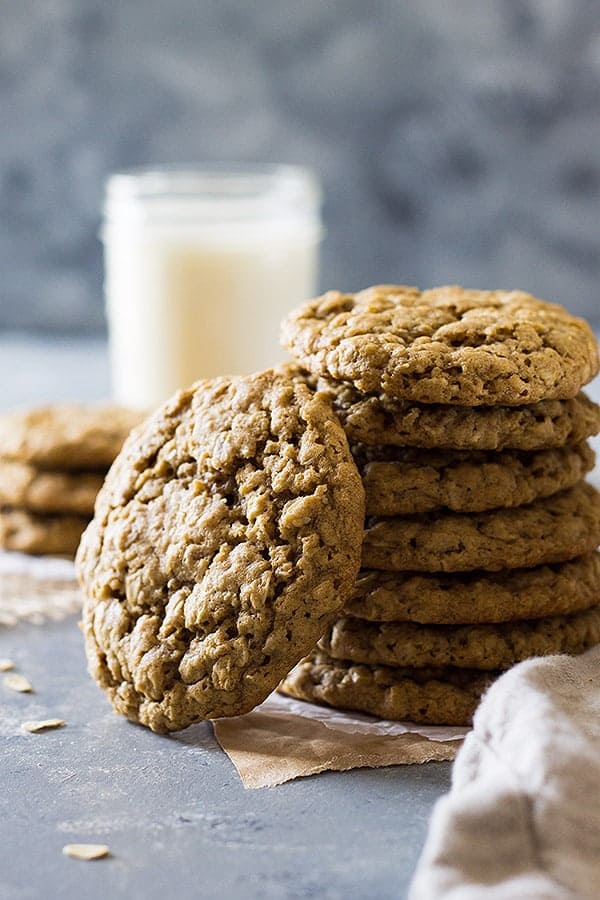 Soft and Chewy Oatmeal Cookies
These Soft and Chewy Oatmeal Cookies are an all butter oatmeal cookie that requires no chilling. Their taste is phenomenal and they stay soft for days!
Keyword:
soft and chewy oatmeal cookies, soft oatmeal cookies
Servings
:
15
cookies (about)
Ingredients
½

cup

butter

almost completely melted

½

cup

packed light brown sugar

¼

cup

sugar

1

egg

2

teaspoons

vanilla

2

teaspoons

molasses

1½

cup

quick oats

1

cup

flour

1

teaspoon

ground cinnamon

½

teaspoon

baking soda

¼

teaspoon

salt

pinch

ground nutmeg
Instructions
Preheat oven to 350 degrees F. Line a baking sheet with parchment paper or a silicone baking mat. Set aside.

Using a hand mixer or stand mixer cream the melted butter and sugars on medium speed for 2-3 minutes. Add in the egg, vanilla and molasses. Mix just until the egg is combined and no longer. (mixing too long at this point can create tough cookies)

Add in the oats, flour, cinnamon, baking soda, salt and nutmeg. Mix just until combined. Don't overmix!

Roll balls of dough (roughly 2 tablespoons of dough) lightly between hands and place on cookie sheet 2 inches apart. (There should be a little dough on your hands while rolling but there should not be a ton of dough on your hands. If there is add in a little more flour.) Bake for 10-12 minutes or until lightly golden around the edges but still doughy in the middle. Leave on baking sheet for 5 minutes to continue "baking". Transfer to a wire rack to cool completely.
Recipe Notes
Cookies can be stored in an airtight container on the counter for up to 5 days.
Baked cookies can placed in an airtight container or freezer bag and frozen for up to 3 months.
You can also form the cookies into balls and freeze on a cookie sheet. When frozen place into an airtight container or freezer bag. Dough balls can be frozen for up to 3 months. To bake place frozen dough balls on baking sheet and bake for an extra minute or two. Don't thaw cookie dough.