This Slow Cooker BBQ Pulled Pork is easy to make with the help of your crock pot! It's full of flavor, tender and perfect for all your summer bbq's!
Save it for later and
PIN IT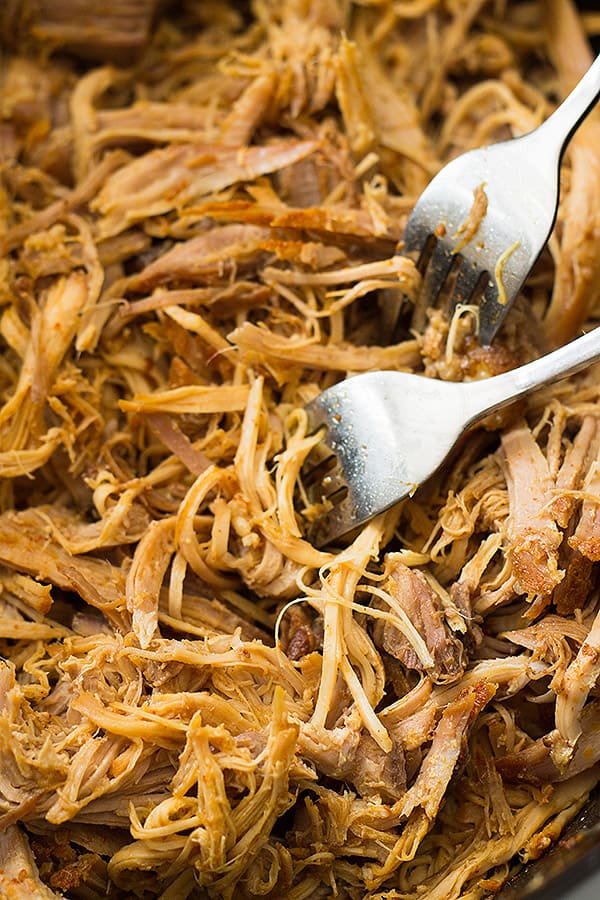 Here is the slow cooker bbq pulled pork recipe I was telling you guys about the other day.  It's a keeper!  Summer seems to be on hold again here in Colorado!  It's raining like crazy right now and it's supposed to change to snow, UGH!!  But I can still pretend it's summer with this pulled pork thanks to my crockpot.
It's not going to be the same as a smoked pulled pork but it's still darn good!!  I used my Homemade Pork Dry Spice Rub which has smoked paprika in it so that gives it a slightly smokey flavor.  It's not really bold on the smoke flavor because I wanted to keep it mild in case if someone wanted to use the rub before smoking their meat.  So, if you like a lot of smokiness just add a little more to your rub.
I also used my Texas Style BBQ Sauce to toss the meat in after I shredded it but feel free to use any bbq sauce that is your favorite.  One of my favorite store bought brands is Stubb's BBQ Sauce.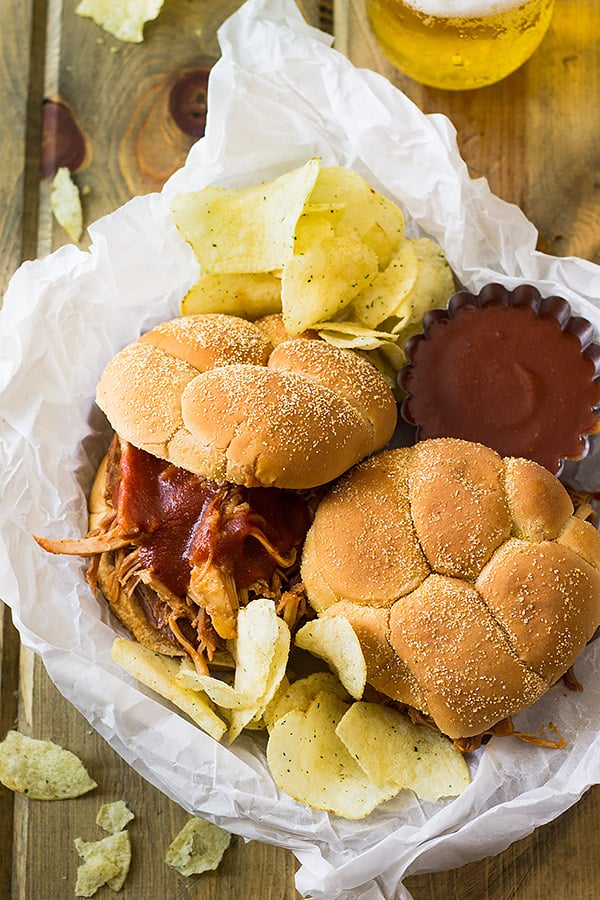 I used the spice rub and sprinkled a good amount all over the pork shoulder then wrapped it tightly in plastic wrap.  It sat in the refrigerator overnight to let that spice rub soak in and work its magic.  Then in the morning just toss it in the crockpot and forget about it!  The flavor of the pork with the rub alone was awesome but you can't have a good sloppy bbq sandwich without some bbq sauce, right?!  So, in went the sauce.
And of course, you can't have a good bbq without some traditional bbq sides!  So here are a few of my favorites: Old Fashioned Potato Salad, Broccoli Bacon and Grape Salad, Bacon Baked Beans, and for dessert this Lemon Blueberry Poke Cake.
So, don't let the weather stop you from having some good old bbq!!
Slow Cooker BBQ Pulled Pork
Instructions
Liberally sprinkle the pork shoulder with the dry rub and gently pat to help the rub adhere. Tightly wrap the shoulder in plastic wrap and place in the refrigerator overnight.

In the morning unwrap the pork and place in the slow cooker. Add in the chicken broth, cover and cook on low for 8 hours. I don't recommend cooking on high. When cooking time is done remove pork and shred. Save some of the cooking liquid and stir it back into the shredded meat. I usually use anywhere from 1/2 to 1 cup of the cooking liquid. Stir in as much or as little bbq sauce to suit your tastes. Serve immediately.
Recipe Notes
Cooked meat can be stored in the refrigerator for up to 6 days.