This Slow Cooker Chicken Shrimp Sausage Gumbo is a New Orleans inspired dish that's full of flavor! It's comfort food to the max, hearty, and best of all, it's freezer friendly!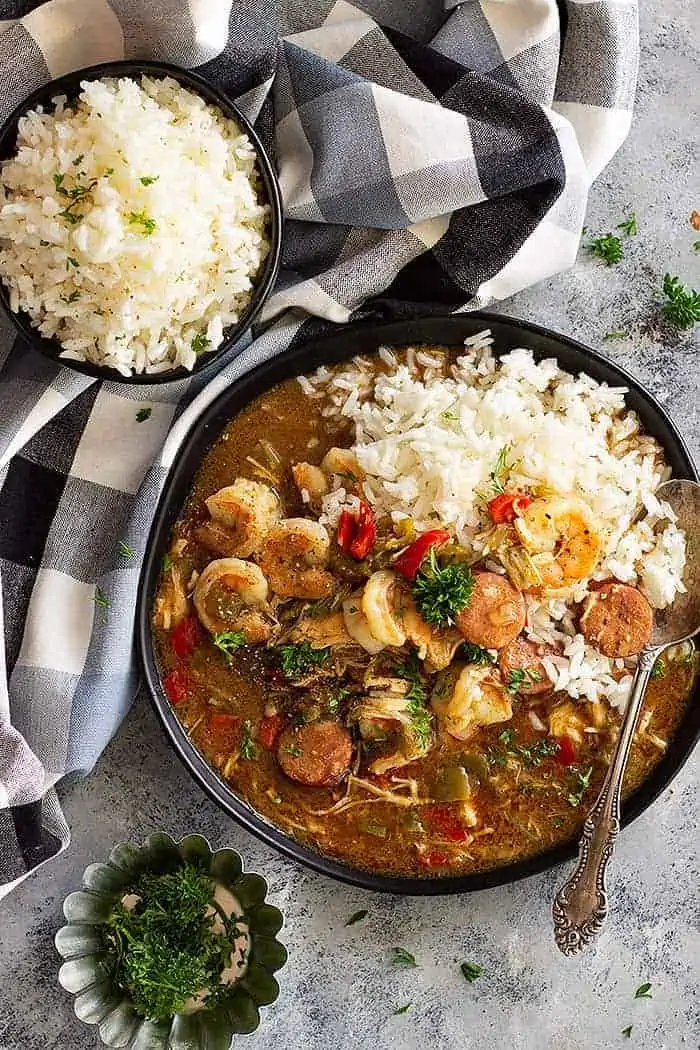 Crockpot Gumbo
Now, I realize this is not the normal fare you see around here on Countryside Cravings, but you know me — I am always willing to try out something new. I have made chicken shrimp sausage gumbo a handful of times, and we absolutely love how flavorful it is. The only thing I don't care for is how time consuming it is to make. So, I wanted to make a crockpot gumbo version, and after a few trials and errors, I think I nailed it.
My chicken shrimp and sausage gumbo has tender meat, Cajun seasonings, fresh veggies, and herbs to create the ultimate dish!
A few other great slow cooker meals are: Slow Cooker Bacon Cheeseburger Tater Tot Casserole, Slow Cooker Pot Roast, Slow Cooker Chili Mac, and Slow Cooker Shredded Mexican Chicken.
Why You'll Love Shrimp and Chicken Gumbo
Only 20 minutes prep!
Hearty and packed with flavor
Inspired by New Orleans cuisine
Comfort food
Freezer friendly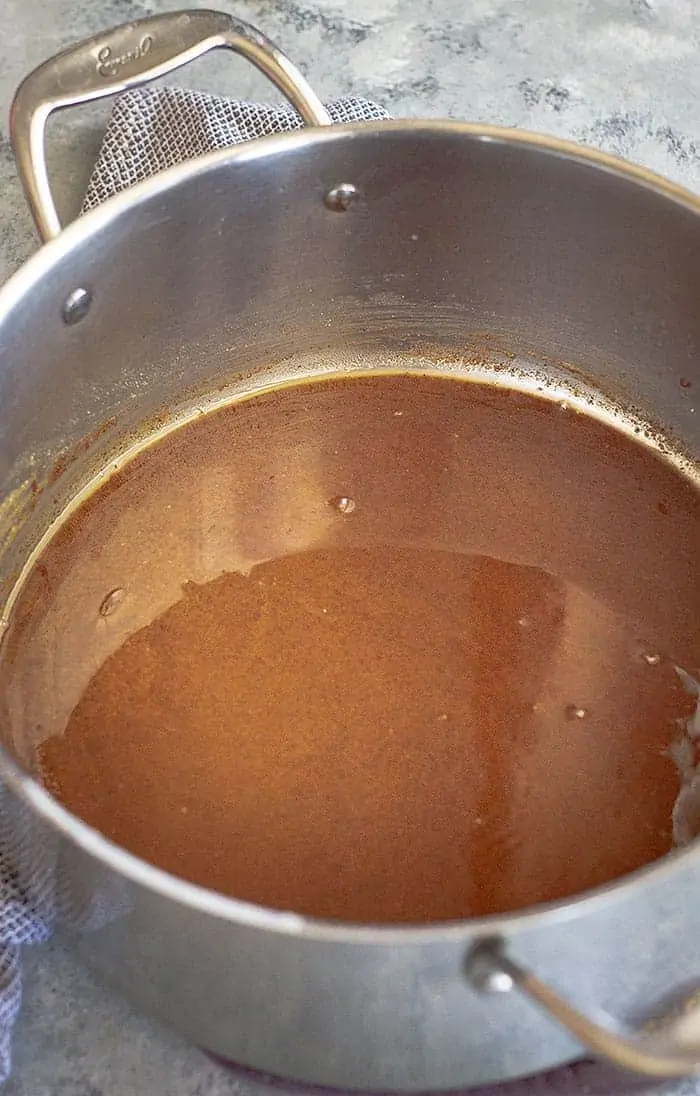 Shrimp and Sausage Gumbo
I tried to make this recipe as easy as possible but found it absolutely necessary to keep the roux. It's a crucial component, and after doing some research about gumbo, it's what gives the dish so much flavor. So, that step cannot be deleted. However, using the slow cooker made this easier because you won't have to stand at the pot stirring it so much.
This may not be an authentic shrimp and chicken gumbo, but I wanted to make it a little more manageable for the everyday cook. I have never been to New Orleans, so I can't say for sure how close this compares to the real deal. And don't be intimidated by the roux; it really isn't that hard, and I took a picture (above), so you know what color to look for.
What is a roux?
A roux (pronounced roo) is a thickening agent made from flour and some form of fat (oil, butter, animal fat). The flour and fat are cooked together to get rid of the raw flour taste, and depending on how long you cook it, it will develop a nutty flavor.
There are four types of roux: white, blond, medium brown, and dark brown. For this recipe, we need either a medium brown or dark brown roux, and the picture towards the top of the post shows a medium brown.
Chicken Shrimp and Sausage Gumbo Ingredients
Butter or oil
Flour
Onion
Bell Peppers
Celery
Garlic
Cajun Seasoning
Andouille Sausage
Okra
Bay Leaves
Chicken Breast
Shrimp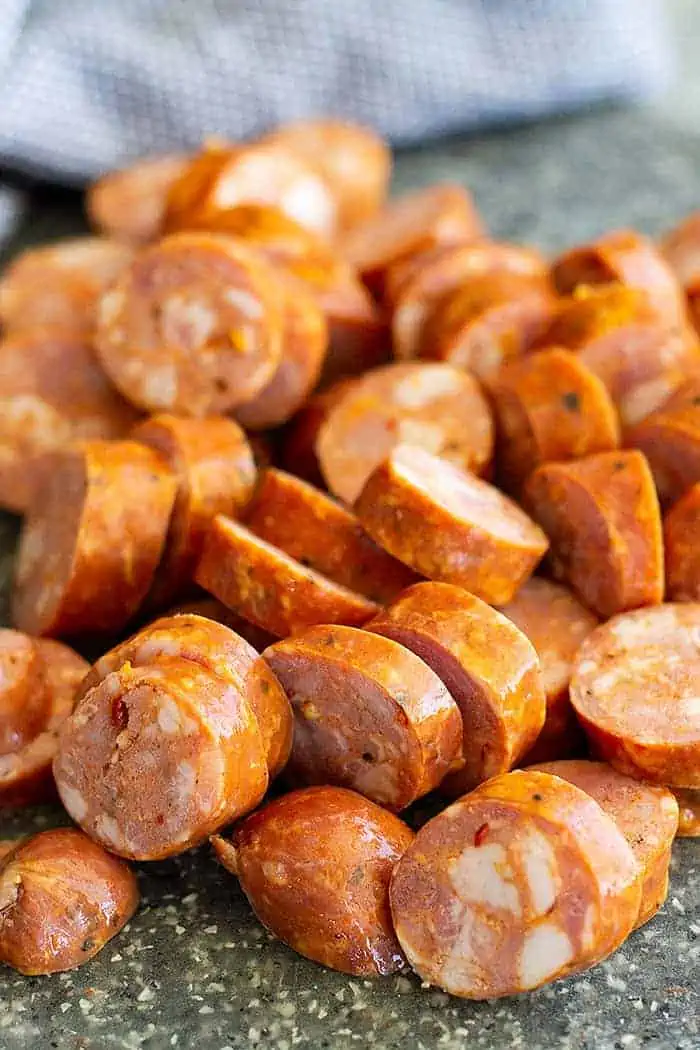 How to Make a Medium Brown Roux:
MEDIUM BROWN ROUX: Many gumbos use a dark brown roux, but the longer you cook a roux, the more it will start to lose its thickening power. I needed both flavor and thickening for this chicken shrimp and sausage gumbo recipe, and that's why I decided on a medium brown roux.
MELT BUTTER: I chose butter for this recipe, but you can also use oil or even bacon fat. Melt the butter in a heavy saucepan or dutch oven over medium heat. Now, you will need to add in the same amount of flour as fat. So if you melted 2 tablespoons of fat, you will use 2 tablespoons of flour. For this recipe, we used 1/2 cup of butter, so we will need 1/2 cup of flour. Add that to the pan and whisk to combine.
KEEP WHISKING: Now, we will keep whisking almost constantly until we reach that medium brown color (about the color of peanut butter). This is key to making a good roux; whisking helps keep it smooth and silky, and helps prevent it from burning. If you see black spots, it means it has burned, and you will need to start over. Many will give suggested lengths of time it takes to achieve the different colored roux, but I prefer to go by color because everyone's stove cooks differently. If you feel it is cooking way too fast, then lower the heat to a medium low.
How To Make Chicken Shrimp Sausage Gumbo
ADD VEGGIES AND SEASONINGS: Add the peppers, onions, celery, minced garlic, and Cajun seasoning to the roux. Turn up the heat to medium and cook for 3-5 minutes.
ADD CHICKEN BROTH: Pour in the chicken broth slowly and whisk until all lumps are gone.
SLOW COOKER: Pour the roux mixture into the slow cooker. Add in the sausage, okra, and bay leaves. Sprinkle chicken with salt and pepper, then add to the slow cooker. Cook for 4-6 hours on low or until the chicken can be shredded easily.
SHRED CHICKEN: Take the chicken out of the slow cooker and shred it, then return it to the crockpot. Add shrimp and cover. Cook for 15 minutes, turn off the heat, and let rest for 5 minutes. Remove any fat that rises to the top. Serve and enjoy!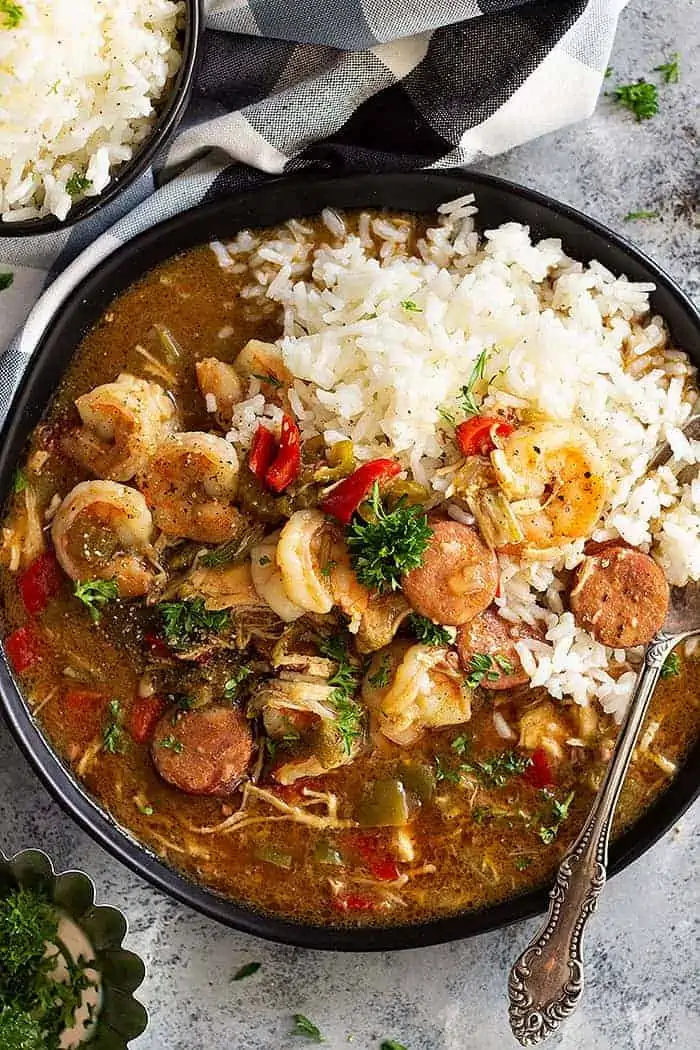 Frequently Asked Questions
What is the difference between gumbo and jambalaya?
Gumbo is more of a soup/stew that is served with rice. Jambalaya is a rice dish where the rice is actually cooked with the rest of the ingredients.
Can I freeze this Slow Cooker Chicken Shrimp Sausage Gumbo?
Yes!! This does make a very large amount of food, and shrimp and sausage gumbo is freezer friendly!! You can freeze it in single portions or larger portions. Crockpot gumbo will keep in the freezer for up to 6 months. Just let it thaw overnight and reheat as needed.
Do I have to add all the meat?
No, you can add only the meats you like. The combination of chicken, shrimp, and sausage is great together, but if you don't like one of them, simply omit it.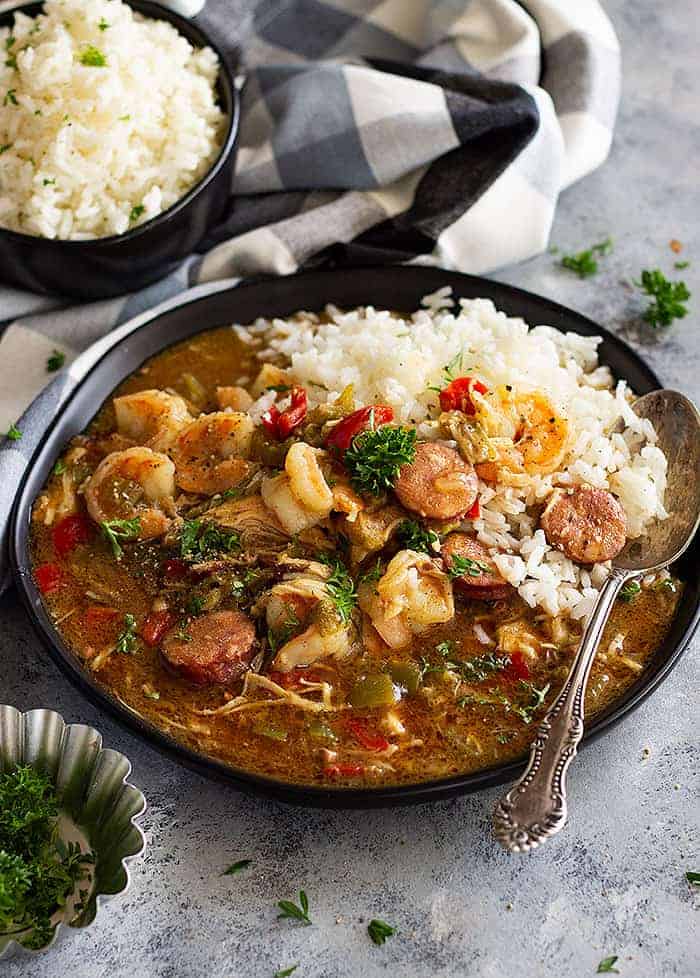 Slow Cooker Chicken, Sausage, and Shrimp Gumbo
This Slow Cooker Chicken, Sausage, and Shrimp Gumbo is a New Orleans inspired dish that's full of flavor! It's comfort food to the max, hearty, and best of all it's freezer friendly!
Print Recipe
Save Recipe
Saved!
Ingredients
1/2

cup

butter or oil

1/2

cup

all purpose flour

1

medium onion, chopped

1

red bell pepper, seeds removed and chopped

1

green bell pepper, seeds removed and chopped

2

celery ribs, chopped

6-8

cloves garlic, minced

2

teaspoons- 2 tablespoons

cajun seasoning

3 1/2

cups

chicken broth

1

pound

andouille sausage, sliced into 1/2″ rounds

12

ounces

fresh or frozen okra, thawed, drained, and patted dry

2

bay leaves

2

pounds

boneless and skinless chicken breast or boneless and skinless chicken thighs

1

pound

raw large shrimp, deveined, peeled, and rinsed
Instructions
In a large dutch oven or heavy bottomed saucepan melt the butter over medium heat. Whisk in flour and continue to whisk almost constantly until it reaches a medium brown color (like peanut butter) and has a nice toasty smell. If it is browning really fast turn down your heat so it doesn't burn.

Add the chopped onion, bell peppers, celery, garlic and cajun seasoning. Increase heat back up to medium if needed and cook for 3-5 minutes just to get the vegetables a little head start. Slowly whisk in the chicken broth and continue to whisk until there are no lumps. Transfer to slow cooker.

Stir in sausage, okra, and bay leaves. Season chicken with salt and pepper and place in slow cooker. Cover and cook on low for 4-6 hours or until chicken can be easily shredded.

Remove chicken to cutting board and shred. Transfer back to slow cooker and stir in shrimp. Cover and cook for 15 minutes. Turn off heat and let stew settle for 5 minutes. If any fat comes to the surface remove with a spoon if desired.
Notes
Freezer Friendly– this can be frozen in single portions or larger portions for up to 6 months in a freezer safe container. Thaw overnight in the refrigerator and reheat as needed. 
Nutrition info calculated using butter and chicken breasts. 
What to serve with this Slow Cooker Chicken, Sausage, and Shrimp Gumbo
Simple side salad
Hot cooked rice of choice
Nutrition
Calories:
614
kcal
|
Carbohydrates:
14
g
|
Protein:
49
g
|
Fat:
39
g
|
Saturated Fat:
15
g
|
Cholesterol:
293
mg
|
Sodium:
1510
mg
|
Potassium:
819
mg
|
Fiber:
3
g
|
Sugar:
2
g
|
Vitamin A:
1950
IU
|
Vitamin C:
52.7
mg
|
Calcium:
162
mg
|
Iron:
4.1
mg