These Kabobs with Homemade BBQ Chicken Marinade are bursting with flavor thanks to the easy homemade BBQ sauce. They are sweet and slightly tangy with a little heat and perfect for any backyard barbecue!
Marinated BBQ Kabobs
Summer is not official until you've made something on the grill, am I right?! I love cooking on the grill for many reasons: it helps keep the heat out of the house, oftentimes there are fewer dishes, and almost everyone loves a good barbecue! One of the first things I made this summer were these kabobs with BBQ chicken marinade.
I love grilled food so much that you can even find me grilling in the middle of the winter. I know that seems odd because there aren't that many grilling recipes on the blog. Well, my friends, it's because they are really hard to take pictures of and make them look as good as they taste! It's something I have been really working on, and I hope to bring more grilled foods to the blog in the future.
Some other great grilled options include Grilled Balsamic Chicken Pasta Salad, Grilled Teriyaki Pork Chops, Grilled Buffalo Chicken Sandwich, and Quick Smoked BBQ Pork Chops.
Now I realize the title does infer marinating chicken in BBQ sauce, but if you are short on time or didn't want to marinate the BBQ kabobs, they will still be really flavorful. Aside from the obvious, marinating helps with tenderizing and making sure the meat is extra juicy.
It's important when grilling because if you don't stand right next to your grill at all times, the temperature can fluctuate rather quickly (or at least mine does!). That said, you could simply slather on the BBQ sauce after the kabobs have cooked!
Why You'll Love This BBQ Chicken Kabobs Recipe
Full of flavor
Perfect for backyard bashes
Ready in 30 minutes
The homemade BBQ chicken marinade is so easy — and tasty!
Key Ingredients to Make BBQ Chicken Kabobs
For this marinated BBQ chicken recipe, you'll note that most of the ingredients listed below are for the homemade marinade. Remember, you don't have to worry about marinating chicken in BBQ sauce if you don't have time!
CHICKEN BREASTS – I'm using boneless, skinless chicken breasts that I cut up into cubes, but you could technically use any cut of chicken!
KETCHUP – For added flavor and color in the BBQ marinade.
DARK BROWN SUGAR – I like dark brown sugar for this dish as the flavor is deeper and more complex. But, you can use regular brown sugar if you have it on hand!
APPLE CIDER VINEGAR – For that touch of tang that's so synonymous with BBQ sauce.
MOLASSES – For even more added sweetness and flavor.
WORCESTERSHIRE SAUCE – This hard-to-pronounce condiment adds so much to this recipe! It boasts an umami flavor that's hard to replicate.
SPICES, SEASONINGS, AND OTHER EXTRAS – You'll need onion and garlic powder, prepared mustard (the bright yellow stuff from the grocery store), chili powder, black pepper, and red pepper flakes.
Instructions to Make Marinated BBQ Chicken Kabobs
MAKE THE BBQ CHICKEN KABOBS MARINADE: Add the BBQ marinade ingredients to a small bowl and mix until well combined. Set 1/2 cup aside for serving.
MARINATING THE CHICKEN IN BBQ SAUCE: Place the cubed chicken into a Ziploc bag along with the remaining marinade. Seal it and place in the fridge for up to 24 hours.
PLACE THE MARINATED BBQ CHICKEN ON SKEWERS: If you're using wooden skewers, be sure to let them soak in water for 20 minutes before threading the marinated BBQ chicken onto them.
GRILL: Place the BBQ kabobs on a grill preheated to medium-high and cook for about 20-25 minutes, making sure to turn them occasionally.
Serve with the reserved marinade and enjoy!
Serving Suggestions
FAQ
Should you marinate chicken in BBQ sauce before cooking?
Remember, marinating chicken in BBQ sauce is totally optional for this recipe, but it does tenderize the meat as well as give it a punch of flavor. If you don't have a lot of time, I suggest doing a "quick" marinade — 1-2 hours is fine.
Can I add vegetables to these kabobs?
Yes! And you can even use the same BBQ marinade. Bell peppers, red onion, cherry tomatoes, summer squash, or mushrooms are all great choices. I do suggest marinating the veggies separately so they don't sit too long with the raw meat.
Can I use the marinade as a sauce for serving?
The reason why I mention leaving 1/2 cup of BBQ chicken marinade for serving is because you should not reuse marinade that comes in contact with raw chicken. Toss it to avoid any foodborne illnesses!
How do I keep the kabobs from sticking to the grill?
Preheating your grill, rubbing it with oil, and avoiding excessive flipping can all help! A hot grill will sear the meat quickly, and using a nonstick cooking spray puts a barrier between the grates and your food. As for flipping the skewers too much, make sure to allow the kabobs to cook for at least a few minutes on one side before turning them.
I have a question for all of you before I let you go…do you call them kabobs or skewers?! I have always called them kabobs growing up, and it wasn't until I started blogging that I noticed some call them skewers. Maybe it has to do with what part of the country you live in, sort of like the whole soda, cola, or pop debate? Let me know in the comments below!
More Chicken Recipes To Try
Thanks so much for reading! Let me know what you think about this BBQ chicken kabobs recipe!
HUNGRY FOR MORE? Subscribe to my newsletter and follow along on Pinterest, Facebook, and Instagram for all my latest updates!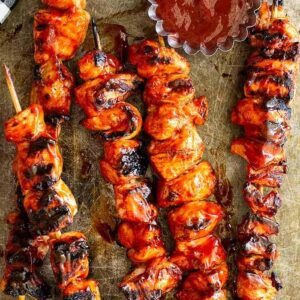 Kabobs with Homemade BBQ Chicken Marinade
These Kabobs with Homemade BBQ Chicken Marinade are bursting with flavor thanks to the easy homemade BBQ sauce. They are sweet and slightly tangy with a little heat and perfect for any backyard barbecue!
Print Recipe
Save Recipe
Saved!
Ingredients
1

cup (270g)

ketchup

1/4

cup (50g)

packed dark brown sugar

2

tablespoons

apple cider vinegar

2

tablespoons

molasses

1

tablespoon

Worcestershire sauce

1

teaspoon

onion powder

1

teaspoon

garlic powder

1

teaspoon

prepared mustard

1/2

teaspoon

chili powder

black pepper and red pepper flakes to taste

3

pounds (1340g)

boneless and skinless chicken breasts, cut into 2 inch pieces
Instructions
In a small bowl combine the ketchup, brown sugar, apple cider vinegar, Worcestershire sauce, onion powder, garlic powder, mustard, chili powder and peppers until combined. Reserve 1/2 cup of the sauce for serving. Place chicken and remaining bbq sauce in a large plastic bag. Seal and refrigerate for up to 24 hours.

If using wooden skewers soak in water 30 minutes before grilling. Preheat grill to medium-high heat (350-400 degrees F). Lightly brush grill with cooking oil to help prevent sticking. (Do this by folding up a couple of paper towels then dipping into a small amount of oil. Using tongs brush the grates of the grill with oil soaked paper towel.)

Thread chicken pieces onto the soaked skewers. Grill, turning occasionally until meat is completely cooked (about 20-25 minutes). Serve with reserved BBQ sauce.
Notes
If you don't want to marinate these chicken kabobs you don't have to. 
Serving Suggestions:
Nutrition
Calories:
549
kcal
|
Carbohydrates:
39
g
|
Protein:
73
g
|
Fat:
9
g
|
Saturated Fat:
1
g
|
Cholesterol:
217
mg
|
Sodium:
1000
mg
|
Potassium:
1654
mg
|
Sugar:
35
g
|
Vitamin A:
480
IU
|
Vitamin C:
7.1
mg
|
Calcium:
64
mg
|
Iron:
2.3
mg