This Slow Cooker Guinness Corned Beef is a simple one dish meal full of flavor and oh so easy!
Save it for later and PIN IT

**Pictures and Post updated March 2017**
This slow cooker Guinness corned beef is making a reappearance!  I really wanted to update the photos on this post and give it a little extra life.  Ok, I want to redo A LOT of photos on this blog and I will be over the course of the year.  I feel I have come a long way with my photography but I know I can still/want to learn more.
Corned beef is a big deal around our house when it comes this time of year and if you happen to have some leftovers it will go great in these Reuben Sliders!  I love this meal and it is perfect for the slow cooker.  This particular cut of beef needs a long cook time in order for it to become tender.  I always cook it on low and don't recommend rushing this process and cooking it on high.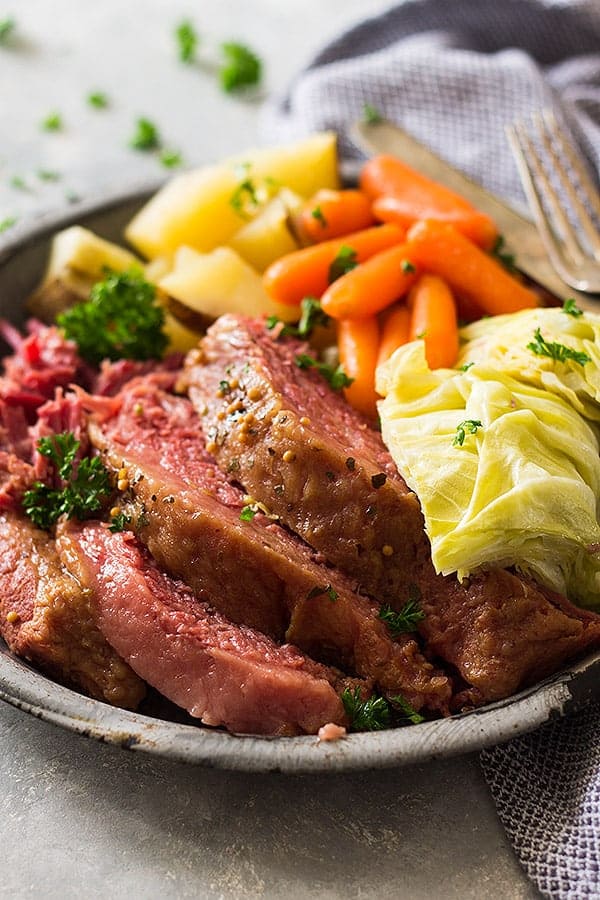 **Original Text**
You guys, spring fever is totally setting in!  Everyone has the itch to be outside all day long and play.
We have a huge outside to do list this year.  Whether or not it all gets accomplished is another story.  We usually bite off way more than we can chew when it comes to outdoor projects.
It just seems like it would be so easy to just put in that flower bed, or sidewalk, or patio coverings or garage.  The list goes on and there is only so much time in a day to get it done.
We are big DIYers and sometimes I think that is the problem.
We need more outsourcing, but that is just too pricey and we are too picky about how things get done.  So, back to square one!  I guess the upside is that we have something to keep us busy because having 7 kiddos just isn't keeping us busy enough (insert mad woman laugh).
Speaking of being super busy this is where easy one pot meals come in super handy and it's a slow cooker meal too!!!  WIN!
We adore corned beef and it's a shame we only eat it a few times a year.  I usually buy a few extra packages of corned beef when they are on sale and put them in the freezer.  But I usually cook them right away because we love them so much.  Then we go without it the rest of the year.  I need to remedy that and try to have it a few more times throughout the year instead of just in March.
Leftovers are never a problem either!  My husband has been known to just eat it cold on a sandwich with some of the cabbage.  At least I'm getting him to eat some veggies! 🙂
I dressed this slow cooker Guinness corned beef up to make it even more festive for St. Patrick's Day by adding in an Irish stout.  I also added a little brown sugar and the end result was wonderful.  The beer adds some extra flavor and helps to tenderize the meat and the brown sugar adds a hint of sweetness.  This step is not necessary as corned beef is great without adding anything to it.  So, if you don't want to use a beer, just use some beef broth instead and it will still taste great.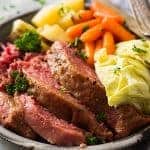 Slow Cooker Guinness Corned Beef
Slow Cooker Guinness Corned Beef -let the slow cooker do all the work for you to create this easy one dish meal!
Course:
Beef, Slow Cooker
Ingredients
1

3.5 pound corned beef brisket

2

pounds

Yukon gold potatoes

(or whatever you have on hand) scrubbed well and cut into large chunks

2 1/2

cups

baby carrots

1

12 oz Guinness stout (or can use about 2 cups beef broth)

1/4

cup

packed brown sugar

Seasoning packet that came with corned beef

1

small head of cabbage
Instructions
Trim the corned beef of all visible fat. Place in the bottom of the slow cooker. Sprinkle with brown sugar and seasoning packet. Pour Guinness around the corned beef then place the potatoes and carrots around the corned beef. Cover and cook on low 8-10 hours. NO PEEKING! I don't recommend cooking on high.

Remove outer leaves from cabbage and cut into 4 wedges. Place in crock pot around the beef. Return lid and cook for 20 minutes. This will give you tender crisp cabbage. If you like softer cabbage put in earlier.