Raspberry Cheesecake Stuffed French Toast is a rich and buttery brioche bread stuffed with raspberry cheesecake filling. Drizzle with a little hot fudge sauce and this makes for a very special breakfast or brunch!
Raspberry Cheesecake Stuffed French Toast
Do any of you have your Mother's Day breakfast/brunch planned out yet? No, good because you need to put this stuffed french toast on the menu!! And it's not as hard as it looks or sounds, trust me!
A few other great breakfast or brunch ideas: Cinnamon French Toast Sticks, High Protein Cottage Cheese Pancakes (<-SO GOOD!), Breakfast Enchiladas, and Hashbrown Sausage Breakfast Pie.
This year my 7 year old daughter will be having her first communion on Mother's Day which makes it an extra special day!! I can't believe she is this old already, but I also can't believe that my oldest is 11! It's a little bittersweet seeing them grow up. It's nice seeing them mature and as they get older they help out around the house (which I really enjoy!) but it also means that before I know it they will be adults and leaving the nest.
Then I think of the big scary world out there and I kinda want them to stay little.
Anyone else in the same boat?
Well, enough about that and onto this Raspberry Cheesecake Stuffed French Toast!
Can I bake this stuffed french toast?
Yes! A few changes will need to be made to the recipe below.
Instead of 2 large eggs use 4 and instead of 1/3 cup half and half use 1 cup.
Prepare filling and stuff as directed in step one and place in a small baking dish.
Combine the eggs, half and half, sugar, and vanilla and pour over the stuffed bread.  Using the back of a spatula, press bread down lightly to help soak up the egg mixture. Cover and chill for 2-24 hours turning carefully with a large spatula once or twice.
Preheat oven to 350 degrees F. Line a baking sheet with parchment paper and carefully transfer the french toast to prepared pan. Bake for 35 minutes or until golden brown, turning once halfway through baking.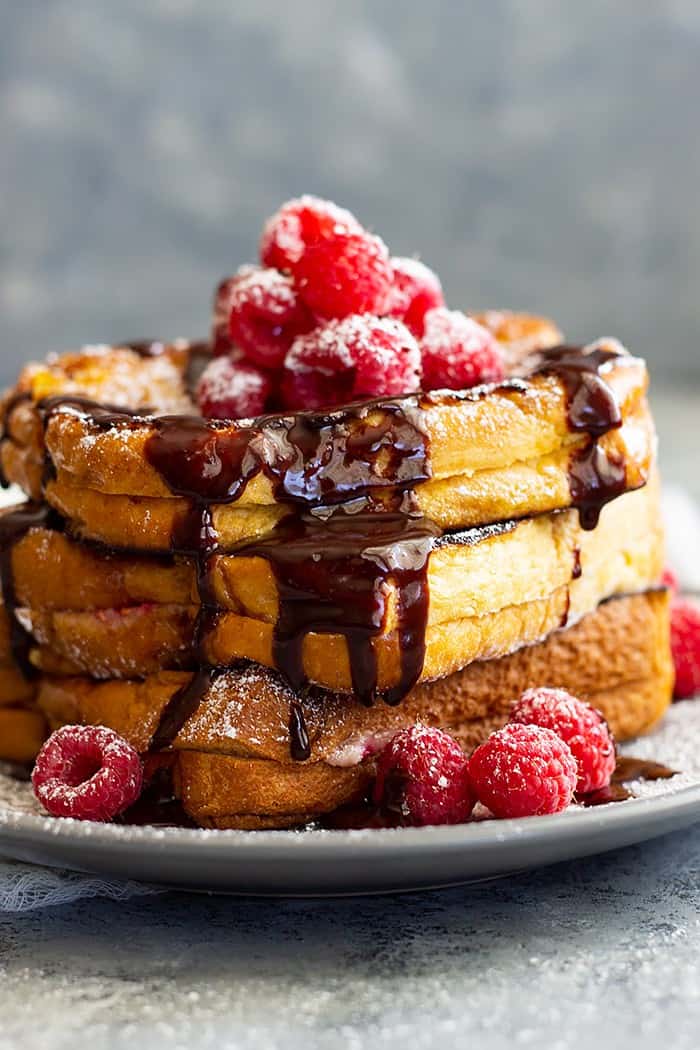 What to serve with this Raspberry Cheesecake Stuffed French Toast:
Garnish with fresh raspberries, hot fudge sauce, and powdered sugar if desired.
Eggs of choice
Coffee or hot tea
Other fresh fruit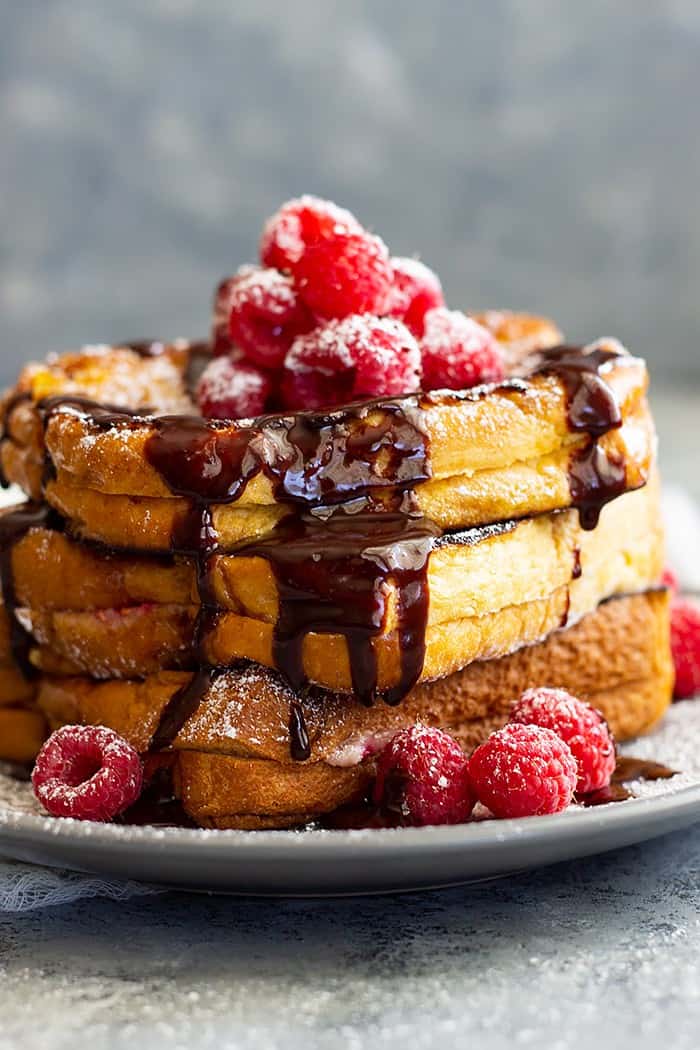 Raspberry Cheesecake Stuffed French Toast
Ingredients
8

thick slices brioche bread

4

ounces (113g)

cream cheese, softened

1/2

cup (70g)

fresh raspberries + extra for garnish if desired

2

tablespoons

sugar

1

teaspoon

vanilla

2

large eggs

1/3

cup (80ml)

half and half or whole milk

2

tablespoons

sugar

1

teaspoon

vanilla

butter for frying
Instructions
In a small bowl combine cream cheese, raspberries, 2 tablespoons sugar, and 1 teaspoon vanilla. Divide among 4 pieces of bread. Top each with remaining slices of bread.

In a shallow dish combine eggs, half and half, 2 tablespoons sugar, and 1 teaspoon vanilla.

Preheat a large skillet with a small amount of butter over medium-low heat. Dip stuffed french toast into egg mixture briefly soaking each side. Place in skillet and cook for 5 minutes on each side or until lightly browned. Serve immediately.

Recipe Notes
Baked Version:

Instead of 2 large eggs use 4 and instead of 1/3 cup half and half use 1 cup.
Prepare filling and stuff as directed in step one and place in a small baking dish.
Combine the eggs, half and half, sugar, and vanilla and pour over the stuffed bread.  Using the back of a spatula, press bread down lightly to help soak up the egg mixture. Cover and chill for 2-24 hours turning carefully with a large spatula once or twice. 
Preheat oven to 350 degrees F. Line a baking sheet with parchment paper and carefully transfer the french toast to prepared pan. Bake for 35 minutes or until golden brown, turning once halfway through baking. 

What to serve with this Raspberry Cheesecake Stuffed French Toast:

Garnish with fresh raspberries, hot fudge sauce, and powdered sugar if desired.
Eggs of choice
Coffee or hot tea
Other fresh fruit