Happy New Year!!  Yeah a bit late I know but I wanted to say it anyway.  So we made it back from Christmas vacation healthy and alive!!  Our trip out was in a snow storm and we drove a whopping 50 mph!  What should have been an 8 hour trip became an 11 1/2 hour long trip with 6 kids.  Let me say that again SIX KIDS and 11 1/2 hours on the road aaaaahhhhh!  It wasn't too bad so I won't complain to much.
I think the funniest part now that I look back would be my 2 year old eating her hamburger.  I climbed to the middle seat to check on her and as I looked over the seat there she was just covered and I mean covered in mustard!  How much mustard does a child need on their hamburger anyway?  I even told them not to put on mustard and ketchup just for this very reason but obviously they didn't hear me or just ignored me.  Anyway it was all over her face, hands, shirt, pants and car seat.  I was not a happy mama.  However, I wish I had a picture of it now.
Other than the extremely long drive out to Kansas and the mustard episode we had a really nice time visiting my family.  It was hard not having my mom there to visit with and make sugar cookies with the kids but we all made it through those tough moments.
Now on to the food- chicken quinoa enchilada bake.  I must say I think I like this better than regular enchiladas!!  It is also easier and less of a mess to make.  No more dredging each tortilla and getting sauce everywhere.  No more wrapping overfilled tortillas with everything falling out the sides as you try to put them in the baking dish.  I can say Happy New Year to that!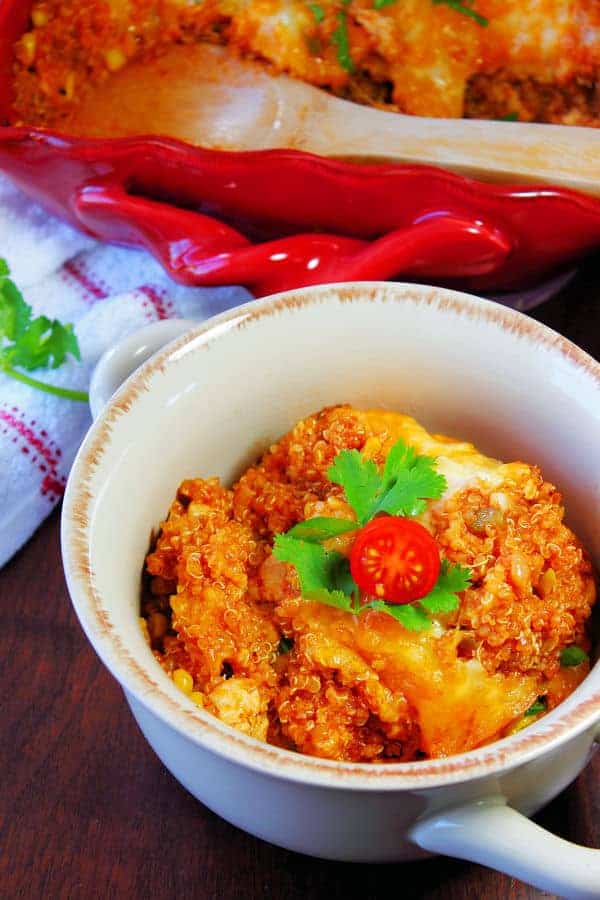 Chicken Quinoa Enchilada Bake
Ingredients
2

cups

quinoa

3

cups

cooked shredded chicken

2

15 oz cans enchilada sauce

1

cup

chopped onion

1

cup

whole corn

1

jalapeno

ribs and seeds removed and finely chopped

2

cloves

garlic

minced

1

4.5 oz can green chilies

1

teaspoon

chili powder

2

cups

shredded sharp cheddar cheese

1

cup

shredded monterey jack cheese
Instructions
Prepare quinoa according to package directions and set aside. Preheat oven to 375 degrees F.

Heat a skillet to medium heat and slightly char the onion, corn and jalapeno. Add in the garlic and cook for 1-2 minutes. Remove from heat and add to the quinoa.

Add in remaining ingredients to quinoa except cheese and stir well to combine. Pour or spoon into a 13x9 inch baking dish. Cover with shredded cheeses.

Bake for 15 minutes or until bubbly and the cheeses have melted.
Recipe Notes
To kick the heat up a notch leave the seeds and ribs in the jalapeno and use hotter enchilada sauce.