This Beer and Butter Turkey is an easy way to put a lot of flavor into your bird.  It is super moist and the skin is crispy, just as it should be.  No basting required!
Just look at that skin!  And I didn't baste it one time!!
This really is an easy recipe.  I mean if I can do it so can you.  I only cook turkey like once a year.
Why is that???  Why do we only eat turkey at Thanksgiving??  Why not in March or May??
There are so many things you can do with turkey.  Like turkey sandwiches, turkey enchiladas…. or even just replace the chicken with turkey in many of your favorite recipes like this chicken salad or Chicken Taco Salad.
I love having leftover turkey to create new things with or even just eat the leftovers the way they are.  🙂
I decided to get more creative with turkey this year though.  My husband found a culinary injector for me a while back I haven't been able to use it.  Well, this was the perfect opportunity.
I researched some different recipes to inject my turkey with and finally settled on something.  I know it sounds a little weird, injecting a turkey with beer, but trust me it's good.  You could also replace the beer with apple juice and it would be equally delicious!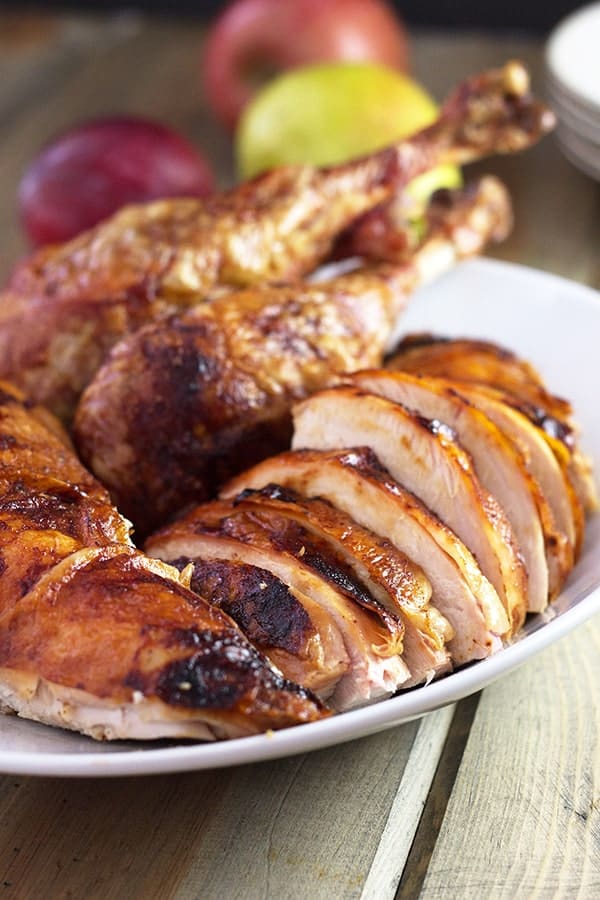 Beer and Butter Turkey
Course:
Main Dish, Turkey
Ingredients
1/2

cup

butter

2/3

cup

beer or apple juice

1

tablespoon

salt

1 1/2

tablespoon

Worcestershire sauce

1

tablespoon

soy sauce

2

teaspoons

onion powder

2

teaspoons

garlic powder

1

15 pound turkey completely thawed
Instructions
Warm all ingredient, except turkey, in a small sauce pan until butter is melted.

Using a culinary injector, inject the turkey with the warm sauce. Inject turkey in several spots.

Place turkey in a roasting pan and bake at 325 degrees F for 4 hours or until meat thermometer inserted in the breast reads 165 degrees F.

Remove from oven and let rest 20-30 minutes before carving. (this step is very important or the juices will just go everywhere)
Recipe Notes
Recipe adapted from
food.com