This Easy Parmesan Risotto has been simplified with the help from America's Test Kitchen. Less stirring, less work but creamy, dreamy risotto!!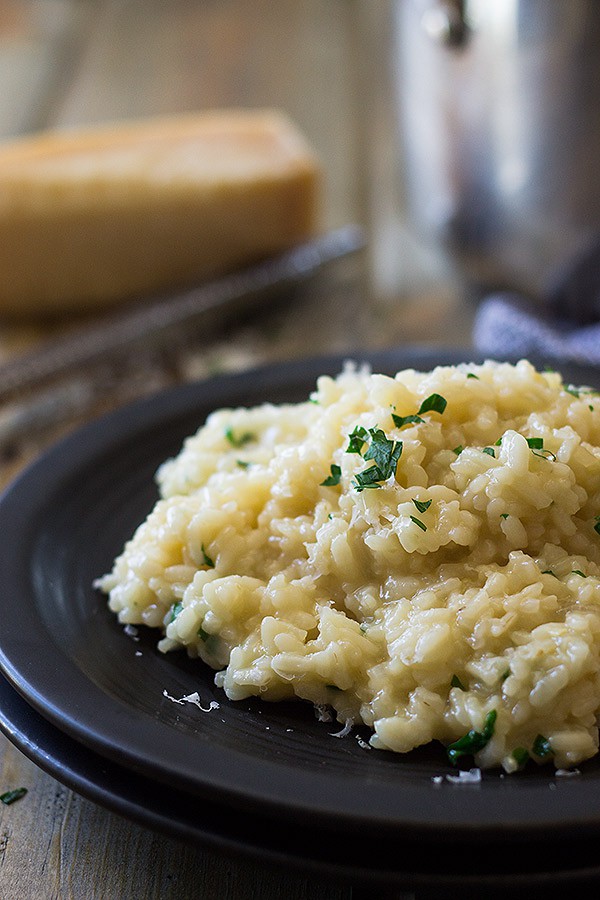 Easy Parmesan Risotto
Ok, I have a confession– I have never had risotto……ever……. until now.
This easy Parmesan risotto is absolutely delicious and I have no idea why it has taken me this long to try it.
Well, actually I do know why it has taken me this long….because making risotto is TIME CONSUMING!
Usually, when you make risotto you are at the pot stirring and slowly adding in the broth, stirring and slowly adding in the broth, stirring and slowly adding in the broth.
And this goes on for what feels like an eternity.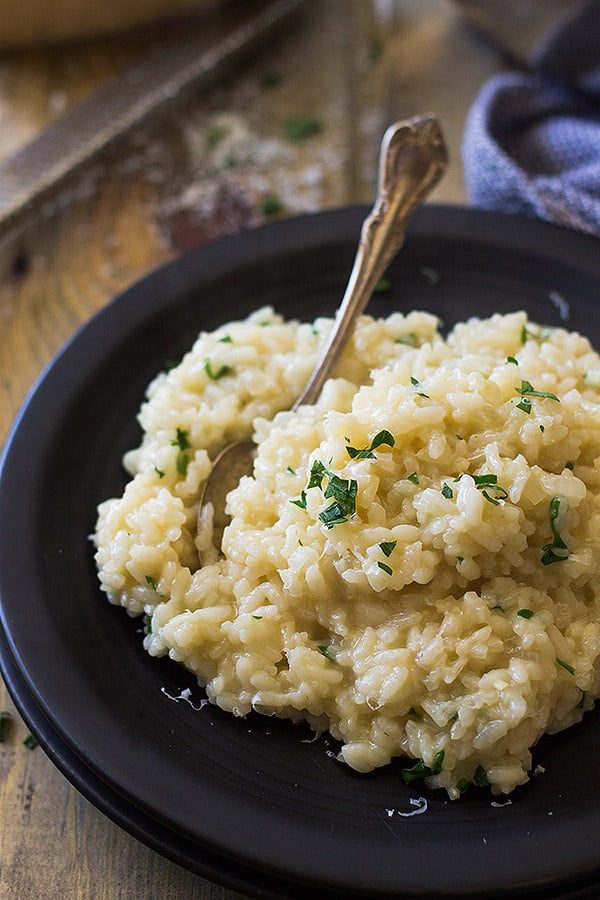 Easy Risotto Recipe
This is just not manageable for me because….well I have little kids and whenever I am at the stove with something that needs my constant attention all of a sudden everyone else needs my constant attention.
So, I have left risotto for one of those meals I will make someday when I no longer have children underfoot.
Parmesan Risotto
But, I have found the solution from America's Test Kitchen!!
Those guys are awesome and I feel like they are constantly reinventing the wheel.
They found a way to make risotto without standing there and stirring it through the whole process and it still turns out thick, creamy and so flavorful.
I fell in love instantly and have made it for several dinners over the past month and I have also tinkered with it making different variations so I may have to post those in the near future too!
What is creamy Parmesan Risotto?
Risotto is basically a rice dish. It's from Northern Italy and is a type of rice (must be arborio rice!) that is cooked in broth (any type of broth) to a creamy consistency.
Typically other ingredients such as butter, wine, onion, garlic, or Parmesan cheese are added.
Risotto is usually served as a first course in Italy but I always serve it as a side dish.
Arborio rice must be used because of its high starch content and that is what makes this rice dish creamy.
Can you make risotto without wine?
Yes, you can. You will find that almost every risotto recipe out there has wine in the ingredient list. And yes, it does lend flavor it can be substituted with more broth.
If you would like to add that touch of acidity without wine you can add just a splash of white wine vinegar when you add the broth.
What to serve with risotto?
Here are a few options to choose from!
Easy Parmesan Risotto
This Easy Parmesan Risotto has been simplified with the help from America's Test Kitchen. Less stirring, less work but creamy, dreamy risotto!!
Keyword:
easy risotto, Parmesan risotto
Ingredients
5

cups

chicken broth or stock

1 1/2

cups

water

4

tablespoons

butter

1

small onion

finely chopped

1-2

large cloves garlic

minced

2

cups

Arborio rice

1

cup

white wine

1

cup

grated Parmesan cheese

I found freshly grated it best

Salt and pepper to taste

1

tablespoon

chopped fresh parsley
Instructions
Bring the broth and water to a boil in a large saucepan. Reduce heat to a low simmer and cover.

In a dutch oven melt butter over medium heat. Add in onion and cook until soft. Add in garlic and rice and cook, stirring frequently until grains are translucent around the edges. Around 3-5 minutes.

Add in the wine and cook stirring constantly until wine is fully absorbed (about 3 minutes) Stir in 5 cups of hot broth and reduce heat to medium low. Cover and simmer until almost all of the liquid has been absorbed (about 16-18 mins) stirring twice during this process.

Add in 1 cup of hot broth and stir gently until risotto becomes creamy. Add in the Parmesan cheese and remove from heat. If risotto needs "loosened" add in a little hot broth until desired consistency is achieved. Stir in chopped parsley if desired.
Recipe Notes
Recipe adapted from America's Test Kitchen
Nutrition Facts
Easy Parmesan Risotto
Amount Per Serving
Calories 449
Calories from Fat 117
% Daily Value*
Fat 13g20%
Cholesterol 34mg11%
Sodium 387mg17%
Potassium 295mg8%
Carbohydrates 58g19%
Protein 15g30%
Vitamin A 375IU8%
Vitamin C 1.5mg2%
Calcium 207mg21%
Iron 3.5mg19%
* Percent Daily Values are based on a 2000 calorie diet. Since different brands of ingredients have different nutritional information, the information shown is just an estimate.