This Easy Rice Pilaf with Carrots and Peas is a staple recipe everyone should learn! It goes great with so many dishes and is so easy to make!
Easy Rice Pilaf with Carrots and Peas
Rice pilaf is one of those side dishes I think a lot of people forget about. It's so easy to make and it's something everyone should master. Once you learn the basic steps to a good rice pilaf you can customize it to make it your own.
Some other great side dishes that are super easy to make are Tomato Cucumber and Avocado Salad, Lemon Parmesan Roasted Broccoli, Honey Garlic Roasted Carrots, Spinach, Apple, and Pomegranate Salad, Roasted Sweet Potatoes with Cinnamon Glaze, and Skillet Garlic Green Beans.
Key steps to a great rice pilaf:
You will need long grain white rice for this pilaf. These instructions are only going to work with a long grain white rice. Brown rice cooks differently so it cannot be substituted. Also, arborio rice will not work in this recipe either. If you are looking for more of a risotto I have an Easy Parmesan Risotto that goes great with a lot of dishes as well!
You will need a few aromatics such as onion, garlic, shallot, carrot, celery, peppers. This is what makes this better than just plain white rice. For the basic rice pilaf, you will need to saute onion and garlic. In this recipe, I am adding in carrots as another aromatic. And the peas are a vegetable added in at the very end. If you don't like them just leave them out. Also, I like to cook with butter because it adds another level of flavor but olive oil works great too. Don't have either…..give coconut oil a try.
After the aromatics of choice have been cooked stir in the rice to coat it well. This helps to make the rice a little fluffier. Also, we are going to cook the rice for a little bit, just until the edges of the rice start to become translucent and it starts to smell toasty. This step isn't absolutely necessary and I have left it out when I am in a super big hurry but it does add extra flavor to the rice.
Next, the rice will be cooked in some kind of broth. For this recipe, I am using chicken broth but feel free to replace it with any broth you have on hand. And a little secret…..I prefer using the better than bullion brand to make the chicken broth instead of the carton of chicken broth. I just like the flavor it gives the rice a little better than the store bought chicken broth. But feel free to use what you have on hand!
The last tip is about the cooking. Bring the rice up to a boil then reduce it to a SIMMER! Cover it with a tight fitting lid and don't peek at it while it's cooking. I know it's tempting to lift that lid but don't, you will lose too much steam that's needed to cook the rice. Also be sure to let the rice sit after it's done cooking and when you fluff it use a fork, not a spoon. A spoon will only smash the grains of rice instead of separating them.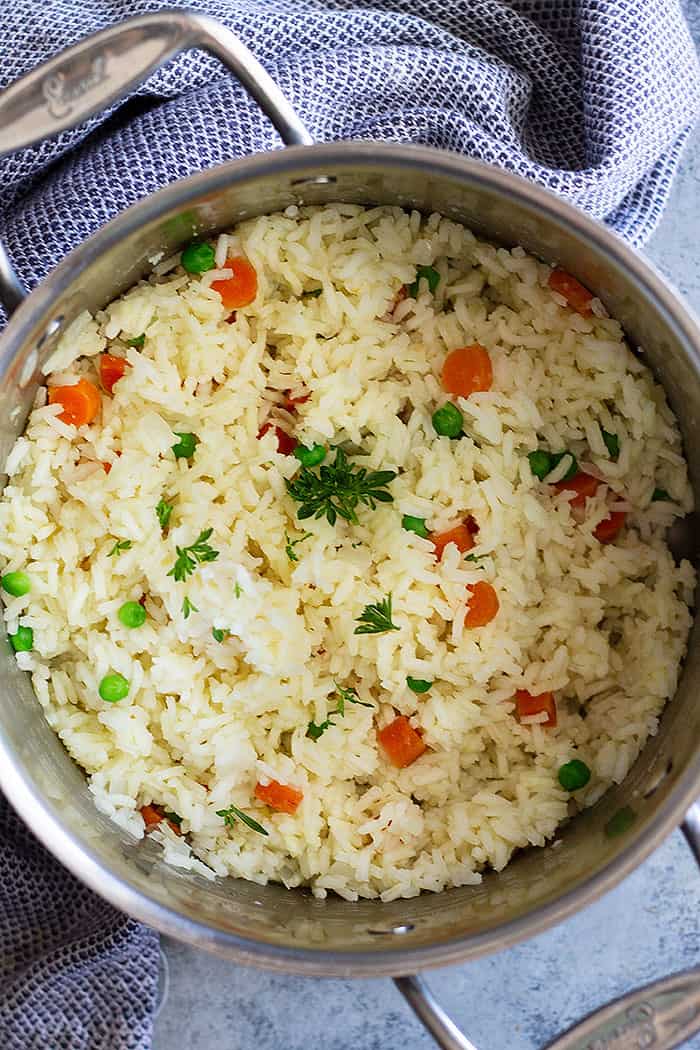 Vegetable Rice Pilaf
I know that seems like a lot of information for a simple pot of rice but I just wanted to give you all my tips to create a great rice side dish. If you follow those basic steps outlined above you will have a nice fluffy rice every time! And like I mentioned earlier feel free to substitute ingredients to make it your own.
Here are a few pilafs that aren't your average pot of rice Fluffy Rice Pilaf with Curry, Almond Cranberry Rice Pilaf, and Herbed Rice Pilaf. Rice pilafs can be super simple and basic or very complex with tons of flavors going on.
What to serve with this rice pilaf?
Rice Pilaf with Carrots and Peas
This Easy Rice Pilaf with Carrots and Peas is a staple recipe everyone should learn! It goes great with so many dishes and is so easy to make!
Keyword:
rice pilaf, rice pilaf with vegetables
Ingredients
1

tablespoons

butter

1

small

onion, chopped

1/3

cup (45g)

diced carrot

1

clove

garlic, minced

1

cup (220g)

long grain white rice

2

cups (475ml)

chicken broth or broth of choice (I actually use just a hair less than 2 cups of water)

1/4

cup (35g)

frozen peas, slightly thawed
Instructions
Heat a medium saucepan over medium heat. Add butter, onion, and carrot. Cook stirring frequently until slightly softened (about 3-5 minutes). Stir in garlic and cook for 30 seconds. Stir in rice and cook stirring frequently until edges become slightly translucent (about 3-5 minutes).

Add broth and bring to a boil. Reduce heat to a simmer and cover with a tight fitting lid. Simmer for 15 minutes without lifting the lid. Remove from heat and let stand 5 minutes without lifting the lid, then fluff with a fork and add the peas.