This spaghetti carbonara recipe is easy to make and full of delicious flavor! Done in just 30 minutes, your whole family will love this carbonara. After all, what better savory flavor combination than cheese, pasta, and bacon?
This simple pasta dish is perfect for a dinner party or a casual night at home. The beauty of this carbonara is that it comes together with just 5 ingredients! But don't be fooled, a lack of ingredients does not mean a lack of flavor. I believe that sometimes the best things in life are the most simple… including this spaghetti carbonara!
It is one of those meals you just have to try it to believe it. Stick to the Italian theme and enjoy this carbonara with your favorite bottle of wine and this cheesy garlic french bread!
*Originally published March 2015. Photos and text updated.*
WHY YOU WILL LOVE THIS SPAGHETTI CARBONARA RECIPE:
It is ready to devour in just 30 minutes. Avoid hangry housemates with this quick pasta!
Leave the long grocery list in the dust. All you need is 5 ingredients and you will be indulging in this deliciously cheesy pasta dish!
It's a crowd pleaser! You'll have your dinner guests fooled when you tell them how simple this recipe is. The rich flavor is a show stopper thanks to the parmesan cheese, garlic, eggs and bacon!
Spaghetti Carbonara without cream! This is the biggest no no (in my opinion) and is not needed to make this dish creamy.
INGREDIENTS:
Dry spaghetti or linguine – I find that longer pasta works best for this carbonara. It pairs perfectly with the luscious, creamy, cheesy sauce!
Bacon – Spaghetti carbonara with bacon….why not! A little bacon never hurt anyone (emphasis on "a little"). Everything in moderation. Plus, I find it's easier to find for most people and cheaper.
Garlic – I love the aroma that garlic adds to this dish. It really takes the flavor profile to the next level!
Eggs – eggs are responsible for the luscious texture of the carbonara sauce. Trust me, eggs are key in carbonara!
Parmesan cheese – paired with the eggs, parmesan cheese adds a delightfully cheesy texture to the sauce that is undeniably delicious!
Salt and pepper – this goes without saying, salt and pepper are crucial in almost any dish.
HOW TO MAKE SPAGHETTI CARBONARA:
Get your water boiling and don't forget to salt it! Salting your pasta water is key because it is the only time that you can add flavor to the pasta itself!
Cook your pasta until al dente, reserve a cup of pasta water and drain the rest.
In a small bowl, whisk together your eggs and parmesan cheese. Put to the side.
In a large skillet, cook off your sliced bacon until crispy. Once it reaches optimum crispiness, add your garlic and cook for about a minute. Garlic burns easily so be careful.
Add the pasta and reserved pasta water to the skillet and give it a god toss, then remove from the heat.
Slowly add the eggs and parmesan to the pasta, being careful not to scramble the eggs. The residual heat from the pasta will cook the eggs to perfection.
Season with pepper and salt, if needed, and serve immediately!
TIPS AND VARIATONS:
Some folks are very against adding vegetables to their carbonara but there is no official rule book saying you can't. If I were to add vegetables to my carbonara I would add peas, mushrooms, maybe even some asparagus! 

If you want to switch up the cheese in this carbonara recipe, try pecorino romano. It is a salty, hard cheese similar to parmesan but it melts beautifully, making it a great substitution for this dish!  

Don't want to use bacon? Try using guanciale (or pancetta). Guanciale is used in traditional carbonara recipes but it is much fattier and less meaty than bacon and can be harder to find in some places.
FREQUENTLY ASKED QUESTIONS:
Can I store my spaghetti carbonara for later?
While you can store your carbonara in the refrigerator for up to 4 days it is definitely best when served fresh!
Will the raw eggs make me sick?
Believe it or not, the eggs aren't raw. The residual heat from the pasta is just enough to cook the eggs without scrambling them completely. They might seem raw because of their liquified texture but when prepared properly, the eggs are cooked so you will not get sick.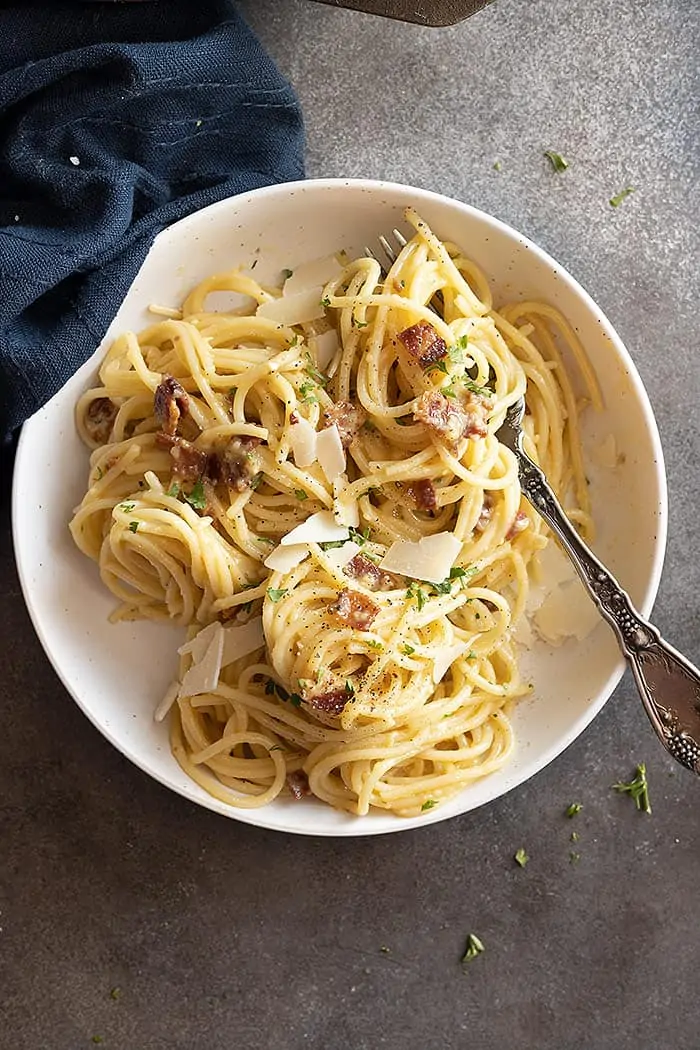 Other recipes you might like:
Million dollar spaghetti
Spaghetti Aglio e Olio
Homemade Vodka Sauce
Stovetop Mac n Cheese
Bacon Ranch Pasta Salad
Slow Cooker Bacon Cheeseburger Tater Tot Casserole

HUNGRY FOR MORE? Subscribe to my newsletter and follow along on Pinterest, Facebook, and Instagram for all my latest updates!
Spaghetti Carbonara
This spaghetti carbonara recipe is easy to make and full of delicious flavor! Done in just 30 minutes, your whole family will love this carbonara. After all, what better savory flavor combination than cheese, pasta and bacon? I'll wait.
Print Recipe
Save Recipe
Saved!
Ingredients
1

pound 454g)

dry spaghetti or linguine

8

slices

bacon, cut into small pieces

2-3

cloves garlic, optional

4

large eggs

1

cup (100g)

grated parmesan cheese

Salt and pepper
Instructions
Bring about 6 quarts of water to a boil. Salt your water well (taste it and it should taste salty) This is an important step because it is the only time you can add flavor to the pasta itself.

Add in the pasta and cook until al dente. Reserve 1 cup of the pasta water, then drain.

In a small bowl combine the cheese and eggs. Set aside.

While the pasta is cooking, heat a large skillet over medium heat. Add in the bacon and cook until crispy. Stir in the garlic (if using) and cook for 1 minute. Toss in the pasta and reserved water. Remove from the heat.

Add in the egg and cheese mixture a little at a time stirring quickly so not to scramble the eggs. The residual heat will cook the eggs.

Season with freshly cracked pepper and salt if needed. Serve immediately.
Nutrition
Calories:
897
kcal
|
Carbohydrates:
115
g
|
Protein:
42
g
|
Fat:
28
g
|
Saturated Fat:
12
g
|
Polyunsaturated Fat:
4
g
|
Monounsaturated Fat:
10
g
|
Trans Fat:
1
g
|
Cholesterol:
163
mg
|
Sodium:
848
mg
|
Potassium:
489
mg
|
Fiber:
5
g
|
Sugar:
5
g
|
Vitamin A:
510
IU
|
Vitamin C:
1
mg
|
Calcium:
489
mg
|
Iron:
3
mg