This Traditional Pumpkin Pie is rich, velvety smooth and a must for a classic Thanksgiving dinner!
Everyone has a favorite pie they like at the holidays. This happens to be one of my husbands favorite (this and cheesecake) My kiddos also really, really like pumpkin pie. And here's the shocker—-I don't! I never have cared for pumpkin pie and I don't really know why. Even as a kid I always ate the second dessert option or went without.
I did however taste this pie and while it is good, it still is not on my top list of desserts.  However, I know it isn't Thanksgiving without pumpkin pie so I thought I would give you my traditional pumpkin pie recipe that I make every year.
Well, I am keeping this post to a minimum today. We have been battling the flu and yesterday was my first day to feel human again.  Just in time for my 4 year old to get it during the night and I just got home from picking up a sick child from school. Ugh.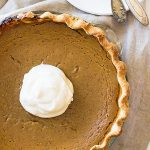 Traditional Pumpkin Pie
Ingredients
1

unbaked DEEP DISH pie shell

1

15 oz can pumpkin puree

1

cup

brown sugar

2

teaspoons

cinnamon

1

teaspoon

ground ginger

1/2

teaspoon

ground nutmeg

1/8

teaspoon

ground clove

1/2

teaspoon

salt

3/4

cup

whole milk

1/2

cup

heavy cream

3

eggs

1

teaspoon

vanilla
Instructions
Preheat oven to 400 degrees F.

In a large bowl combine the pumpkin, brown sugar, spices, salt, milk, cream, eggs and vanilla until smooth. Carefully pour into deep dish unbaked pie shell. Bake for 45-50 minutes or until filling is set at least 2 inches from edge. The center should still be slightly wobbly. Let cool completely then store in refrigerator.