These slow cooker beef and bean sloppy joes are a great twist on the classic. Use your favorite can of baked beans to change up the flavor!
I don't know about you guys but I have a feeling I am going to be using my crock pot a lot this school year!!  It's one way I can ensure there will be supper ready at a reasonable hour.  Anyone else have this same problem???  Ok, good it's not just me.
Well, I thought I would put a small twist on a classic with these slow cooker beef and bean sloppy joes.  To be honest I thought of my Dad when I was coming up with this meal.  It's a riff from a casserole he really likes.  The casserole has potatoes, onions, beef and baked beans.  Maybe I should put it on here someday??  I haven't made it in a very long time!!
I also have several other slow cooker recipes if you would like to look around.  I have been itching to make some slow cooker soups like this Easy Taco Soup and Slow Cooker Spaghetti and Meatball Soup but it is still pretty warm out.  And the last thing I want to eat on a 92 degree day is a hot bowl of soup!
I'm sure the cold will be here before I'm ready for it so in the meantime I am going to start building up an arsenal of homemade comfort foods!  Don't worry I'll be sure to share them all with you!
So, a little about these Slow Cooker Beef and Bean Sloppy Joes:
Use a lean ground beef.  That way you don't have to skim off a bunch of grease from the crock pot.
Brown the ground beef with the onions and garlic before putting it into the crockpot.  I found this step best because it added another dimension of flavor.
Use any canned baked bean.  I used the standard maple baked bean but there are many flavors that I think would go well with this.  Some of those grillin baked beans would be great!
One thing I have learned over my years of making sloppy joes is to toast the bun.  This way the bun doesn't immediately soak up all the juices from the sloppy joe mix and leave you with a soggy bun.  If you don't mind your bun a little soggy then, by all means, skip this step.  But it does add a little something to the sandwich!
Toppings……Use whatever you normally top your sloppy joes with.  I like cheddar cheese and so do my kids.  I also have one that really likes pickles on hers.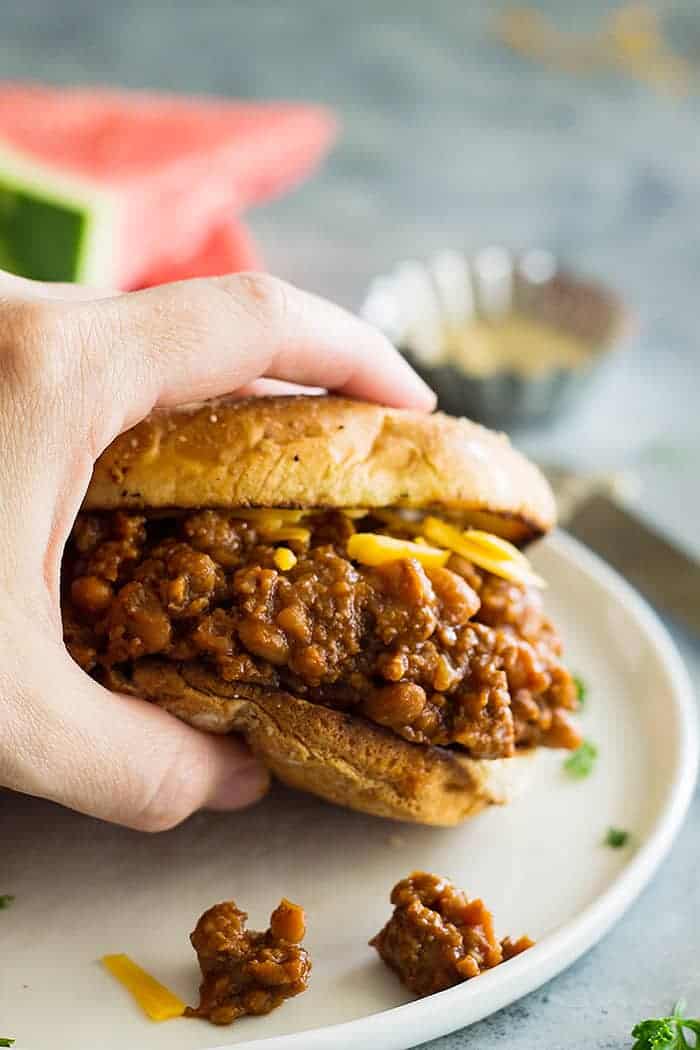 This does make a large batch so feel free to cut the recipe in half and use a small can of baked beans.  Or make the bigger batch and freeze the extra!  Just place in the refrigerator to thaw overnight and your dinner is done!!!  Just reheat and eat, AWESOME!  Don't get me started on freezer meals, they are my other saving grace!!  Or maybe you guys would like to see some of those???
Slow Cooker Beef and Bean Sloppy Joes
Ingredients
2

pounds

lean ground beef

1

small onion

chopped

2

large cloves garlic

minced

1

28 oz can baked beans of choice

1

8 oz can tomato sauce

1/2 - 3/4

cup

ketchup

1

tablespoon

Worcestershire sauce

1

teaspoon

chili powder

Hamburger buns

Toppings of choice: cheese

pickles, mustard....
Instructions
In a large skillet brown the ground beef and onions until no longer pink. Add in the garlic and cook for 2 minutes. Drain any grease. Transfer to a crock pot.

Add in baked beans, tomato sauce, ketchup, Worcestershire sauce and chili powder. Stir well to combine. Cover and cook on low 6-7 hours and high 3-4 hours.
Recipe Notes
1. This recipe can be cut in half to make a smaller batch. Just use the smaller can of baked beans.
2. Or make the full batch and freeze. Place cooled sloppy joe in a freezer safe container or freezer bag and freeze for up to 3 months. Place in the refrigerator overnight to thaw.
3. WHAT TO SERVE THIS WITH: Creamy Coleslaw and fresh fruit -OR- Old Fashioned Potato Salad and side salad with Homemade Buttermilk Ranch Dressing