This Triple Berry Pretzel Salad is the perfect sweet and salty combo, with the salty pretzel crust, cream cheese middle, and fruity jello top! 
This triple berry pretzel salad makes an appearance at every family get together on my side of the family.  I don't remember a single family function that didn't include this pretzel salad.  And it has been made in many flavors but this is my favorite.  What's not to love about the sweet and salty combo??  The crunchy salty crust pairs beautifully with the cream cheese middle and fruity jello topping.  It's also pretty to look at.  I have altered the recipe slightly from my family's original.  I added more cream cheese and replaced the whipped topping with freshly whipped cream.   It makes the middle layer a little taller and more like a no bake cheesecake.
A few other desserts you may want to include at your next family gathering is this Easy Pumpkin Cake with Cream Cheese Frosting, No Bake Vanilla Cheesecake, Homemade Banana Pudding Cups, or this Fruit Tray.
This jello salad holds a lot of memories for me.  It was one of my mom's favorite salads and it's also one of my grandma's.  I remember when my husband and I were first dating and he would come over for my family's functions.  This salad and a line of other foods new to him would be lined up ready for him to question.  He would ask what each unfamiliar dish was and when he came to this particular one (well this one and snicker salad) he had to disagree with its name.
He just couldn't (and still doesn't) understand how this could be called "salad" and would argue back and forth (or more like politely disagree, lol) with my mom.  But in the end, I think she would get the last word.  All I could think is this is my kind of  "salad" and I'll gladly have a second helping!
I think he secretly misses those disagreements with my mom.  I know I do.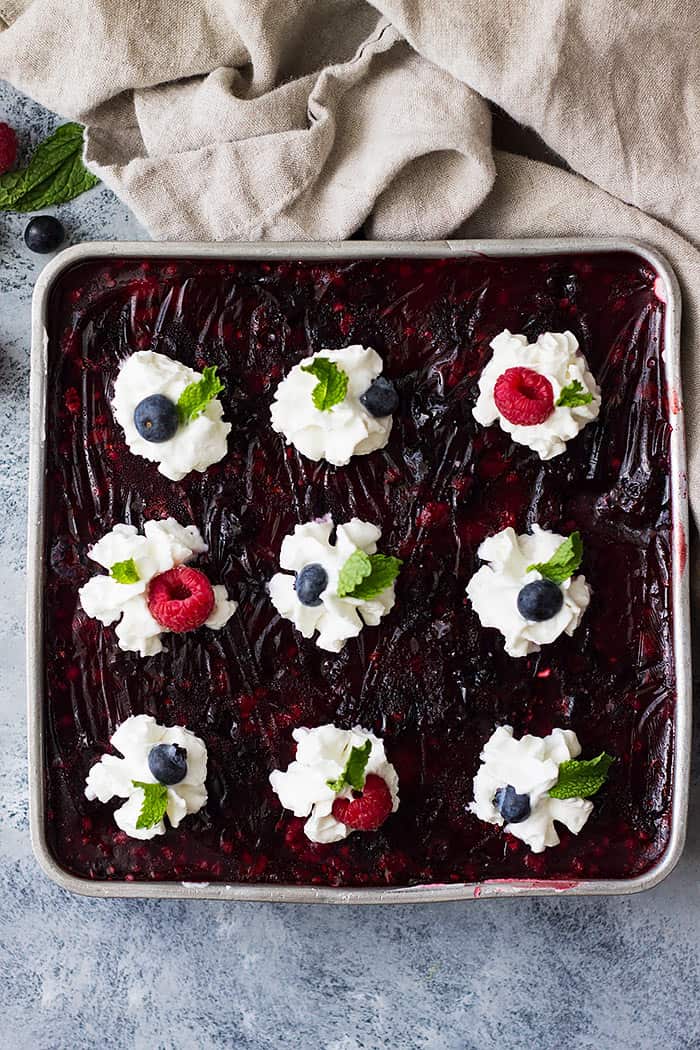 About this Triple Berry Jello Salad:
You can change this to make many different flavors.  The most common is strawberry.  All you need to do is replace the fruit in this recipe for the fruit of your choice and a jello to match or at least something that will pair well with the fruit you choose to use.  We have made it with strawberries and strawberry jello, raspberries and raspberry jello, peaches and peach jello, and this recipe with 3 berries and raspberry jello.  Just a word of caution- a few fruits will not work with jello.  Pineapple, kiwi, papaya, mango, and ginger will not work in their fresh or frozen form.  If they are canned it is fine.
This is a great make-ahead dessert.  In fact, it needs to be made in advance to allow the dessert to set up, so plan accordingly.
Triple Berry Pretzel Salad
The sweet and salty combo of the pretzel crust, cream cheese middle, and fruity jello topping is what makes this Triple Berry Preztel Salad one of my favorites!
Print Recipe
Save Recipe
Saved!
Ingredients
Crust:
2

cups (175g)

crushed pretzels

3/4

cup (210g)

butter, melted

3

tablespoons

sugar
Cream cheese middle:
2

cups (475ml)

heavy whipping cream

2

(8 oz) (226g)

pkgs cream cheese, softened

2

cups (107g)

miniature marshmallows

1

cup (115g)

powdered sugar
Topping:
1

(6 oz) (170g)

pkg raspberry jello

2 1/2

cups (590ml)

boiling water

3

cups (385g)

frozen mixed berries
Instructions
Crust:
Preheat oven to 350 degrees F (176 degrees C).

In a medium bowl combine the crushed pretzels, melted butter, and sugar. Press firmly into the bottom of a 13x9" baking pan. Bake for 10 minutes then cool completely.
Cream cheese middle:
In the bowl of a stand mixer beat whipping cream until soft peaks form (tips curl). In a separate bowl beat the cream cheese until smooth. Add the whipped cream, marshmallows, and powdered sugar. Mix just until combined. Spread in an even layer over the pretzel crust. Be sure all of the crust is covered to prevent the jello from seeping into the crust. Cover and refrigerate.
Jello topping
In a large bowl combine the jello and boiling water until jello is dissolved. Stir in the frozen fruit. Place in the refrigerator just until it starts to thicken slightly (watch this carefully as it can set up quickly). When it has thickened slightly carefully pour over the cream cheese layer. Refrigerate until completely set (at least 3-4 hours).
Notes
This can easily be made the night before.  
Store leftovers in the refrigerator for up to 2 days. 
Total time does not reflect chilling times. 
Can replace the whipping cream with an 8 oz container of whipped topping.