An Old Fashioned Chocolate Meringue Pie filled with rich chocolate filling and topped with soft pillowy meringue.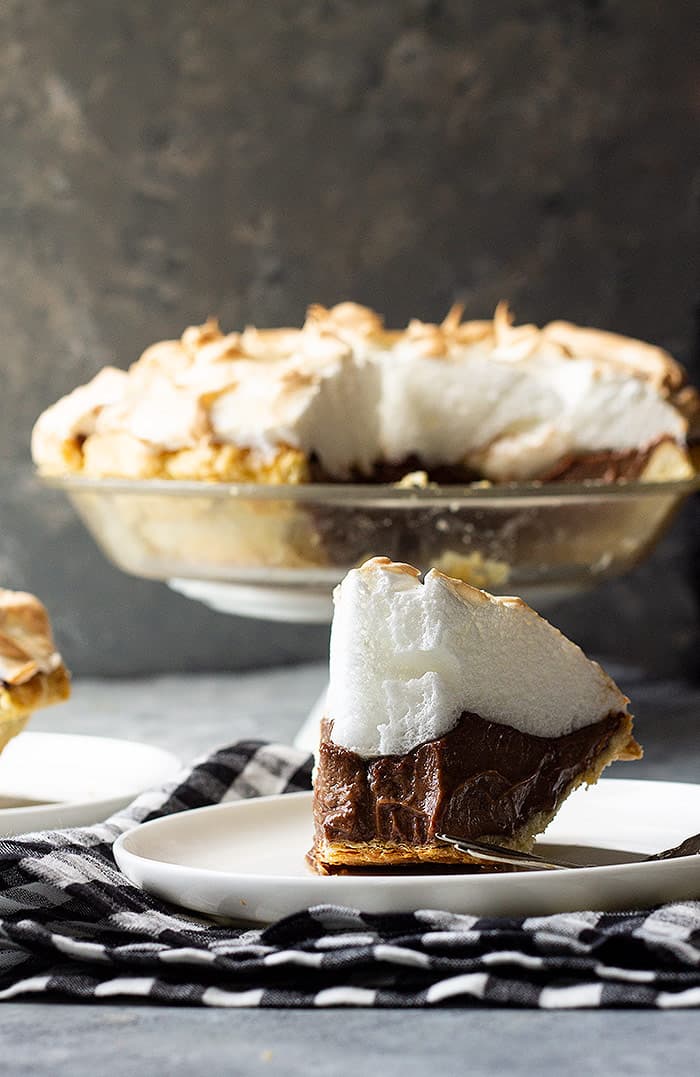 *UPDATE! Recipe has been updated to try to fix the chocolate soup problem some people were having.*
I have an extra indulgent sweet treat for you! This chocolate meringue pie is extra rich and super chocolatey. It's sure to satisfy your sweet tooth and will remind you of grandma's chocolate pie you grew up eating!
I was a little intimidated to try chocolate pie with meringue because it can cause some heartache. And I will be honest…..it did.
It took me a few tries to get the meringue right so I will share everything I have learned with you as I continue my homemade chocolate pie journey.
Why You'll Love This Recipe
Homemade chocolate pie is a classic
Easy step by step instructions
It's light, airy, and rich
Perfect for holidays, parties, and any occasion
How to make Chocolate Meringue Pie
Blind bake a crust. You can use a store bought or this All Butter Crust. I also have a detailed post on how to blind bake pie crust!
Prepare the chocolate pie filling. And be sure it's super hot because this will cook the bottom side of the meringue which is a must to prevent weeping.
Make the meringue topping. Pro tip: Cold eggs separate easier but room temperature whites beat taller and fluffier.
Spread meringue topping over pie. I like to start spreading meringue around the outside of the pie first to make sure the meringue is touching the crust. This will help to anchor the crust and prevent it from shrinking.
Bake. The chocolale pie with meringue needs to bake to get that nice golden top.
Tips for the best Meringue for Chocolate Pie
Cleanliness matters! When making any meringue everything must be clean and free of any oil or grease. Don't use a plastic bowl, it tends to hold onto grease and oil.
Eggs: Cold eggs separate easier but room temperature eggs whip up to a higher volume. Also, when you separate your eggs make sure there is no yolk in the whites. Not even one tiny drop.
Sugar: regular granulated sugar can be used (I do it!) but the "professionals" strongly recommend using superfine sugar because it dissolves better.
Stabilizers: This helps the meringue to be sturdier. You will want to use some sort of acid like cream of tartar (most common), lemon juice, white vinegar, or a copper bowl.
Humidity is your enemy! If it's humid outside don't attempt to make meringue. I don't think even Ina Garten could make this chocolate pie recipe with meringue successfully on a humid day.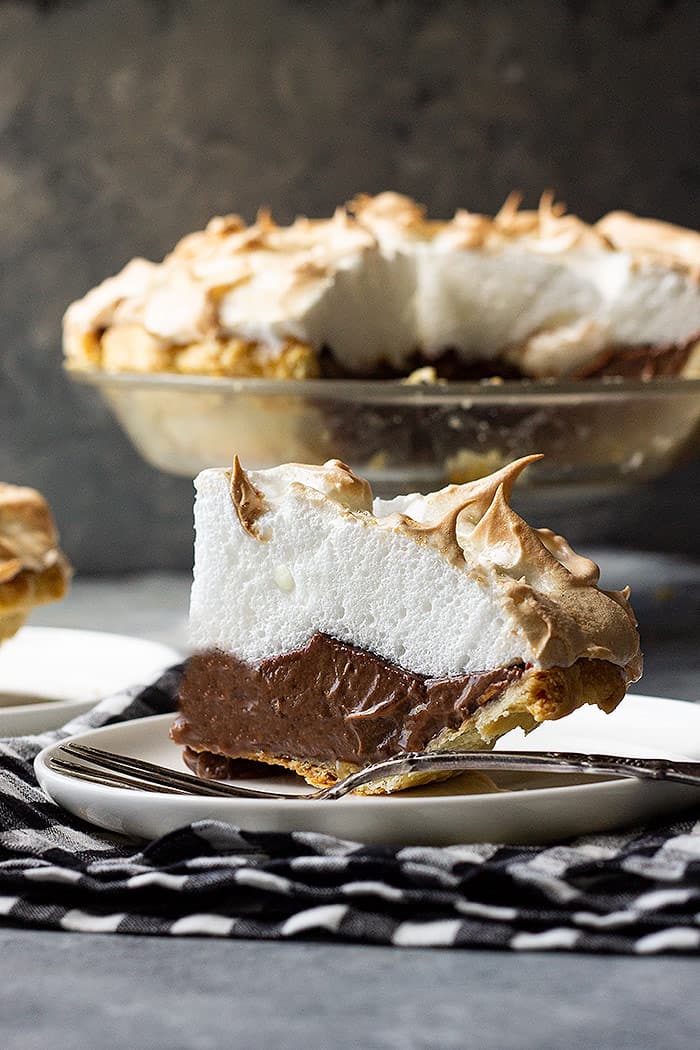 How to make the Meringue topping
Separate the eggs. Again cold eggs separate easier but room temp whip up to greater volume. So, after separating let them sit until room temp (about 20-30 minutes).
Add whites to a large clean bowl and add the cream of tartar or acid of choice. Remember if you are using a copper bowl to whip the whites don't add an acid.
Beat the whites on medium speed until soft peaks begin to form. At this point, they will look very soft and barely form a peak when the beater is lifted from the whites.
Increase speed to high and add sugar 1 tablespoon at a time. The sugar must be added slowly or the whites will not whip up correctly.
Beat until stiff peaks form. When the beater is lifted from the bowl the peaks should stand almost straight up. The whites will also look very smooth and glossy.
Take a small amount and rub it between your fingers. If there is any grittiness then the sugar hasn't dissolved completely and the meringue will form beads on top after it has been cooked and cooled. Continue to beat until it has dissolved.
Spread meringue over the chocolate pie filling layer quickly. The filling needs to be hot to prevent weeping. I like to start by spreading meringue around the edge of the pie making sure the meringue touches the crust. This seals the pie and prevents the meringue from shrinking. Add remaining meringue to the center and use the back of a spoon to make pretty swirls.
Bake until lightly golden on top. Overbaking can lead to beads forming on the meringue.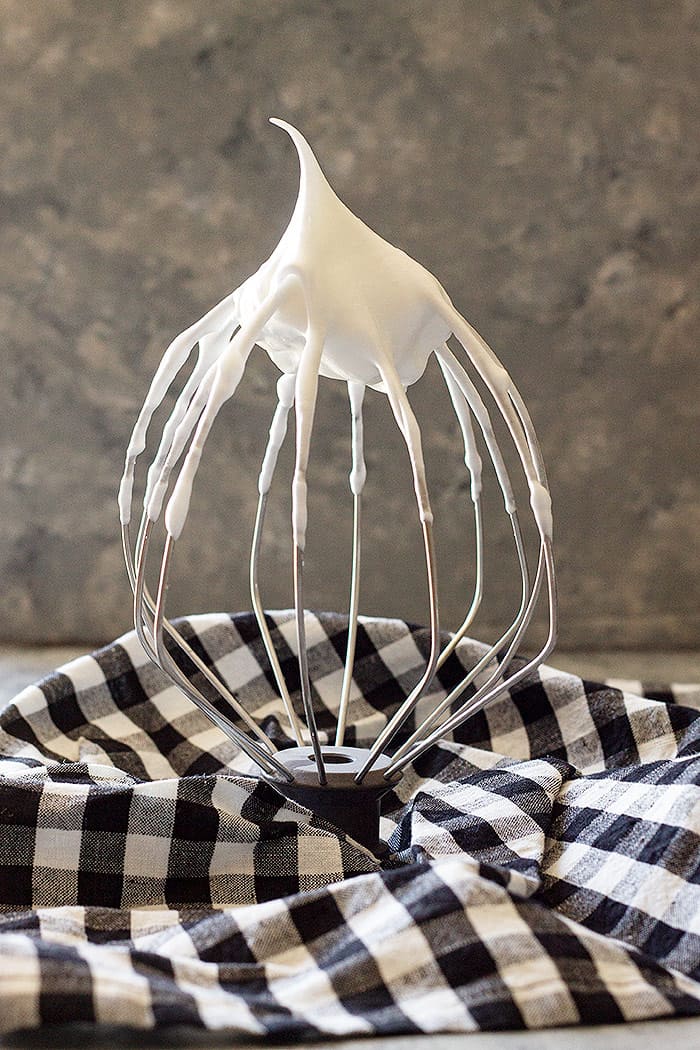 Troubleshooting Meringue For Pie
Beading: Sugary watery droplets that form on the surface of the pie. Caused by sugar not dissolving completely during the whipping process or overbaking the pie.
Weeping: A watery liquid that forms between the meringue and filling. This is caused by the whites not being cooked completely. The filling must be very hot to prevent this. Pour the hot filling into the baked crust and quickly cover with meringue.
Shrinking: The meringue pulls away from the sides or loses volume. Be sure to touch the meringue to the crust the whole way around the pie. Also, cornstarch can be added to prevent volume loss.
CAN YOU MAKE CHOCOLATE PIE WITH MERINGUE AHEAD OF TIME?
Yes, you can make it up to one day in advance. It will need to be covered and refrigerated.
Because the refrigerator has a lot of humidity water beads will develop the longer it sits in there.
I don't recommend freezing the meringue because it simply won't hold up.
WHY DO YOU HAVE TO COOL HOMEMADE CHOCOLATE PIE BEFORE SERVING?
To get the optimal results, you need to allow it time to set up in the fridge. Chilling for at least 4 hours is key to the perfect homemade chocolate pie. Trust me, it's worth the wait!
WHAT SIZE OF DISH DO I NEED?
I recommend using a 9-inch pie plate when baking any homemade chocolate pie. It's fine to go with a larger pie plate, but the chocolate pie will be thinner. A 9-inch plate is optimal.
HOW LONG DOES IT TAKE FOR EGG WHITES TO FORM STIFF PEAKS?
Using an electric mixer or stand mixer will yield stiff peaks in about 4 – 5 minutes. The meringue should appear glossy and if you rub some between your fingers it won't be gritty.
Looking for more great recipes?
HUNGRY FOR MORE? Subscribe to my newsletter and follow along on Pinterest, Facebook, and Instagram for all my latest updates!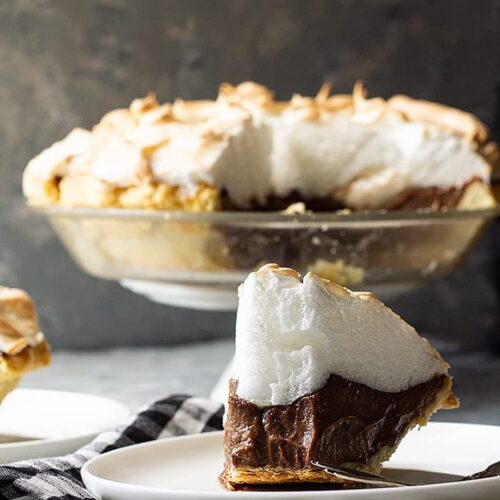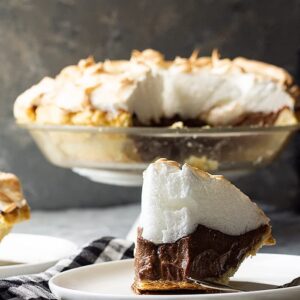 Chocolate Meringue Pie
An Old Fashioned Chocolate Meringue Pie filled with rich chocolate filling and topped with soft pillowy meringue.
Print Recipe
Save Recipe
Saved!
Ingredients
1

(9") fully baked pie shell
CHOCOLATE FILLING
4

large eggs, separated

½

cup (110g)

granulated sugar

¼

cup (25g)

cocoa powder

⅓

cup (45g)

all purpose flour

pinch of salt

2⅔

cups (630ml)

half and half or milk

¼

cup (50g)

semi-sweet chocolate chips

1

teaspoon

vanilla
MERINGUE
4

large egg whites

¼

teaspoon

cream of tartar

⅓

cup (70g)

granulated sugar
Instructions
CHOCOLATE FILLING
Separate the egg whites from the yolks and slightly beat the yolks; set both aside. Take great care not to get any yolk with the whites!

In a 2 quart saucepan mix together the sugar, cocoa powder, flour, and salt. Stir in the half and half OR milk. Cook over medium to medium low heat stirring constantly until mixture begins to boil.

Very slowly add half of the hot chocolate mixture in a thin stream into the egg yolks while whisking. Return everything to the pan and boil for 1 minute stirring constantly. Remove from heat and stir in the chocolate chips and vanilla; set aside.
MERINGUE
In the bowl of a stand mixer add the egg whites and cream of tartar. Mix with the wire whisk attachment on medium speed just until soft peaks begin to form.

Mixing at high speed slowly add the sugar 1 tablespoon at a time. Mix until whites have stiff peaks and glossy. Take a small amount of mixture and rub between your fingers. If it is gritty mix at high speed until the gritty feel is gone.

Pour hot chocolate filling into baked pie crust. Spread meringue around the edges of the pie making sure to touch the crust the entire way around. Add remaining meringue to the center. With the back of a spoon make pretty swirls.

Bake for 10 minutes or just until the top starts to brown.

Cool on a wire rack for 1 hour. Chill for 4 hours before serving. Cover any leftovers and store in the refrigerator.
Notes
Read my post on How to Blind Bake Pie Crust.
Be sure to read the post for tips about meringue. 
Have all your ingredients measured and ready to go to ensure the filling stays as hot as possible. Work quickly when spreading the meringue onto the chocolate filling. 
MAKE AHEAD: This pie can be made a day in advance. The meringue may have beads on the surface after being refrigerated and that is hard to avoid because of the humidity in the refrigerator. 
Nutrition
Calories:
353
kcal
|
Carbohydrates:
50
g
|
Protein:
10
g
|
Fat:
14
g
|
Saturated Fat:
6
g
|
Cholesterol:
90
mg
|
Sodium:
180
mg
|
Potassium:
350
mg
|
Fiber:
4
g
|
Sugar:
32
g
|
Vitamin A:
247
IU
|
Calcium:
120
mg
|
Iron:
2
mg