These Crispy Oven Fried Chicken Thighs are a great alternative to tradional frying!  They are easy to make and don't forget to add the honey mustard sauce!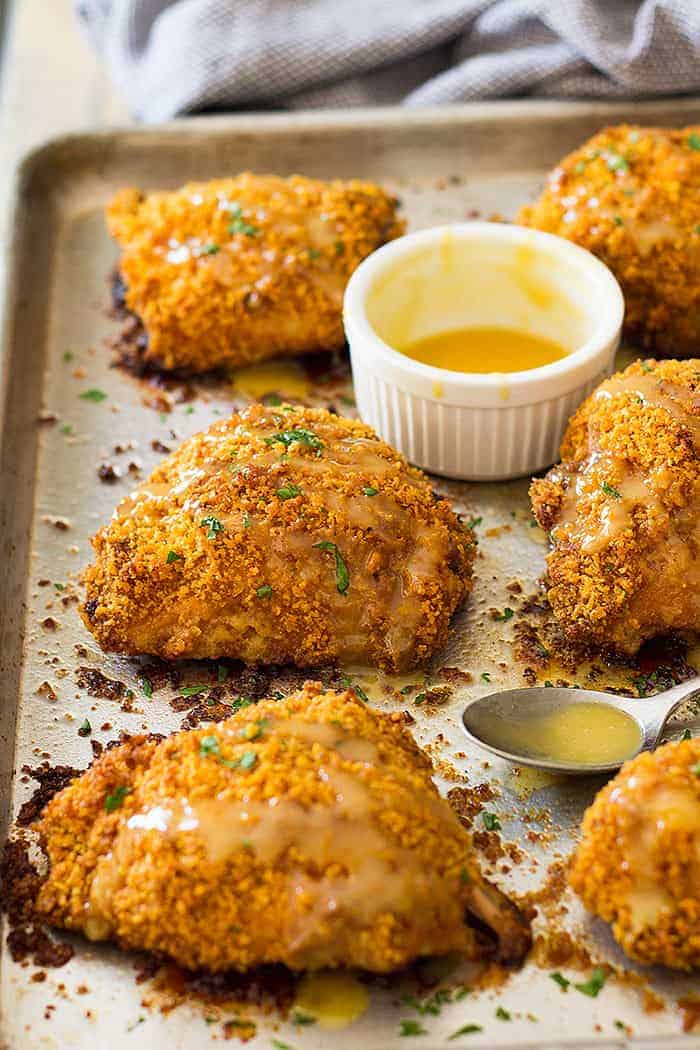 **Originally published October 2015**
These crispy oven baked chicken thighs make a great weeknight meal!!
My husband is always asking for fried chicken, always.  Like every time I ask what sounds good for supper, he gives me the same answer.  (I really don't know why I even ask.)
While I do like fried chicken I don't like the amount of work that it requires and the mess it can make.  Plus, it isn't the healthiest meal to eat on a regular basis.
That's why I like to oven "fry" my chicken.  It's less mess and it's a healthier option.
About these oven fried chicken thighs:
Normally I just coat the chicken in seasoned flour and bake it, which is really good, but I miss that thicker breading and crunch you get when you traditionally fry chicken.  You know what I mean??
I had to do an updated version of these crispy oven fried chicken thighs.  For one, the pictures were horrible and two I have changed the recipe over time and wanted to share those changes with you.
Plus, I made a super yummy honey mustard sauce to drizzle over the top.  Completely optional, but totally delicious!!
It's also an easier version.  The original required marinating in buttermilk for an extended length of time and while it did make for really tender and tasty chicken, I never remembered to do it, so that step went out the window.
Chances are if I am too busy to do this step many of you probably are too.
I also swapped out the panko breadcrumbs for cornflakes (my secret ingredient) on a whim one evening.  I thought I had breadcrumbs in the pantry and didn't.  But instead a half empty box of cornflakes that needed to be used up.
That is classic me right there!!  I always start a recipe without checking to make sure I have everything!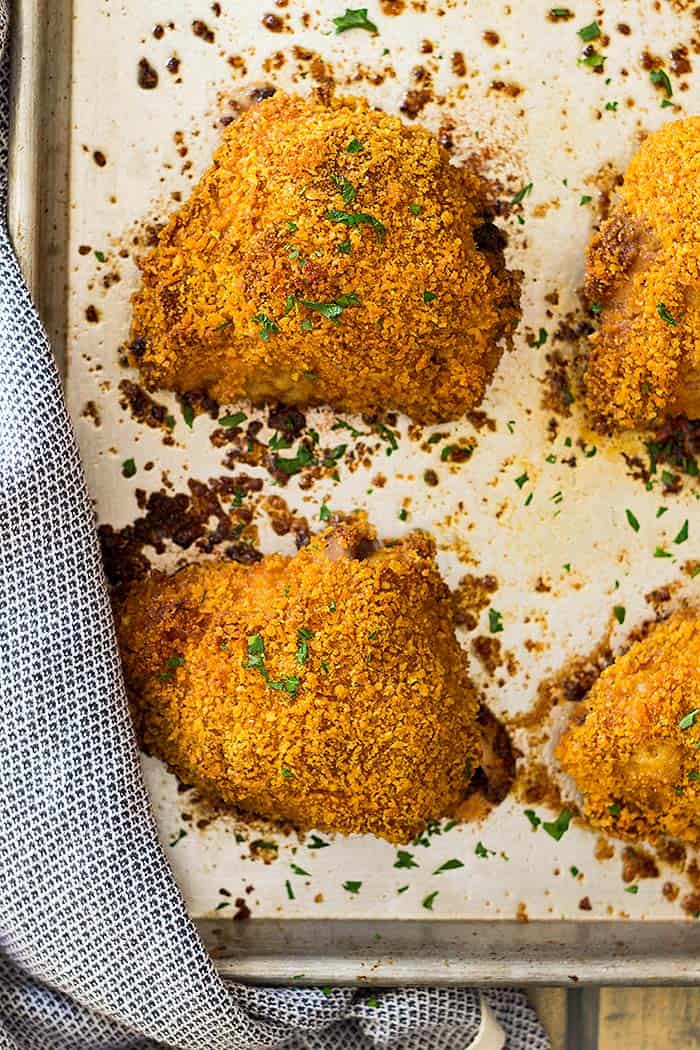 These Crispy Oven Fried Chicken Thighs:
Are great served with a few of these:
And for dessert:
Crispy Oven "Fried" Chicken Thighs
Course:
Chicken, Main Dish
Ingredients
6

bone in skin on chicken thighs

1/4

cup

all purpose flour

Season salt to taste

1/2

teaspoon

of each: onion powder, garlic powder, paprika

2

eggs

2

tablespoons

milk

1 1/2

cups

finely crushed cornflakes I like to do this by placing in a resealable plastic bag and using a rolling pin to crush

1/4

cup

olive oil

HONEY MUSTARD SAUCE

2

tablespoons

mayonnaise

2

tablespoons

honey

1

tablespoon

Dijon mustard
Instructions
Preheat oven to 400 degrees F.

In a shallow dish combine the flour, salt, onion powder, garlic powder and paprika. In a second shallow dish combine the eggs and milk. In a third shallow dish combine the crushed cornflakes and olive oil.

Dredge one chicken thigh in the flour mixture coating all sides. Dip into the egg wash coating all sides. Dredge in the cornflake mixture coating all sides. Place on a large baking sheet. Repeat with remaining chicken thighs. Bake for 45 minutes or until an internal temperature of 180 degrees F.

OPTIONAL HONEY MUSTARD SAUCE: In a small bowl combine the mayonnaise, honey and dijon mustard.
Recipe Notes
If using a food processor to make your cornflake crumbs be careful not to process too fine.