This Deep Dish Three Meat Pizza is loaded to the max!  Three different meats, pasta sauce, ooey gooey cheese all in a nice thick crust.  Oh, and it's cooked in a cast iron skillet to get the bottom crispy.  What more could a person ask for?!?!?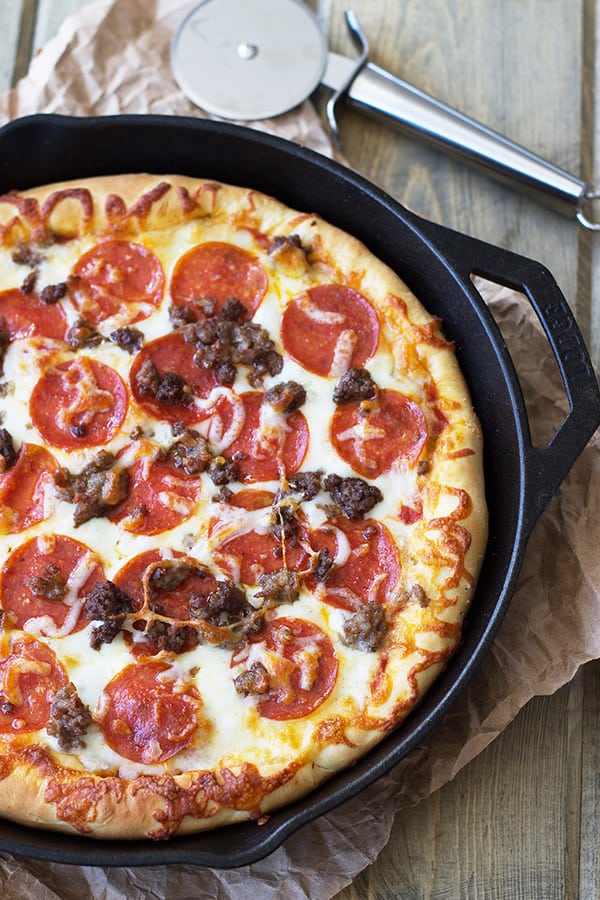 I must say this is the perfect pizza!!
My husband said it was the best pizza he has ever ate!!
I mean just look at it.
I made this pizza for 2 reasons.  1) I saw Meg from With Salt and Wit make pizza in a cast iron skillet and was totally intrigued and 2) Ever since I came back from Christmas vacation I have been craving thick crust pizza like a mad woman!!
It's my new pregnancy craving- cheese with carbs!
Oh, and I'm sorry to all of you trying so hard to stick to your resolutions!  I'm kinda feelin like a rebel with this months posts! 🙂  Hehehe!
I'm totally going against what everyone else is doing and posting carbs!  Muahahaha!!!!!  (It's so much easier to be bad than good 😉 )
So, a little about this pizza.  It really isn't very hard.  I did make a homemade pizza dough, but it's quick.  If you have a stand mixer just let it do the work for you.  You could try the store bought pizza dough but it won't be as thick and you might need to reduce the amount of sauce and cooking time a little.
I used jarred pasta sauce, you could make your own if you want.  But if you buy a good sauce it will save some time.  I put some of the meat on top of the sauce and saved a little to put on top of the cheese.
Also, two different cheeses were used here.  Sliced provolone and shredded mozzarella.  Feel free to use whatever combo of cheese you have on hand.  Mozzarella and Parmesan would also be great!!
I very highly recommend using a cast iron skillet to make this pizza.  Just make sure it is well seasoned or at least grease it before cooking your pizza in it.

Deep Dish Three Meat Pizza
Deep Dish Three Meat Pizza -thick crust, sauce, three kinds of meat and lots of cheese!!! Need I say more?!?!
Ingredients
[u]Pizza Dough

[/u]3/4 cup very warm milk

1

tablespoon

olive oil

1

tablespoon

sugar

1 1/2

teaspoons

salt

2 1/4

cups

bread flour

can use all purpose

2

teaspoons

dry active yeast

Toppings

1/4

pound

lean ground beef

1/4

pound

Italian sausage

1/2

cup

pepperoni slices

1

cup

jarred marinara sauce

5

slices

non smoked provolone cheese

2

cups

shredded mozzarella cheese
Instructions
In the bowl of a stand mixer combine all pizza dough ingredients and stir just until combined with the paddle attachment. Switch to the dough hook and "knead" for 5-7 minutes. If your dough seems to sticky add in a little more flour or if your dough is too hard and doesn't feel a little tacky when touched add in a little more milk (like 1/2-1 tablespoon at a time) while kneading. Let rest for 10 minutes.

Preheat oven to 425 degrees F. Lightly oil a 12" cast iron skillet with olive oil. Set aside.

Brown ground beef and sausage in a skillet over medium heat until cooked through. About 5-10 minutes. (You could brown your meat in the cast iron skillet just be sure to clean out any meat bits or they may burn on the bottom of your crust.)

Take dough out of mixer bowl and place on a lightly floured work surface. Roll out to approximately 12-13" circle. Place in cast iron skillet. Fold over dough around edges to form lip to hold in the toppings (See picture below recipe) With a fork pierce dough several times. This is prevent any air bubbles forming on the bottom. (See picture below recipe) Top dough with sauce. 3/4 of the ground beef and sausage. Lay slice provolone over meat then top with shredded mozzarella. Top with remaining meat.

Place pan on stove top and cook on high for 3 minutes. This will not change the pizza, just gets the pan nice and preheated so the crust will be crispy. Place in oven and bake for 15 minutes or until cheese is melted and crust is lightly browned.