Well today was the first day of school for my two oldest and they were super excited.  They have been asking everyday for the past two weeks if it was time for school yet.  They are growing up so fast.  My oldest is in 2nd grade and her sister is in 1st.  I made something different for breakfast this morning.  Waffle omelets.  I can't remember where I saw this so I can't give credit where credit is due unfortunately, but whoever thought of this is a genius!  We were running a little behind so this made breakfast waaaay portable!!!  It was awesome!!  I made mine in a 4 square Belgium waffle maker and they turned out great.  I will definitely be making a lot more of these!! 🙂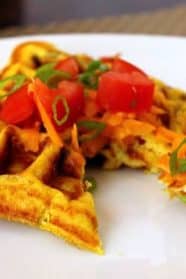 Waffle Omelets
Ingredients
6

eggs

1/4

c

finely chopped bell pepper

1/2

c

finely chopped mushroom

1

tsp

onion powder

1/2

tsp

garlic powder

1

tsp

prepared mustard

1

TBSP

oil

1/4

c

milk
Instructions
In a medium bowl, whisk together all of the ingredients until combined.

Pour just enough of the egg mixture onto a greased waffle iron to cover the entire surface. **Caution do not overfill or there will be eggs coming out the sides** You will hear some whistling as the eggs cook but I assure you everything will be alright. Once the noise starts to fade your eggs will be done.

Serve your eggs with toppings of your choice such as: grated cheese, tomatoes, onions, avocado, salsa.....