25+ Christmas Morning Breakfast and Drink Recipes to choose from to make Christmas morning even more special!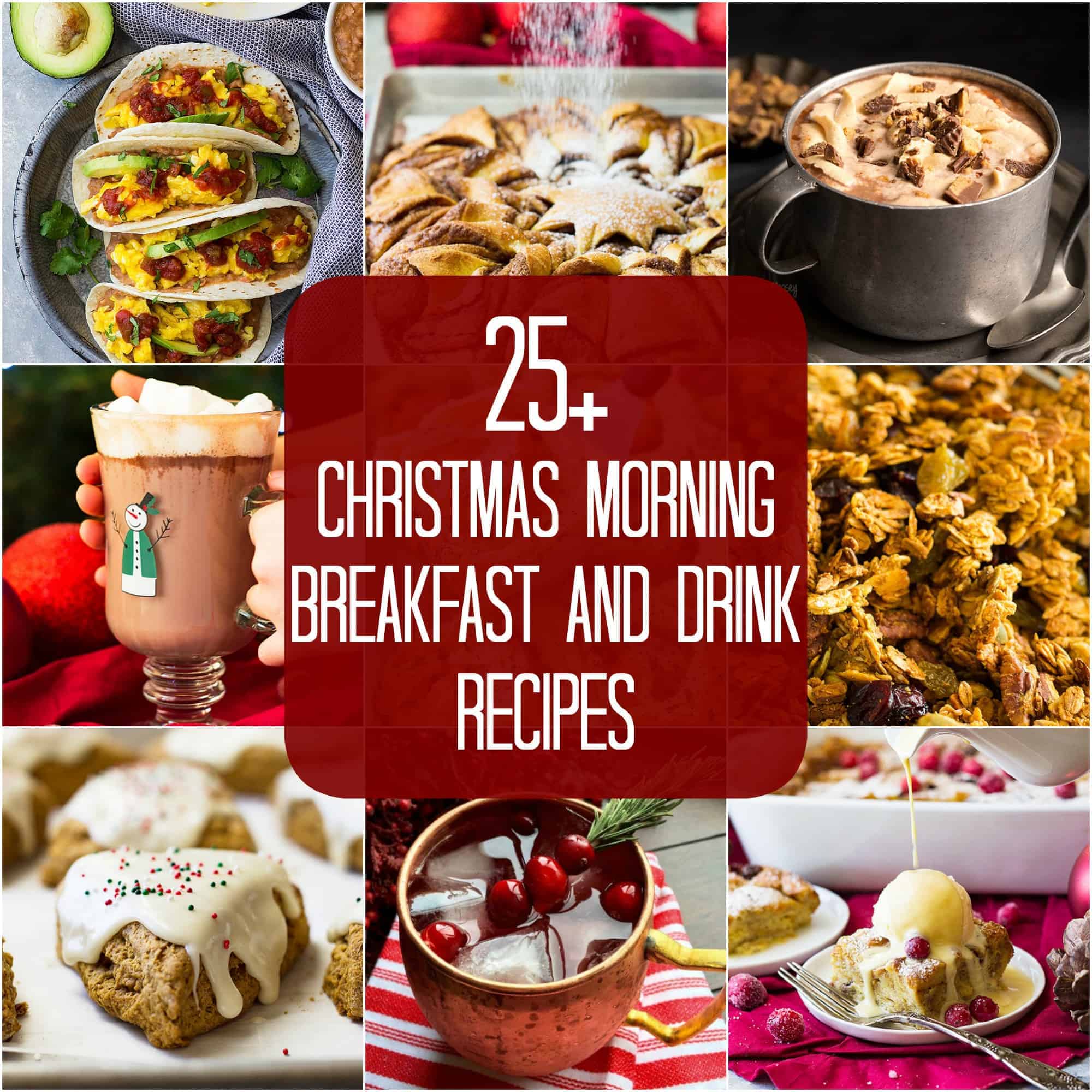 These 25+ Christmas Morning Breakfast and Drink Recipes will make your Christmas morning a little extra special!!  There are loads of drinks, sweet, and savory recipes to choose from.
I hope I'm not too late with this post and all of you have already decided what you're making for Christmas morning.  Tell me do you guys have any Christmas morning recipes that you make every year or do you look for something different to make??  It varies for us and it depends if we are spending Christmas at home or away.  Most of the time I make a Swedish Tea Ring and then some sort of egg casserole.
I won't keep you too long today but I hope you can stay and browse a while at all the delicious recipes below!
Homemade Dark Chocolate Hot Cocoa Mix– keep this rich and indulgent mix on hand and have homemade hot chocolate anytime!
Gingerbread Smoothie from Julie's Eats & Treats- This smoothie is the perfect healthier option for Christmas morning!!
Easy Honey Hot Chocolate for One from The Food Charlatan- This hot chocolate is refined sugar-free and instead made with honey!!
Gingerbread Hot Chocolate from Happy Foods Tube- This gingerbread hot chocolate is the perfect festive Christmas time drink!!
Homemade White Hot Chocolate from Celebrating Sweets- Sweet, creamy, simple homemade goodness in a cup!  What could be better??
Bean and Cheese Breakfast Tacos- these are a great meatless option that are even great for dinner!
Ham and Egg Breakfast Cups– a quick and easy breakfast option that's great any day of the week.
Breakfast Enchiladas- filled with scrambled eggs, green chilies, sausage, and cheese!  These are hearty and delicious!
Ham and Cheddar Biscuit Rolls- made with homemade biscuit dough, ham, cheddar, and brushed with a tasty glaze.
Hashbrown Sausage Breakfast Pie- filled with breakfast sausage, hashbrowns, 2 kinds of cheese, garlic, and sprinkled with a special topping!
Sausage Hashbrown Breakfast Casserole- This easy Sausage Hashbrown Breakfast Casserole is a great way to start off your day!  Perfect for not only special occasions but also everyday breakfast.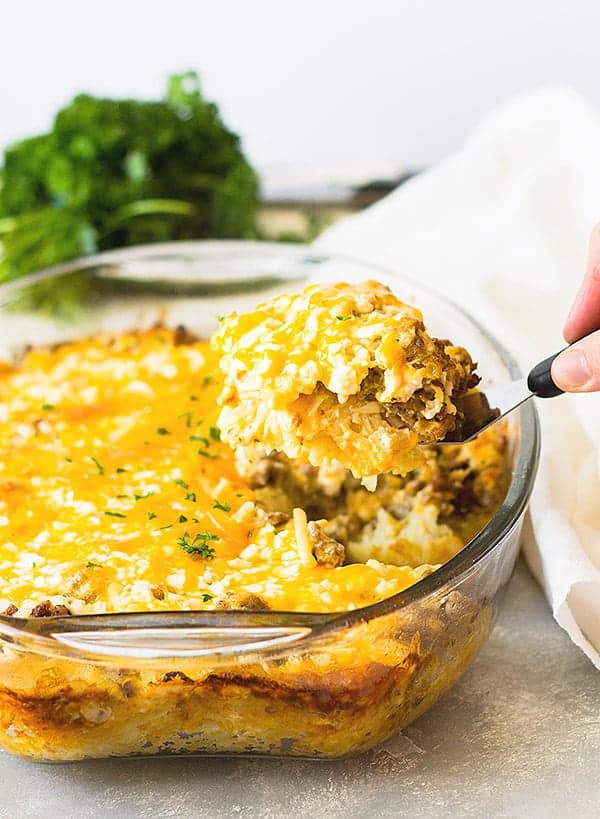 Ham and Cheddar Scones- these are easy to make and perfect for breakfast, snack, or a big bowl of soup!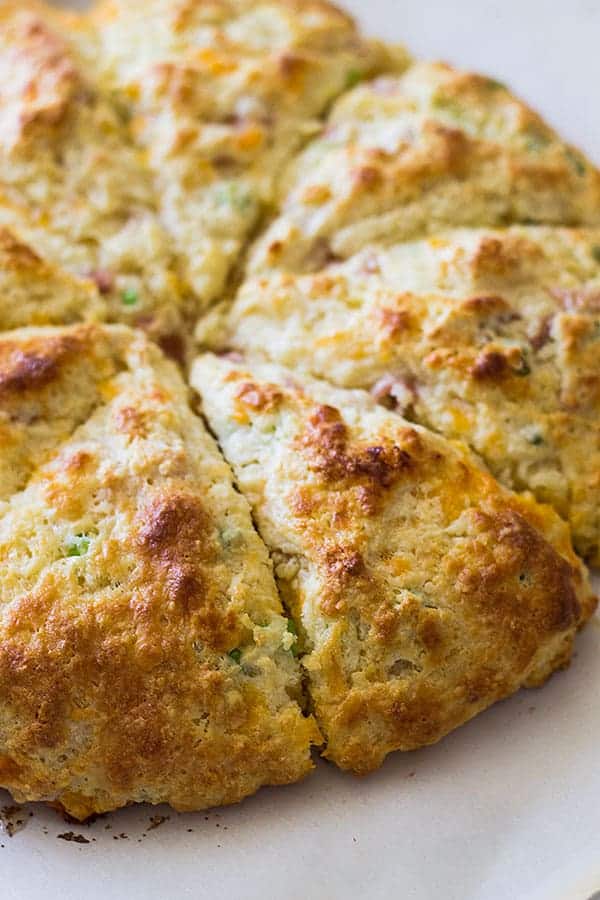 Southwest Corn Cake Stack- This is one of my husband's favorite breakfasts!
Traditional Homemade Eggnog from Culinary Ginger- I love a good homemade eggnog!  So creamy and rich, perfect for Christmas!
Pomegranate Mimosa Mule from Frugal Foodie Mama- two classic cocktails come together to make the ultimate brunch drink.
Fancy Low Carb Hot Chocolate from Wholesome Yum- a thick and decadent sipping chocolate that's low carb??  Sign me up!!!
Cranberry Orange Champagne Punch from Delish Knowledge- I love the color of this festive punch!!  So pretty!
Gingerbread Scones with Cream Cheese Frosting- gingerbread cookies in breakfast form!!
Brioche Cinnamon Snowflake- this will be the talk of your breakfast table!
Cranberry Bread Pudding with Whiskey Cream Sauce- basically a french toast casserole.  It's indulgent and also makes a perfect dessert!
Triple Berry French Toast Casserole- layered with texas toast, cream cheese, fresh fruit, and baked in an egg custard.  What's not to love?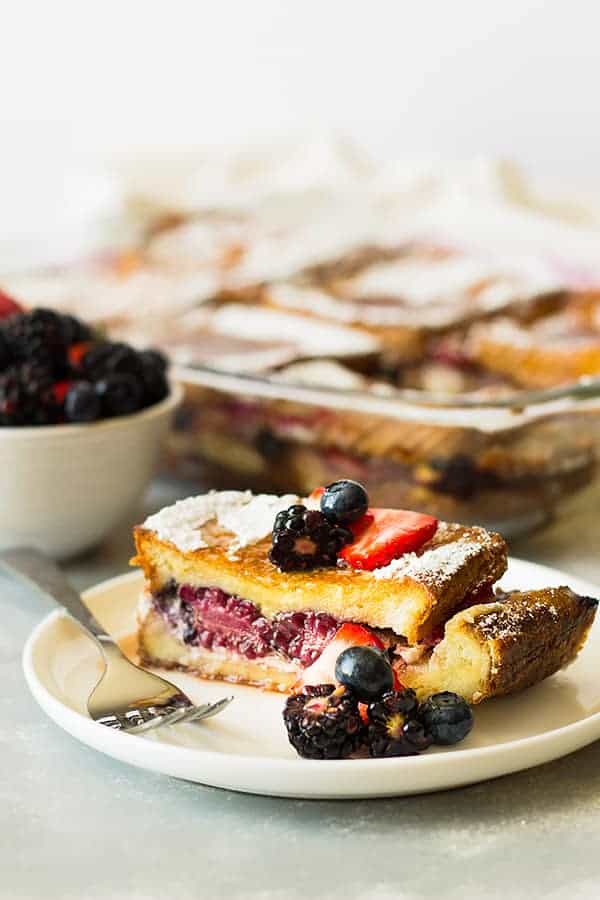 Crunchy Pumpkin Granola- this is my favorite granola to date!  It's perfectly spiced, has great crunch, and makes a healthier breakfast option!
Slow Cooker Berry Oatmeal- an easy low fuss option for Christmas morning!
Triple Berry Baked Oatmeal- my family absolutely loves baked oatmeal so this is on the menu often!
Slow Cooker Apple Cinnamon Breakfast Rice- another great slow cooker option that keeps breakfast ultra easy!
Cranberry Moscow Mule from All She Cooks- This drink looks so pretty and festive making it perfect for Christmas!
Crockpot Cranberry Pear Cider from Fox and Briar- crockpots are not only perfect for making low fuss meals but drinks too!!
Peanut Butter Hot Chocolate from Chocolate Moosey- this is for all my chocolate and peanut butter fans!!  I would love to sip on this while opening presents Christmas morning!!
Morning Margarita from Hola Jalapeno- this drink just puts me in a good mood looking at it!!  🙂